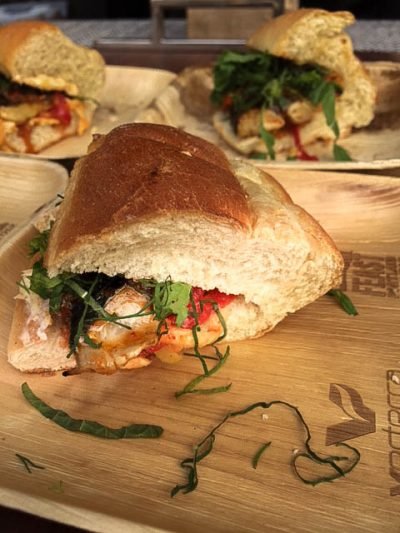 Another year of Feasting underway. The founders were gracious (foolish?) enough to let me retain my media credentials for the whatevereth consecutive year, despite my best efforts at subversion. So, kisses to Carrie and Mike. Naturally, not all the highlights make the usual suspects' fawning social media accounts. Here are a few of mine…
Thinking the Sandwich Invitational has about run its course. Damned if all the sandwiches didn't fit into two basic categories: fried chicken and cured meat. Next year, I'd like to see an all-desserts theme or maybe let's do a Feast "Pie" day and let imaginations run wild.

Tried Pastrami Zombie for the first time at above event. Let's just say this: pink salt exists for good reason. Whatever. Maybe I'm just biased against folks who wear backward baseball caps… except superstitiously at sporting events.

Good to see Kenny Gordon represented at the Sandwich event…and actually "working" past 10 am. Thought it was an apparition.

Visiting with good pals Kelly Clarke and Han Ly Hwang, who were judging the sandwiches, encountered the third judge in their caucus,  a bleach-toothed second-tier local TV personality (so I was told) who demonstrated all the warmth and charm of an annoyed reptile. It must be SO trying to be Portland-famous. Oh, and congrats to Lardo for winning.

The Willamette Week Feast bingo board was a popular topic of mostly positive discussion. It was the work of the immensely popular team of Martin Cizmar and Matthew Korfhage plus some anonymous artist who brought the idea to life. (M&M edit my work @ WW, so naturally I love them both.) Managed to get photographed by Byron Beck (also received a kiss, but that's another story altogether) and catch a glimpse of Karen Brooks at the Bar Casa Vale after-party to fill two squares. Will work on more today.

Speaking of the after-party, a big snark-free thank you to cruise line operator and caviar producer Regalus (or something like that) for supplying a grand-worth of roe for the affair. Applying the Latin axiom, "Caviar, ergo Scarf," loosely translated to "if you are offered unlimited caviar, eat as much as you can possibly stuff down your gullet." I had a couple plates full of the stuff. Liked the trout best of all. No truth to the rumor I dropped a couple full tins into my official Feast swag bag for later consumption. Glub glub.

Got to see a ton of folks I rarely get to visit with, which is my main attraction to Feast–besides the food, of course. Tommy H., Chris Angelus, Missy Maki (who still has never had me on her radio show, btw), Erin of Jesus, Danielle, Martin, Matthew, Kelly C., Karen, any other editor who may be reading this, Gary Foodenheimer, Japan Dave, Sally the Flight Attendant, Nate "Don Johnson" Tilden and so many more. Was a pleasure.

Thanks to an anonymous salt vendor who is not Ben Jacobsen for handing out a free packet of weed-enhanced salt. Apparently, half a teaspoon will activate vegetable mode. Will keep it around for jet lag-related emergencies.

Last, shout out to a student in one of my bagel classes from a long ago who actually sought me out, told me she uses the recipe all the time and asked if we could take a selfie (well, "wefie") together to show her husband. Bless you.

Diving back in today at some point. See you around.