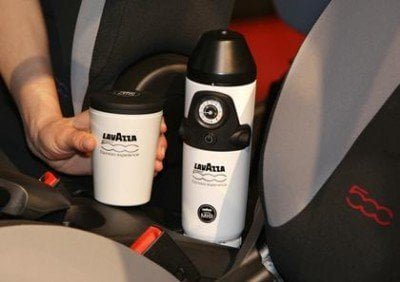 You read that correctly. Italian car manufacturer Fiat will be offering a "true espresso machine" on their 500L.
"The 500L is the first standard-production car in the world to offer a true espresso coffee machine that utilises the technology of the 'A Modo Mio' pods. It is perfectly integrated in the car with a deck designed expressly by Fiat.
From USA Today,  "The espresso machine, which comes with matching cups, is being made for Fiat by Italian coffee importer Lavazza — known as "Italy's favorite coffee" — and uses the company's "A Modo Mio" coffee pods. Lavazza also runs a Starbucks-like coffee chain".
Fiat, an Italian car company, also has a large manufacturing line in Brazil.
Brazil+Italy = coffee. Add aggressive men from the same countries and you have, "Hey baby, want to make an espresso". It all makes sense to me – the Italian/Brazilian thing that is, not an espresso maker between the seats. Wait, isn't that going to get in the way? Just sayin'
Something tells me the model with this option will never get into the United States.