Tails & Trotters extensively damaged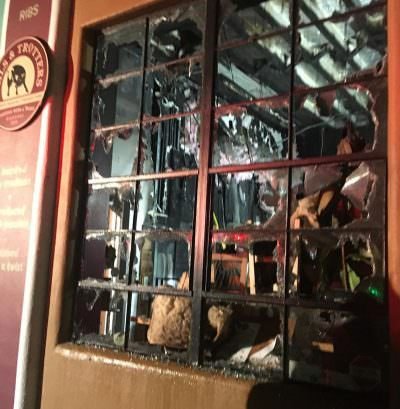 Updated: Nomad PDX is hosting a fundraiser – see bottom of story for details.
Feb 23, 2017. The popular Tails & Trotters pork producer and deli was heavily damaged by a fire on February 22nd. Tails & Trotters specializes in signature pork developed from pigs, which is finished on local hazelnuts, along with a variety of sandwiches and salads. The damage at Tails & Trotters is extensive, and will take quite a while to recover. Tails & Trotters was recently featured on Food Network show, Diners Drive-Ins and Dives.
According to owner Aaron Silverman, the electrical fire spread to another popular restaurant next door, the Pie Spot, which suffered lesser damage, and expects to be closed for about one month.
Aaron posted this statement on Facebook:
Not something I ever want to post, or something anyone wants to see on social media, & CERTAINLY not in person at 11:45pm at night!! Our beloved shop experienced an electrical fire last night. Currently an utter disaster with everything lost. Thankfully some of us are too crazy/stupid to know when to quit and we are not toast!!! I don't know EXACTLY what/when just yet, but with dedication & lots of support we WILL be back!
Part of the problem for T&T will be the loss of their long-term cured meats. Their NW Prosciutto Pacifico was just released, cured from legs back in 2013-2014.
The Pie Spot suffered lesser damage and expects to be closed for about one month.
We wish the best to Pie Spot, Tails & Trotters, and their employees.
Fundraiser to be hosted by Nomad PDX
Sadly, Tails & Trotters experienced a fire last night. They will be out of commission for awhile. Nomad.PDX is hosting a fundraiser to help their employees on Monday. $25 cover charge will get you drinks and food, music and hanging out with good people. All proceeds will go to the fund, including bar tips. Please come support your local industry and friends! All hosted and presented by Nomad.PDX