Updated – Tasty n Sons has now closed.
Updated 10/17 – Tasty & Sons is a new concept by John Gorham of Toro Bravo, branching out from Spanish food. This cuisine is more "Americana", but there are lots of interesting foreign dishes as well, so be adventurous and explore the menu.
One thing to keep in mind: the food is generally served "family-style". Most of it is designed to be split, and items don't necessarily come out at the same time. However, if you want to keep everything for yourself, they will do their best to accommodate you. Waits for a few dishes like the steak and eggs are a bit too long.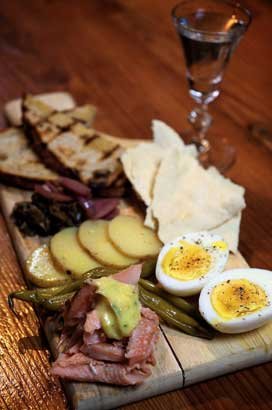 Owner John Gorham is known for putting a creative spin on things and it shows here, with a Spanish twist on many dishes. Some of them are a rethinking of favorite items from the Toro Bravo menu. For example, you can order dates at either restaurant. At TB, they come with a drizzle of warm honey; at Tasty the griddled bacon-wrapped dates come with a light shower of warm maple syrup ($3 ea). Another variation is one of my favorite dishes at Toro Bravo – the spicy North African sausages. Here they are laid over a bed of couscous which is loaded with little bits of dried fruit,  and cauliflower. The over-easy egg draped on top, runs over everything, pulling it all together ($15).
One of the first items that caught my eye on my first visit was "the breakfast board".  The selection was larger than I expected; easy to split. The items on the board rotate, but it often includes a halved hard-boiled egg, beets, plump dates, small strips of bacon, a wonderful creamy pâté, crostini, lots of soft bread, homemade labneh cheese, and seasonal berries ($14).
"Auntie Paula's" French toast, currently with strawberry-maple and thick whipped cream, won me over on the first bite. The bread is thick and soft, not soggy/oily, just perfect; probably the best I've had in Portland. The accompanying sauce was a finer consistency than I expected, and much more subtle – not overly sweet. Absent the de rigueur dusting of powdered sugar, none of the components are overwhelmed. The topping varies depending on what is in the season ($6/$12).
The toast & jam is wonderful. Thick soft bread, teleme cheese (a California cheese, somewhat like brie in texture), and a smear of jam pair nicely as a side to any of the larger plates. Another terrific pairing is Erin's sweet biscuits with warm berry compote. Slightly sweet, flaky – a must-have breakfast selection ($7). We also tried the golf-ball-shaped homemade chocolate-potato donuts – now one to a plate. I wasn't quite sure what to expect, but they were quite light, slightly sweet, and had tiny chunks of potato in the dough. An accompanying crème anglaise adds moisture ($3).
Pork cutlets with a fried egg come on a bed of cooked spinach. They are, in a word, wonderful!  Lightly breaded and moist, loaded with flavor from the crust, they pick up a hint of lemon from the greens. I've never had breakfast cutlets like this. For the price, they make a nice breakfast ($16)
You can get a fried egg and cheddar biscuit with your choice of chicken or sausage. The biscuit is flaky and light, contrasting with crispy moist chicken. The egg is delicately draped over the top. It's a fairly large sandwich, but because of its makeup, a bit hard to split ($10).
The cast-iron frittata with roasted cauliflower, olives, and caramelized onion, and Parmesan is wonderful, the piquant olives giving an unexpected flavor against the slightly crispy cauliflower ($11). On another day, I ordered grilled asparagus with double-smoked bacon and over-easy eggs. The asparagus still had a slight resistance to the tooth and tasted of spring. A slight smoky flavor from the bacon went nicely with the vegetable. The eggs ran over everything making a lovely sauce ($11). A traditional North African dish called shakshuka, two baked eggs over a sauce of tomatoes, peppers, onions, and spices is about as authentic as it gets. The dish comes with two pieces of crisp bread, which makes it easy to push the sauce around ($13). There is always some sort of hash on the menu, most recently the main ingredient was trout, before that Moroccan chicken with spicy crème fraîche & over-easy egg. No matter what they use for the meat it's always terrific. When the yolk breaks, the egg runs down and mixes with everything making a nice sauce ($15).
The Tasty N Sons burger doesn't have the Romesco of theToro Bravo version but is very good. You have a choice of blue cheese or Beechers cheddar. It's the kind of burger your dad might have made when you were a kid – but better. Juicy and smoky, It's dressed simply with terrific pickles, onions, and wonderful bacon crisscrossing the meat. All but one time it has come out cooked exactly as I ordered. My only complaint is that sometimes it is way too salty – I imagine a lot of that comes from the bacon ($14). During the evenings the Toro Burger is also available with bacon, manchego and Romesco. It's my favorite of the two ($14).
Another evening/happy-hour dish is the chicken strips – the best I've ever had. The strips are moist and tender, lightly breaded, piping hot with great flavor, and are not greasy. They arrive draped across a decent amount of fries which are just fine and a good dipping sauce. I get them every time I go to happy hour ($7 at happy hour).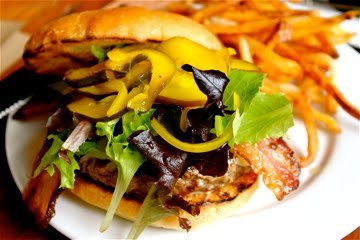 For those who need greens to counteract the heavier dishes, there are a few choices, including a radicchio salad with croutons and Parmigiano Reggiano and vinaigrette ($6/12).
Tasty & Sons have a full liquor license, so a list of "breakfast cocktails" is available, including at least four versions of bloody Mary's; most of which are an interesting departure from the norm. Two examples, the dimsomore: Monopolowa vodka, tomato, hoisin, lime, sriracha, ginger ($10), and the Tasty Mary: Monopolowa vodka, tomato, Worcestershire, horse-radish, lemon, sriracha, celery, and house pickles with a salted rim ($9). I love them – balanced, spicy, and just enough booze to spend an hour napping when you get home. One draft and four bottled beers are available, perfect with a burger on a nice afternoon.
Finally, service is excellent – attentive and knowledgeable; they make you feel welcome and cared for.
Overall, Tasty & Sons have an interesting menu, quality food, and is one of my favorite restaurants in Portland. Try an assortment of dishes and share with a few friends. It will be a memorable meal.
Grade:
Food: A-
Atmosphere: B
Service: A-
Address: 3808 N Williams, Portland 97227 
Phone: 503.621.1400
Hours: daily for brunch and dinner: 9am to 10pm, Fri & Sat till 11pm
Happy Hour: 2:30pm – 5:30pm. See the website for details.