Ración has been doing a series of press/test dinners, and we were happy to get an invite.
The space is sexy, but not pretentious, anchored with a show kitchen surrounded by an 18-seat L-shaped chef's counter wrapped around the kitchen stage – at once both theatrical and intimate. It is fun sitting and watching the open kitchen. There is a lounge area in the back which is clubby and casual with low sofa seating, a bar and a few tables. There is terrific light from the wall of windows on the South side, which also is a great place for people watching.
The Spanish influenced menu is limited to a 7-course $75 tasting menu,  or a 5-course $50 tasting menu. Wine pairings are available for $35 and $25 respectively. Six or so tapas are also available in the lounge.
Here are the items we sampled:
Halibut cheeks, black sesame, green apple, sour cream and shiso. Shredded halibut cheeks and green apple with a tasting of sour cream ice-cream.
Sous-Vide egg, ​hazelnut romesco, brussel sprouts and brown butter.
The tapas on the menu (see website) are limited but offered as $4 each, or a choice of 3 for $11 or 6 for $21.  We sampled: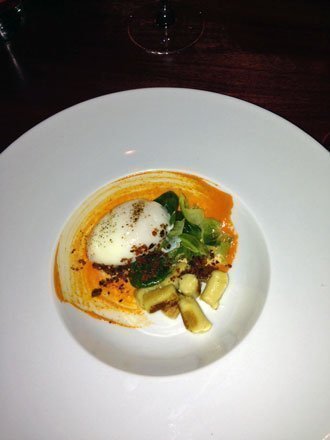 Serrano ham, almond cracker + sherry gel.
Milk puff, piment d'Espelette and sea salt. Imagine a miniature merengue cookie, but savory milk flavor.
Marinated Manchego, Sangria Marshmallow, & quince jelly. A nice flavorful spoonful playing off each other to create a nice pop of flavor.
You can see the entire menu on their website.
Ración is a new concept for many diners in Portland. The big questions are, will locals embrace this style of dining, and will the restaurant do the concept well enough to compete with the same style of food in DC, NYC or Chicago. They are going to have to be careful not to get so full of themselves that they alienate customers. This is going to be an interesting experiment to watch. The restaurant opens March 7th.
Racion is at 1205 SW Washington St., Portland OR. (971) 276-8008. A credit card will be required to make a reservation, with a $50 fee per person for less that 24 hours cancellation notice.