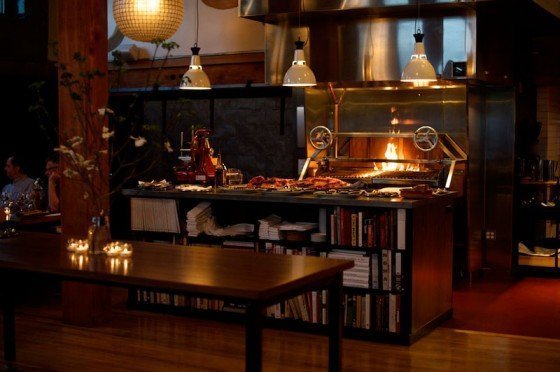 Plaza Del Toro is the newest space created by one of Portland's premier restaurateurs, John Gorham of Toro Bravo, Tasty & Sons, Tasty & Alder and Mediterranean Exploration Company.
Part culinary lab, part event space, Plaza was inspired by both the Modernist food movement, and the intense Gastronomic Societies in food obsessed San Sebastian, Spain. Gorham explains his aha moment came after a visit to a Modernist Food lab in Seattle. "I ​was super impressed with the culinary research and development going on there and all of the scientific boundaries that they are pushing. It was an honor to be invited and it really pushed me to experiment more with the science of food," Although Gorham felt the modernist aesthetic was too cold and too laboratory, it all came together after his visit to San Sebastian gastronomic societies, "These are warm, inviting spaces, focused on the betterment of food, and pushing culinary boundaries, while also building relationships and strengthening the community. I loved it and immediately wanted to open something like that in Portland."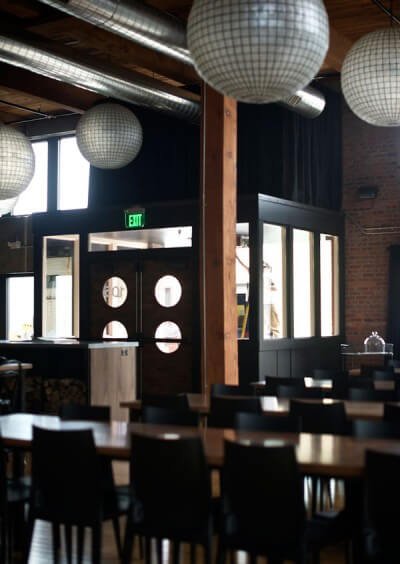 Nestled in the Central Eastside between Water Ave and the Train Tracks on SE Taylor, Plaza Del Toro is an unassuming old furniture warehouse from the front. Enter a few steps up however, and it's the type of wood and concrete, "industrial – natural" Gorham is known for, with large windows looking out over the street and train tracks. This is not a thrown together catering hall; amenities include a cocktail bar, state of the art rotisserie, a large wood fired oven imported from Spain, and a central iced-filled raw bar.
We were lucky enough to attend the opening party last week, and had a sample of what Plaza Del Toro provides. Cocktails included the Turkish Delight made with vodka, Ceylon tea, lemon, orange blossom water, and orange bitters, and a Sangria made with red wine, brandy, oleo saccharin (a mixture of orange/lemon peels and sugar), and cava. Food samples were like an "It's a Small World After All" of Gorham restaurant hits – the radicchio salad from Tasty and Alder, Tapas of all sorts, nibbles with Mediterranean flavors. Renting out Plaza Del Toro would allow one to grab all their favorites from all of Gorham's restaurants.
Toro Del Plaza is available for private catering events, and Gorham plans on using it for special dinners as well as regular prix fixe style brunches starting in May. I'm looking forward to attending them.
Plaza Del Toro: 102 SE Taylor St., Portland; 503-764-9678