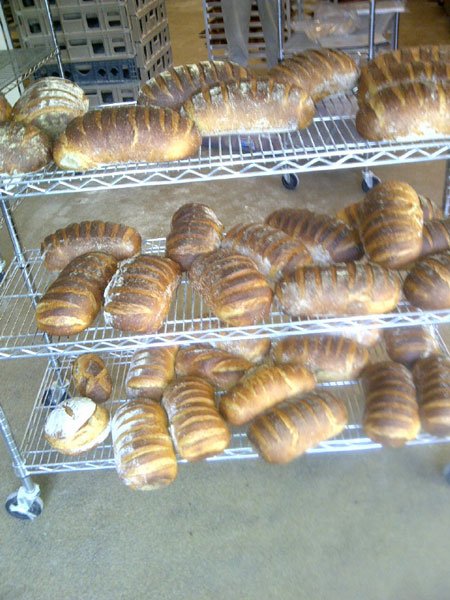 Refreshed: 6/12 – hours, text
A few weeks ago I was enjoying a quiet cup of coffee at Fleur de Lis Bakery when I overheard two women at the next table talking about "Food Dude". This has happened to me several times, and I always enjoy hearing what people have to say. "You know his secret", said one woman. "He is really a she; it is all part of the disguise!" She said it with such conviction; I had a sudden urge to go to the restroom, just to check. Thus was my introduction to one of the newest entries in Portland's burgeoning bakery market.
Greg Mistell was the original owner of the Pearl Bakery, which, at one time, many considered the best source of bread in Portland. In 2006, he left Pearl and opened a new bakery in the old Hollywood library building at NE 40th and Hancock. When I heard, I dropped everything and drove over to Fleur de Lis to check it out, even though it was late at night and I knew it would be closed. Since then, I've been eating my way through their pastries, bread, and sandwiches – It's a tough job, but someone has to do it.
The space itself is very nice and relaxed. It retains its library roots in the architecture of the building. Tall floor-to-ceiling windows allow light to spill into the room. It is very large; I could easily foresee this turning into a popular coffee house-type space with live music if Greg so desired. There is an array of comfortable tables and chairs, a mix of two and four tops, plus a few large tables and a sofa or two. The kitchen itself takes up a small corner; I'm surprised they didn't make it bigger and can't imagine how they manage to turn out so many items! The staff seems to be made up of family and friends. It is obvious that everyone there has their heart and soul into making it a success. All in all, it is a comfortable relaxed space, and I have enjoyed my time there.
First the basics. Coffee and coffee drinks are available, all Stumptown blends. There is a large selection of different pastries: airy little apple puffs, flavorful rhubarb tarts, wonderful scones – may be the best in town – are available every day. For almond lovers, the almond ring is a winner, exactly the way it should taste on a perfect crust. The croissants are flaky, light, and buttery without being oily, unmistakably authentic. The pain au chocolat has a good amount of excellent bittersweet chocolate running through it. One of these and a cup of coffee and I'm set for the morning. Other notable offerings: walnut pecan rolls, cinnamon rolls, pecan coffee cake, apple mazurka, blueberry scones, orange-currant scones, banana-walnut scones. Note that the choice is better if you get there early in the day.
Next, we come to the sandwiches. They have a good house-roasted pork loin sandwich with decent cheese, roasted onions, thin slices of beets, and a very light coating of mayonnaise on fresh, soft bread. The same goes for their Black Forest ham, which has the expected traditional ingredients. Other sandwiches available on a recent weekday include basil, tomato, and mozzarella; turkey with cantel cheese and cranberry; ham and gruyere; tuna salad; and finocchio with salami. They come with potato chips and a few slices of mandarin orange. There is also a soup de jour; this week it's rustic tomato basil.
If there is a weakness, it is with the coffee drinks. While they have good house coffee, the specialty drinks need lots of practice. Hopefully, Greg will send someone to barista school, as this can be a great source of revenue when correctly executed.
The bread is excellent too; I'd say right up there with the best in town. Their normal stock includes panini, multi-grain rolls, olive ciabatta, and levain. I've bought the levain a few times and ended up eating half of it in the car on the way home.
Give it a try to see what you think. It is worth an expedition on a lazy day. When Greg gets the chairs and tables on the patio outside, it will be the perfect place to spend a Sunday morning.
Address: 3930 NE Hancock St, Portland, OR. 97212 Google Map
Phone: (503) 459-4887
Hours: Mon-Fri 7am-4pm, Sat & Sun 8am-3pm
Website: FleurDeLisBakery.com