Tour de Crepes has closed, to be replaced by Suzette Creperie by Jehnee Raines.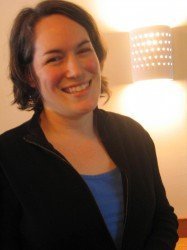 You may remember Jehnee from Nancy Rommelmann's interview:
"Before Jehnee Rains became a pastry chef, she was a painter, and to hear the thirtysomething Portland native tell it, the enthusiasms are the same: a fascination with color, with texture; a curiosity as to how elements might work together, and a character that finds inspiration in something as perfectly simple as a peach. After more than a decade in the Bay Area, many of those years as pastry chef at Chez Panisse and Quince, Rains launched her local career last summer at Gotham Building Tavern…"
From Jehnee:
Bonjour Suzette!

Suzette creperie is opening on Alberta St.

Jehnee Rains is taking over the Tour de Crepes space, expanding the menu and the hours to 9 am 9 pm Wednesday through Sunday. In addition to sweet and savory crepes sold morning, noon, and night, we will be making scones and french almond teacakes, ice cream cones, and desserts.

Our dining room is an historic dairy carriage house, with lovely patio. All the cooking is done in our kitchen behind the carriage house, in an airstream trailer. Come to the window to order, then relax and have a glass of Champagne, wine, or beer while we prepare your order.

Friday night is film night, and for Sunday brunch we have an accordian player, carriying us back to the streets of Paris!

Jehnee has been making desserts for 15 years, much of it in the Bay Area at institutions such as Chez Panisse and Quince. Here in Portland she has been pastry chef for Ripe, Bluehour, and Clarklewis, all restaurants that work closely with local farmers.

Suzette sources ingredients locally and organically when possible, recycles, composts, and will grow our own veggies and flowers in our backyard garden starting next spring!

Grand Opening is Thursday, September 24th, last Thursday!, opening at 4 pm.
2921 NE Alberta St. between 29th and 30th
Jehnee is one of my favorite pastry chefs, a genuinely nice person, and I look forward to her restaurant opening late this month.