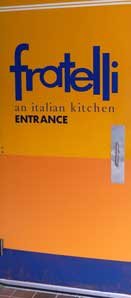 Because of its location, Fratelli, Italian for "brotherhood", is one of those places that is easy to forget. Hidden on a side street behind Oba, it is only noticeable because of its bright orange door and small sign. Inside that door is, to me, one of the most romantic restaurants in Portland. Years ago, I went there on a fairly regular basis, but over the years, the food varied widely in quality, so I stopped going. Until now, I haven't been back for some time. I thought it would be nice to give it a fresh look.
You enter through a narrow brightly colored hallway. A left turn takes you into the small bar area, next to an open kitchen. The room itself has two personalities. Under the bright light of an early summer evening, it is a fairly ordinary space, but once it gets dark, becomes much more dramatic. Weathered-looking concrete walls form the room; long drapes from floor to ceiling cut sound and help soften the edges. Old wooden tables and chairs with well placed sectional carpets add to the effect. Dim lighting from candles on the tables makes for a very romantic, intimate space; windows look out to the street at the far end. Still, there are enough regular light fixtures to make reading the menu easy. The overall feeling is a secret, romantic atmosphere that makes you want to bring a date.
The bar area is quite small, just a half dozen barstools somewhat in the traffic lane. Fratelli has a full liquor license with a good selection of house cocktails and six beers. Wines are interesting and very reasonably priced, highlighting various regions of Italy. You have to look to find a bottle over $40.00. Staff knowledge of the list is impressive; they are very familiar with the selections.
Paul Klitsie and Tim Cuscaden are supporters of organic regional food sources, and their use of ingredients reflects that passion. The menu is organized much the same way as other Italian restaurants with primi, pasta, and secondi courses, as well as sides, formagi and dessert. Your meal will begin with good fresh-baked bread and olive oil. I usually start with the bruschetta. There are three to choose from, most recently mascarpone and truffle with shaved beef, spiced charred tomatoes with roasted celeriac and tarragon, and a third of slow cooked leeks and porcini mushrooms. You can get all three for $9.50 (see menu below). My experience over the past few months is they are satisfying, yet not really something that makes you want more, lacking the strength to put them over the top; merely just fine. The mascarpone and truffle have a good nose at first, but overwhelmed by the other ingredients, fade quickly on the palate. My personal preference was for the leek and mushrooms, a nice earthy taste contrasting with good crunchy bread.
I tried the insalata verde con nocciola e mela ($7.00), featuring Weppler's greens, toasted hazelnuts and fresh apple. For me, this was disappointing; just another boring salad. The roast pear tart is a great combination of flavors. Rosemary tangos with blue cheese, the leeks and crispy parsnips provide contrast, the whole thing being supported by a flaky crust ($8.25).
For something comforting on a cool evening, try gnocchi di patate e sedano – celeriac and potato gnocchi with blue cheese, pine nuts and Napa cabbage. This is not a light appetizer; instead rather heavy, yet comforting, though a bit too salty for my taste due to the cheese ($8.00).
The kitchen does a good job with risotto; they change on a regular basis. A recent version had a bright, fresh basil flavor, just like a good pesto. The rice was cooked properly and everything came together to make this dish a winner. On another night, it was an oven-baked version, Risotto al Forno. A native peasant dish from Campania, Italy, it is traditionally made with a tomato sauce. At Fratelli, it consisted of mascarpone cheese and the deep fragrant flavor of truffle. An oven baked risotto is unusual for Portland, and I found this an interesting dish with delicate flavors. It is served in a little round cake on a bed of arugula (each risotto $8.25).
Pastas are a mixed bag. On one visit, the pasta special was orecchiette with pancetta. The pasta was thin and the pancetta nice and smoky; this was the best dish of the night. Another night the ravioli special was swimming in a very heavy broth, almost like ravioli soup. It had strongly flavored beef with a fair amount of connective tissue. I hated this dish and couldn't even finish it. (Yes, I am aware that this is a standard way of serving ravioli, however the execution was lacking.) A third night, the ravioli was smoked chicken and goat cheese which worked very well, all of the flavors coming through without fighting with the pasta (all versions were $16.50).
Pork is usually on the menu. I tried the Carlton Farms pork loin in a pomegranate sauce. The pork was overcooked and the pomegranate seeds didn't add a whole lot of flavor. It was accompanied with caramelized leeks which didn't really work for me; disappointing for $17.75. When I see duck on a menu, I usually give it a try. Here the meat was good quality, but it was slightly overcooked. The accompanying sauce changes frequently, but the most recent roast rhubarb and black currant demi glace was an interesting combination of flavors that went well with the meat ($19.75).
Desserts run the gamut: profiteroles in chocolate sauce were good and rich, an ice cream was full of chocolate flavor and creamy. No complaints. On my third visit we tried a chocolate orange bomba that reminded us of those chocolate orange blossoms sold in stores during the holidays – it was overly heavy and sweet; I wouldn't order it again. A rhubarb tart also failed to hit the mark, being a bit soggy and lacking flavor ($6.25 each).
Overall, Fratelli is another restaurant that I really want to like. The knowledgeable, efficient staff, excellent wine list, and the cozy environment are all terrific. The menu is creative; full of ideas that are not usually seen in Portland. Unfortunately, dishes sometimes fall a bit short of the mark. Many are just average, and miss the little bit of polish that would put them over the edge. Still, if I was looking for a restaurant where my focus would be more on my date than on the food, Fratelli would be on my list of choices.
Phone: (503) 241-8800. Reservations recommended.
Address: 1230 NW Hoyt St, Portland, OR. 97209 (just behind Oba)

Google Map.

Hours: open 7 nights a week. Sun-Thurs 5-9 , Fri – Sat 5-10. Bar Dué – 4:30-midnight Sun-Thurs, 4:30-1am Fri & Sat. Happy Hour 4:30 – 6pm and 9pm – close 7 days a week.
Happy Hour: Happy Hour 4:30 – 6pm and 9pm – close 7 days
Website: FratelliCucina.com