Note: gotham building tavern closed for business 4/28/06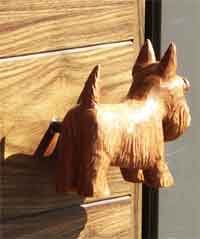 As you probably have heard, Gotham Tavern has revamped their menu more towards British pub food. You can see their old review here
Now for the update. From their press release:
About 8 months ago we opened a very nice restaurant – a charming restaurant – but we didn't open a tavern. you all know this – you probably have uttered the thought out loud – well – we are going to give you a tavern – whatever the hell that means.

big changes.

• we are serving a hamburger at night (yeah, finally)
• no more reservations (unless your party is 5 or more)
• we have 3 cuts of grilled strawberry hill naturally raised steak on the menu nightly (new york strip, rib eye, hangar)
• the wine list is becoming way less esoteric
• we have jug wine and malternative beverages
• in February we are going to be starting a dj'd late night scene with lady connie
• the servers are going to be in street clothes – the service is going to be much less formal
• the breakfast menu has doubled in size – eggs Benedict and chilaquiles served daily
• we now have cheap well drinks
• you can order a martini at noon

these changes were inspired by tommy's recent trip to London, he ate his way through most of the gastropubs in that lovely hamlet and was moved by the vibrancy of the the culture – inspired food in very casual settings…

and then there is the basic fact. that. you. portland. deserve a tavern… with amazing food.
This was a bit of a shock to me, as I loved their old menu, but as the changes are the talk of the town, I decided I'd better take a fresh look. Here's most of the menu:
Starters
Aged Gouda fritters (aka gougeres) $6.00
Daily soup $6.00
Vermont cheddar and chutney sandwiches $7.00
House bacon sandwich with mustard and HP sauce $6.00
Scallop crudo with braised local celery and lobster aioli $11.00
GBT burger with chips $10.00
Local oysters (2 kinds from Washington State) $11/half-dozen
Roast marrow bones with bitter herbs and grilled bread $11.00
Warm goat cheese with arugula and fried olives $9.00
Beets, blood oranges, and feta $8.00
Salumi's coppa with endive and cacao di Roma $10.00
Escarole hearts Caesar style $8.00
Simple greens with Manchego and sherry vinaigrette $8.00
Entrees:
Toad in the hole with braised pork belly and apple butter $10.00
Saffron and spinach pilau $9/15.00
Tagliatelle with Uncle Margaret's chicken liver ragu $9/15.00
White bean ravioli with balsamic brown butter $9/16.00
Chicken confit hash with poached egg $11.00
Fines herbes omelet with chips $9.00
Whole (sometimes) fish of the day (Market Price)
Roast chicken with sage sausage stuffing $20.00
Local mushroom and truffle pot pie $18.00
Pork chop with sherried onions and sweet smoky Yukon's $23.00
Hanger steak, arugula, blue cheese dressing and pickled mushrooms $21.00
Fish and mussel stew with corona beans and rouille $21.00
Rib eye 14 oz. with two sides $38.00
New York strip 10 oz. with two sides $34.00
Desserts:
Chocolate and banana bread pudding with burn sugar cream
Ginger apple crisp with maple ice cream
Seasonal ice cream – tonight was cognac cherry with or without chocolate sauce
There was one other, but I can't read my notes.
I went in with friends, divided into two parties so we could try a wide variety of items. Here is a quick overview of our impressions:
The bacon sandwich with mustard and hp sauce was just fine, a decent meal for $6.00. Two pieces of very thick cut house-made bacon on a French roll. For those that aren't familiar with it, HP Sauce is a popular brown sauce produced in Birmingham, England. It has a malt vinegar base blended with fruit and spices. All the flavors were well balanced. Keep in mind it doesn't come with anything on the side, so you'll need to order more.
Roasted marrow bones are served classically: three large bones with bitter herbs and grilled bread ($11.00). The marrow is wonderfully earthy, and there is plenty to dig out and spread on the crusty bread. The dish reminded me of my childhood and I'd gladly order it again.
Escarole hearts Caesar ($8.00) is still on the menu, and is still great. The greens are fresh and the two anchovies draped across the top have a clean taste, giving a nice tang without being fishy; usually soaking them in milk gives this quality. Balance is good with a good harmony of flavors. The croutons are excellent, with a grating of a good reggiano on top instead of the overly salty stuff so many places use these days. This is subtler than many Caesars, though not terribly authentic, more in the style of Julia Child's recipe. I loved it.
Salumi Salami comes from a store opened in Seattle by Mario Batali's father. Until recently, it was hard to find in Portland, but now it is everywhere. Here, the nice, fatty, coppa salami comes with slivers of endive, cacao di Roma cheese, and a drizzle of balsamic vinegar around the plate. It is a good introduction to a good coppa ($10.00).
The GBT burger is a nice big patty of Cascade Range Beef between slices of a Thomas English Muffin. You can order it with house bacon and aged cheddar for a few extra dollars. It reminded me of a sourdough cheeseburger. Very juicy, with pretty good fries that arrive steaming in a paper cone. $10.00, $11 with cheese, $12 with bacon.
I was thrilled to see the Tagliatelle with chicken liver ragu still on the menu. This is one of the best dishes I had in 2005. Stunning, and to use the most overused word in food writing – UNCTUOUS. Don't let the liver throw you; order this dish! If you are scared, get a small portion for $9.00. Highly recommended!
A pork chop arrived perfectly grilled, atop a stack of roasted Yukon potatoes. It was thick, moist, juicy, just the way you would expect it to be. The sherried onion sauce poured liberally over the top is just fine. I'm not going to say this is the best pork chop I've ever had, but it didn't disappoint ($23.00).
Finally, we get to the Fish and mussel stew in rouille. First of all, the broth was fantastic. I could drink a bowl of this and go home happy. For those that aren't familiar with the term, 'rouille' is a French sauce of water, softened and squeezed bread (much like is used in an Italian panzanella), garlic, salt, red peppers, and olive oil. It is commonly served with bouillabaisse and other fish soups in Provence. The mussels and fat, juicy scallops matched perfectly – heaven on a plate. The fish was a breaded, deep-fried cod. Now, I know this is supposed to be British pub food, but why on earth do you put deep fried fish in the middle of a stew? For me, it just didn't work. If the cod had simply been sautéed, this would have been on my top dishes of 2006 list. They need to rethink the construction here. Still, there was a large amount of shellfish and cod ($21.00).
The pastry chef is Timmy Thompson, who just replaced Jehnee Rains who has moved to Balvo. We tried multiple desserts. Though they sounded great, none of them were anything special. The pastry chef is quite new however, and I think we need to give him more time before passing judgment.
It is interesting, that after so much publicity, Gotham Building Tavern decided to make such a radical change in direction. I'm not going to speculate what the reason may be, but I think it is safe to say that the food is more along the lines of what I expected when they first announced they were opening a pub. The first week certainly proves that they will still have an interesting selection of dishes that will challenge our palates. Let's hope some of our old favorites move down to clarklewis.
503-235-2294. 2240 N. Interstate Ave. Portland. Google Map. 8:00am – 2:30pm Tues-Fri, 4pm to close Tues-Sun, 9:00am – 2:00pm Sat-Sun.
15 Responses to "Gotham Building Tavern – 1.11.06"
Posted by: ExtraMSG:

I actually thought the banana chocolate bread pudding was an excellent bread pudding. Texture was perfect, moist but substantial. It was intensely chocolatey with a pleasant banana flavor that wasn't overwhelming. The burnt sugar cream made a good contrast to the dark chocolate. And the little slice of banana with brulee was a very nice touch.

You seemed to like it more than me, although I think you had more of the previous menu's dishes. I really think the main dishes sound blah and are rather spendy. I don't know why I would choose GBT over Wildwood, Carlyle, or Olea — all of which have more interesting menus in the same price range. At least not for the big dishes.

January 12th, 2006 at 3:03 am

Posted by: Food Dude:

MSG – yeah, but the ice creams were just not right – not sweet enough, texture wasn't quite right. The 'crisp' was not, topping was gluey and the filling was sliced too thin so that it had no texture. One decent dessert out of four does not, in my opinion, make a passing grade.

I agree that some of the main dishes are not too exciting – they never have done steak very well and now they have three of them. But there are still good choices to be made, and with a bit of tweaking things like the seafood stew would be stellar. Who cares if the ragu is from the old menu. It is one of the best dishes in town. Olea may have more complex dishes, but they rarely pull it off with many more misses than hits.

Since you seem to be a bit lonely over there, here ya go: everyone rush over to portlandfood.org. Dynamic discussion, laughter, angst, and dancing girls, you can find it all there!

January 12th, 2006 at 12:16 pm

Posted by: Chambolle:

Today's Portland Tribune is the distilled essence of most Portland food writing: A piece on the cupcake place (which had previously been reviewed by the WWeek in their restaurant slot) and the other on GBT. Next up: a daring puff piece on Lisa Schroeder and Bruce Carey.

January 13th, 2006 at 3:14 pm

Posted by: Food Dude:

Chambolle: Most of the issue right now is critics lost a few weeks of eating over the holidays. With all the normal social obligations, it is hard to fit in 4-5 dinners a week. Now we are all playing catch-up. This iste doesn't exactly have a lot going on right now either, though I'll have two new reviews out early next week.

January 13th, 2006 at 5:24 pm

Posted by: Metroblogging Portland:

What, no 40 oz bottles?

Oh, how the mighty have fallen. From today's WWeek: Now here's a food trend we can get behind. The Gotham Bldg. Tavern has finally embraced the pub part of its "gastropub" name—and then some. At the suggestion of sous chef…

January 18th, 2006 at 11:23 am

Posted by: tamara:

Wow. I was so looking forward to my first visit.. love ripe and clark lewis… perhaps I need to give it another try but my first impression (of the food only) was terrible. I went with three friends and all of our plates were not just ok or lukewarm.. but actually terrible. So sad.
They spent more time on the decor than the menu and preparation.

March 15th, 2006 at 5:28 pm

Posted by: Jess the Prep:

I just tried it tonight. My preliminary review (and I'll try to keep it short) is very good, but not excellent. We tried three appetizers (including the marrow bones), one entree, a dessert and 4 different drinks between the two of us. Only the dessert – the apple crisp – was transcendant. There were jus no shockingly great surprises.

This is not a negative review, just not a "wow! I'm amazed!" review. The marrow bones were creamy and decadent, but a little skimpy (which could be just a factor of the particular bone I happened to get). The beet salad was simple and delicious. On the other hand, the mushroom/truffle pot pie was a little salty (and I like salt) and a little, well, just good. Not great. The scallop crudo was also skimpy, but I forgot before I ordered that "crudo" is one of those skimpy things – a tiny bit of fish with an infused oil and some sea salt. A little too high-end New York for a pub, IMHO.

I will try it again, with recalibrated expectations. But I think the place would have been better served by a little less opening publicity. Overly high expectations can kill a 'very good' experience.

March 15th, 2006 at 10:57 pm

Posted by: Food Dude:

Jess – thanks for the report. I haven't been back since just after they switched to pub food. It just hasn't had the same draw for me. I suppose I should revisit.

March 16th, 2006 at 10:17 am

Posted by: hunter:

ALl I want to know if whether they still ahve the pasta with chicken liver ragu.

March 16th, 2006 at 10:30 am

Posted by: Food Dude:

Hunter – if they don't I'll participate in a protest at the front door! I did have it after they changed menus, so hopefully it is still there. Damn, now I'm craving it.

March 16th, 2006 at 12:06 pm

Posted by: Luca:

No worries FD, they still did as of last Sunday.

Glutton as I am, I jumped on it remembering what I read here.

I'd add that not only was it an exciting dish, but the whole dinner was perhaps the best I (and my dining party) have had in a while.

March 16th, 2006 at 1:40 pm

Posted by: hunter:

I obviously want it so badly that I cannot even type as exemplified above.

March 16th, 2006 at 1:45 pm

Posted by: Food Dude:

I hear nothing!

Must
Stay
On
Schedule!

March 16th, 2006 at 2:30 pm

Posted by: Jess the Prep:

The chicken liver ragu is still there, and I desperately wanted to order it, but my eating companion and I were sharing and she wasn't feeling "meaty". I won on the marrow bones, at least – which I'm going to have to try to do at home so I know how good/bad their's are.

March 16th, 2006 at 8:43 pm