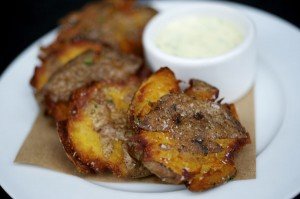 Note: Restaurant closed in 2016.
this review was extensively updated 10/2012.
Grüner isn't a "German" restaurant, nor does it bill itself as such; rather it is Alpine. This is a vast region that includes pieces of France, Italy, Austria, Switzerland, Slovenia, Hungary, and even a bit of Balkan and Mediterranean influences. All of this is alongside the distinct regional cuisines of Germany. Like billing a restaurant "Italian", most of us know the cuisine of Tuscany can be quite different than that of Modena, Venice or Rome. The same goes for Germany as well as the Alpine Region. This makes Grüner a bit more complicated than just schnitzel and wursts, although they have those too. For example, Maultaschen has its roots in the Swabian area of Germany, such as Stuttgart while Schinitzel is a traditional Austrian dish.
The architects did a nice job with the space, which used to be a furniture store. The front door opens into a small bar area which has a few little tables. If you try to eat in the bar while people are waiting, you may find it overwhelming. The dining room is on two levels. Earthy colors are easy on the eyes, the lines clean and modern. Traditional pomace olive oil candles flicker on the tables. It is a very live room and when full, it is difficult to hear one another talking. The wood panels at the end of the dining room help diffuse the noise level; however the bar is a cacophony when it's busy.
Although Germany has a fairly regulated beer culture, the number of breweries is second only to the United States, resulting in a great variety. It is less prone to various "flavorings", because of a regulation called "Reinheitsgebot", which limits the ingredients to water, hops, barley and yeast.
Grüner generally keeps the beer focused on selection from the regions of the food they serve. Six are available on draft, four by the bottle. Prices range from $7 for a  16.9 oz bottle of Stiegl Goldbrau lager to $9 for an Einbecker Ur-bock Dunkel. There is something for everybody, including a few local brews.
The same can be said for some of the spirits. The menu currently features German specialties like Linie Aquavit, Schönheit Schlicte Steinhaeger Dry Gin and Schladerer Black Forest Kirschwasser.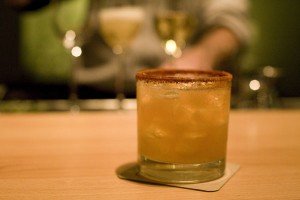 Cocktails are interesting and make the best of flavors from throughout the world. Try the Die Saure Schotte – Isle of Sky Scotch, Cynar, lime and tea syrup. It is terrific, a robust anathema to a rainy evening; balanced and smooth, all the components – bitter, spice, sweet and floral – working together.  If you are more into savory drinks, the Austrian Monk is also a good choice. It is a mix of gin, yellow Chartreuse, celery and lemon. Cocktail prices begin at $9.
The wine list is large and regional, so it may consist of selections you are not familiar with. However, the staff is very knowledgeable about the choices, and led me to some excellent bottles that I might not have otherwise tried. I have a love for good Grüner Veltliner, and they have some nice bottles to choose from, along with a large group of Rieslings that cover the wide range of characteristics present in the varietal. About 40 are available, at a good range of prices from $40 and up, with markup about average.
Food is available in the bar; that is your only option if you are taking advantage of the happy hour.
The service is somewhat uneven; some nights it is great, at times pacing can seem a bit off.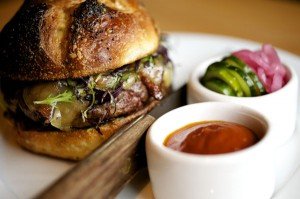 Friends raved about the fried, smashed yellow Finn potatoes in a "special sauce" which had a nice dill flavor, but seemed more like "ranch" than special. The potatoes were just fine, but the sauce was weak and runny. The Grüner burger is one of the best in town, but is only available in the bar. The poppy seed bun is perfect, made in-house, cooked until slightly crunchy; substantial enough to stand up to the juice from the meat patty and the currywurst ketchup. Thin house-made bacon is draped across the top, and you have a choice of thinly sliced fontina or cheddar cheese which runs down the sides like a seductress. Pickled onions and cucumbers are carefully nestled in ramekins.
While you are waiting for your table, order some of the crisp polenta croquettes stuffed with raclette cheese. Crunchy and creamy, they go perfectly with a cocktail.
APPETIZERS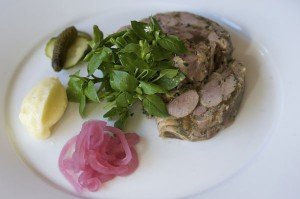 Tarte flambé is the French name for a famous Alsatian dish named flammeküche. Grüner bills theirs as "Alsatian Pizza". It's not quite true to the original, as the crust is thicker and more pizza-like in Grüner's version, but the bits of smoky lardon, crème fraîche and subtle sweet onions are textbook. It's a nice starter to set the mood for Alpine cuisine, and substantial – split it with your companions. The tarte and a salad would be enough to serve two for a light supper.
Everything on the charcuterie sampler is made in-house, except for the speck which is from Italy, and the salame gentile, which is from rotating vendors such as Olympic Provisions. Currently they are joined on the plate by spicy coppa, Chop salami, house-made rabbit mortadella, country pâté, liverwurst canapés, excellent pickles and grain mustard. With these vendors, it is hard to go wrong.
Maultaschen are described as "Swabian ravioli" filled with onions, spinach, beef and pork. They are served in a broth studded with fresh green chives. The raviolis have a thin skin which lets lots of flavor come through; you can taste all the ingredients. The beef and pork are finely ground, the beef richer in flavor, a little smokiness somewhere between the pork and spinach. I like this dish much more now than when Grüner first opened.
SALADS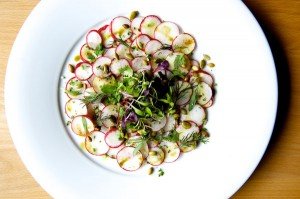 Few chefs in Portland show salads the respect they deserve. Grüner's are in perfect harmony with the seasons and made with a deft touch. For the price, they are an excellent deal. The shaved radish salad with pumpkin seed oil, pumpkin seeds, herbs and vinegar was light, harmonious and was pure early spring. Beautiful paper-thin concentric circles of pink, red and white radishes contrast against the plate while a little mound of greens brightens the center. The salad is lightly dressed with Styrian (Austrian) pumpkin seed oil, cider vinegar, dill, chervil, chives, and pumpkin seeds. The pumpkin seeds and oil are a traditional touch. I enjoy this salad and have ordered it several times, though on one visit the radishes were watery and overdressed.
The Grüner salad arrives in a large glass bowl brimming with a variety of ingredients to play with both flavors and textures: lettuces, carrots, fennel, little pinwheels of chiogga beets, celery, scallions, cucumbers, sunchokes, chickweed, sunflower seeds, and pretzel croutons. Perfectly dressed, (though one time slightly under-dressed), there is lots going on, but all the flavors balance, a slight nuttiness from the dressing and sunflower seeds playing counterpoint. Maybe I was just overwhelmed by the size, but I preferred the Frisee salad of gruyère, artisan ham, walnuts, chives, and creamy mustard vinaigrette. It has lots of interesting textures and flavors. The mustard dressing is balanced, slowly building, but never overwhelming.
ENTRÉES
Schnitzel is a traditional Austrian dish. It's usually made with veal, but Grüner uses pork tenderloin (technically with pork it should be called schnitzel wiener art). It is my least favorite of all the entrées I tried. However, Schnitzel is one of those dishes that is simple but argued. How thin should the meat be? Should it be fried dark brown or merely to a light gold? Should the bread crumbs be super fine or coarse? Everyone has a different ideal. Here the tenderloin is pounded thin, tender and crispy, and fried with breadcrumbs almost as fine as dust. For my taste it was too dry. I wondered if the breading on the Grüner version might be too fine, with the larger surface area soaking up more of the juice, but have little experience to back my theory. The German butterball potato salad served on the side was simple, just small chunks dressed with vinegar and dill. Accompanying cranberry relish was chunky, bright and balanced between sweet and sour as it should be, though a bit more would help cover the dryness of the meat. A bit of lemon squeezed over the top adds further contrast to the entrée. Translucent strips of cucumber act as a palate cleansing salad. Though the pork was a little more moist the second time I ordered it, it still wasn't anything special; they could do better.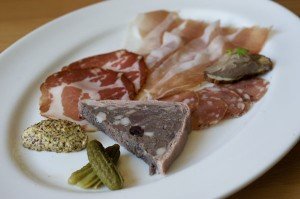 The house-made  bratwurst and saucisson sausages are served with sauerkraut, Yukon gold potatoes and sweet mustard. The bratwurst is pork in a Bavarian preparation: lemon zest, salt, pepper and nutmeg. The dish is large, but if you are particularly hungry, you can 'upgrade to the choucroute garnie, which adds braised pork belly and cured pork tenderloin. The pork belly is quite nice. Too much fat for some, but lovely and sweet with slight apple flavor; it melted in my mouth. The same goes for the pork tenderloin; juicy and tender, slightly smoky with an unusual buttery smooth texture. The night I tried it the sauerkraut was a bit tough and a bit overwhelming to the nose, but the freshness and flavor stood up to the brat. A ramekin of sweet mustard is quite good, a perfect foil to the sausage. This is my favorite dish at Grüner.
The other entrées are smaller in size than the full choucroute. Nettle ricotta dumplings with wild black trumpet mushrooms and Parmesan, are lighter than they look. The trumpets are rich and buttery with an earthiness that is balanced with the nettle. This is one of my favorite dishes on the menu, but of course it is only available when nettles are in season.
The composition of the mixed grill has changed since I tried it last. It now consists of loin pork chop and Weisswurst sausage, spiced red cabbage, quark spätzle and wild plum preserves. If the rabbit mortadella component comes back around be sure to give it a try.
I like the spätzle with morels, braised chicken, Riesling, thyme, crème fraîche and crisp fried shallots. It is almost a risotto in texture, a nice silky quality playing against the chicken and other ingredients which are in very small bits. It looks like a small portion, but is a bit heavy, so you'll leave satisfied.
Grüner has settled in and matured over the last few years. The biggest issues I have seen since my first review, are a decline in the quality of service, and the large jump in prices. Some of the dishes have increased by $5, portion sizes seem smaller, and some of the more expensive ingredients have been substituted with cheaper items. Restaurants are under a lot of pressure to reduce costs, but these changes have moved them into more of a special occasion restaurant.
Grade: B
Address: 527 SW 12th Ave., Portland OR 97205  Map
Phone: (503) 241-7163
Website: Grunerpdx.com
Hours: lunch Mon-Fri 11:30am – 2pm. Dinner Mon-Thu 5pm-9:30pm, Fri-Sat 5pm – 10:30pm
Happy Hour: Mon – Fri 4:30pm – 6pm in the bar
Reservation Policy: OpenTable
Noise Level: low/moderate
Price: expensive. Entrees $18-$30, appetizers/salads $8-13, desserts $8.
Social: N/A