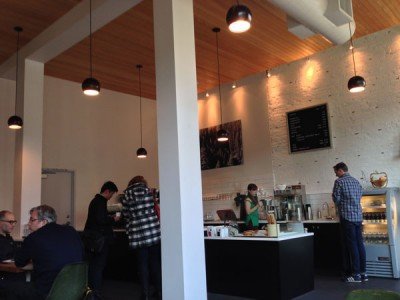 Heart Roasters has opened a SW Portland location. It is hidden in a small space next to Gruner restaurant – I believe the share the same main entrance door. Once inside, it's a nice little spot – very industrial, but with weathered brick, some really comfortable chairs (I love that green color), and a few little touches to warm the room. It is austere but comfortable. I'd call it Scandinavian Zen, although it does have WiFi and all the other café comforts. As is de riguer, a nice shelf runs across the windows, providing a good place for watching the people queuing up at Tasty n Alder across the street.
Heart's approach is obsessive, but this obsession does produce an outstanding product that is often both complex and more accessible than some other "rougher" roasts. To me, Heart's roasts are more floral, delicate and layered than some others in town. You can read more about owner Wille Yli-Luoma here.
Pastries/muffins/sandwiches are by Kim Boyce's Bakeshop.
537 SW 12th Ave, Portland 97205