Portland restaurant news hasn't been terribly interesting lately, but here are a few stories from around the web which have caught my eye.
---
Men's Journal has a great article on Gordon Ramsay. It puts a more human face on the volatile celebrity chef, and almost has me liking him.
The story talks about his childhood, current home life, the upcoming show "Junior MasterChef" which features kids, his swearing, and the great deception he pulled off in 2007, where he garnered publicity after accusing a competing chef for stealing his reservation book, which it turns out he had arranged himself.
You can read the article here.
---
The Huffington Post sat down with Thomas Keller for a lengthy, honest interview about tasting menus, the rise of the celebrity chef, how he manages all four restaurants plus his cooking line and Cup4Cup gluten-free line of foods.
The interview starts off with Keller's no BS style –
Chef, you bought the French Laundry in 1994 when Yountville was a ghost town. How has it been to watch the area change over the years? I think that's pretty much common knowledge; you can find that on the website. Did you do any research on me whatsoever? I'd rather just talk about what you really want to know.
Ouch! Has anyone tried his C4C flour? I'm not a gluten-free fan, but I know many people are.
---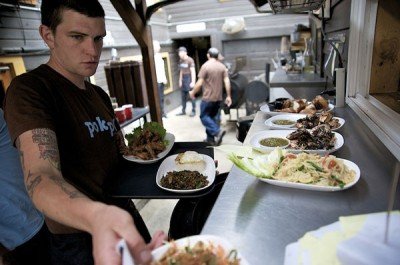 Eater National has an interesting interview with Andy Ricker, on his first year in NYC.
Were there pleasant surprises?
Oh yeah, totally. I was pleasantly surprised by what people ordered here in comparison to what people ordered in Portland.

Like what?
There are certain things on the menu that I feel are more emblematic of what Pok Pok means to me. In Portland, for instance, we sell zillions and zillions of chicken wings. In New York, when people come out to eat, we sell a huge quantity of northern Thai laab, and to me, that's one of the more esoteric items on the menu. I was pleasantly surprised by that.

I think a lot of it has to do with the fact that more than 50 percent of our clients in Portland are tourists who are brought to Portland for whatever reason but have heard of us through the TV shows or whatever, which feature the wings prominently. I think in New York we're still getting the dining crowd. We also have a very high number of Thai diners here.
Good interview. If you are a fan of Ricker, it's a must read.