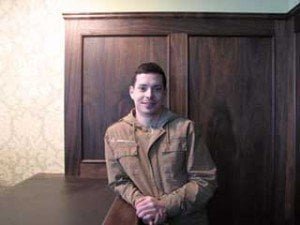 Sure, you thought that you've been in Portland's hippest coffee shops, sipped on single-origin French press while enjoying the pour over bar, sleek furnishings and espresso equipment that likely is worth more than your car. But now that's water under the bridge. Add all of that to a high definition surround sound system (need to hit the restroom? Yeah, there's a speaker in the ceiling there too), custom woodwork tables, and French inspired wallpaper with coordinating custom wrap around leather benches. Throw in a few taps of fine beer and you're close to picturing the space Billy Wilson has been working on over the past few months. Barista II is not just another coffee shop; it's a coffee shop with a strong speakeasy nod that answer's the question, 'Oh – this is where I've wanted to hang out and didn't even know it.'
Billy: It looks good in here. We just pulled the paper off the walls – it's like unwrapping a present. (He's showing it to his friend Matt)
Let's talk about the design of the place
Billy: It's kind of a funny thing how we designed this. Ben (King – the architect) and I work really well together. I initially sat down with him and was like, 'This is my idea.' I wanted to do more of this style in the Pearl shop but when that came around it was just not the right space. It was really small – we just needed to be really clean. I've wanted to do something a little more classic for a while. I'd really love to open a speakeasy to be honest. Leather booths, everything's wallpapered. To me that sounds like a good place to hang out.
The other aspect of it is that there are a lot of places I go, bars and stuff, where it's like, 'Oh, let's drink a beer here.' Which makes sense because it's a bar, BUT I would also drink coffee here. Like in the daytime, it's got cool light. Then I was like, 'Well what about coffee shops?' There are a lot of coffee shops that try to sell beer… but I wouldn't want to try and sell beer out of the Pearl shop. It just feels stupid. So I was like, 'I want to design a place that looks good in the dark.' Having it look good in the light – for a coffee shop – is one of the easiest things. That's why we designed it like this. I just love this style.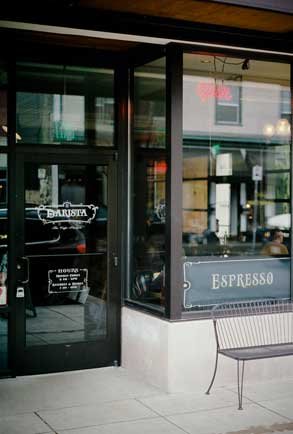 As far as everything else, the equipment layout is my design. When it comes to the materials – how to achieve a certain thing, that was Ben.
Ben King: We did a lot of computer models. Like the last one, he mocked up the whole thing in his basement. I do a lot of coffee shops and bars (ie. Albina Press on Hawthorne, Barista in the Pearl, Coffeehouse 5, Extracto) and nobody thinks about flow like he does. He's pretty hard core.
Billy: I feel bad because this is going to be sooo nice to work on and the Pearl shop is one of the most difficult bars to work on because the grinders are down the line. Whereas here you can go back and forth in a flurry.
What have been the challenges with this one?
Billy: Honestly, it's kind of gone smoothly.
Ben: We started in the beginning with a lot of work to make sure things go smoothly. So there haven't been the ugly surprises.
Billy: I mean, it's going longer than we expected – but that's to be expected.
So those are speakers (I'm looking at a lot of them). Are you wiring for a full audio system?
Billy: We're going to give it some time, but we've got it wired for high-def. But I want to break the space in first a little bit. I don't want to be that guy with a TV in his coffee shop, but in the evenings? I'm going to be selling beer here from 6-10pm, so who knows what we'll end up doing.
Billy: Oh there's all kinds of things… a film night… Again, it's all family. One of my dearest friends Peter, his dad owns a video/audio installation company, so he gave me the massive hookup on these. We got eight JBLs in the main café here; we got one in the bathroom. We got 'em going in outside. I'm trying to make the best space I can.
Why here on Alberta St.?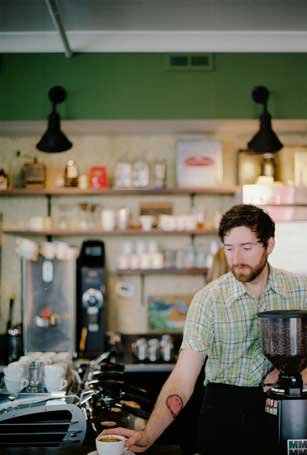 Billy: I live in North Portland. I was always trying to get Kevin (Fuller, owner of Albina Press) to open up something out here. We really couldn't find anything for a while. And we weren't ready to open up a second store. I mean, the Pearl shop's only been open a year, but the landlord came to me with a screamin' lease. The numbers looked right… it was really hard to turn it down.
I've said it once; I'll say it a thousand times: I have the best staff… the best employees I've ever worked with. Within six months they were totally running that shop. I was just in the way. So that freed me up to really pursue, 'Well, what if we do another shop?'
Are you planning the same roasting menu here?
Billy: Yeah, it'll probably be the same coffee with a little variety I suppose.
A while ago you made some waves in your Twitter account when you asked what the reaction would be if you didn't allow wifi. What's the update on that? Are you going to have it?
Billy: We'll have wifi. But if you look around, there's only like three plugs in here. You're more than welcome to come in here – hey, people gotta work. You've got your smartphones and people need access but I don't want people to sit here all day. I don't want it to be like a library in here. I want this to be a place where it's loud – people are talking – I don't want people studying all day. There's no laptops allow at the bar. Unless you own the place. I want to have fun; make lots of coffee.
What's the neighborhood reaction been like going in here? Such as with the other coffee shops.
Billy: Here, yeah, there are multiple coffee shops on this street. I could throw a rock and hit one right now. But look at this. It's a total different vibe. I think there's definitely room for everybody.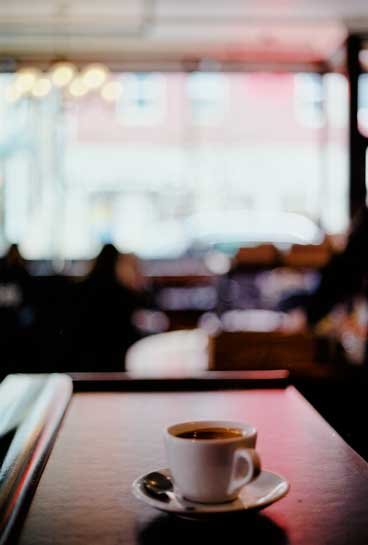 Are you ever surprised about how well coffee does here?
Billy: It makes total sense. Portland is full of foodies. I can't give an exact answer as to why people serve so much coffee here – Stumptown helps. If there hadn't been Stumptown here I think we'd be a few years behind where we are now. Duane's (Sorenson, owner of Stumptown) one of the front-runners. He's really influential in my life. He's one of the reasons why I've stayed on the path.
In terms of competing, are you still in that world?
Billy: (eyes widen – head down) Oh my God. You know… yeah, we've got competition coming up. Depending how this thing goes, I'll do my best to compete. But I'm fifty fifty right now if I'm going to compete or not. Next year will be easier for me. There's just too much going on right now. If Barista's going to succeed at what I want it to be, then I have to make sure my baristas compete and do well. For me it's important to support them. My goal with Barista is to really turn the job into a profession – really make a living making coffee for people. The build out here is reflective of that seriousness.
Barista Pearl District is located at 539 Northwest 13th Avenue, Portland
Barista II is located at 1725 NE Alberta St. Portland
Barista SW Portland will be opening Summer 2012.