[This is part two of an interview with David Machado of Vindalho and Lauro restaurants. You can find part one by clicking here.]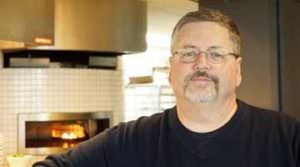 So, a guy walks into a bar, and _________. While you can fill in the blank with any number of amnesiacs asking, "Do I come here often?" and baby seals ordering "anything but a Canadian Club," perhaps only once has the punch-line been, "walks out with the bartender's job." Dave Machado gets to tell the joke. Beginning at the bottom more than twenty years and half as many restaurants ago, the chef and owner of Lauro and Vindalho has an East Coast patois, a devilish sense of humor, and a bricks-and-mortar manner that seems to say, a man gets up, does his job, does it well, end of story. Over a cup of decaf, Machado, 51, talked about why politics and food make bad (if inevitable) bedfellows, why he doesn't take reservations, and why bloggers may soon rule the reviewing roost.

At Taste of the Nation, you and I talked about restaurant critics and food bloggers in Portland, and since you're on the receiving end, I'd love to hear your side of things.
Let's start with what now is known as the mainstream media, and going back to one of your earlier questions about the status of Portland as a food city and where is it today and what has it become and how does it compare. I mentioned the density of the population and the competitive nature of bigger cities, but also, the city lacks a single coherent voice of criticism, in restaurant criticism. The Oregonian, as the major daily newspaper, has lagged woefully behind the changes in the restaurant and food community over the years. Nothing has probably changed more dramatically, other than real estate, than the restaurant industry in Portland… and yet at the Oregonian, nothing has changed in all of these years. The same people are doing it; the same ideology that's been there is still present today.
Which is?
The ideology has always been that, independent is better; small is better; ethnic is better; family is better; neighborhood is better—and they're all attributes that Portlanders support and, in a way gravitate towards; they're some of the reasons why people like the quality of life here. But still, it doesn't guarantee that quality reviews are being done that will judge the merits of restaurants. For instance, the major daily doesn't really have any criteria for service. One of the leading voices of that movement recently, in a letter to the editor and a response, said those issues are not all that important. Restaurants now are rated on one thing—food—and not in other areas which are very important to people, like ambience, and service, which is more important than food to the diner, I believe; pricing, whether it's fair; whether the thing has some balance in it. But without a paid restaurant critic who's specific job is to review restaurants, and without a published standard for that reviewing, we really haven't made much progress.
But aren't the restaurant critics at the Oregonian paid?
There's no one that's paid to be a specific critic. Everybody that reviews in Portland does it for, for lack of a better term, the per diem… What I mean is, if your position at a major daily is to write classical music reviews or to review movies, that's what you do, and there's never been that position at the Oregonian, because that voice changes; that voice can be one of four people; whoever decides to take that restaurant.
Would you like to see it more like the New York Times, where you have Frank Bruni doing the long, major reviews, and others doing the $25 and Under?
Yeah. To be a great food city, like New York, or like San Francisco, you need to have a singularity of voice and you have to have a criteria that's known to everyone, and that isn't the case here, and it hasn't been the case.
I don't really know the remedy for it here in Portland is, but if you have the same three people reviewing for twelve years, in a restaurant community that can essentially fit inside one restaurant; there is zero chance for anonymity and, to take it one step further, objectivity.
Everybody who's reviewing restaurants in Portland is compromised in their relationships; it's such a small community; the reviewers at the Willamette Week, especially the ones that have been doing it for twenty or twenty-five years, everybody knows them and they know everybody, because everybody goes to fundraisers and meets at the farmer's market on Saturday.
Here's an example, because we're sitting here [at a café table at Ristretto Roasters, which was formerly the restaurant Winterbourne]. You can pretty much guarantee that every year, David Sarasohn would write a review of Winterbourne. Every year he'd write it, and every year he'd just say, it's the best seafood, and you could be guaranteed he'd write every year about L'Auberge, and he'd write every year about Café Des Amis, you could just be guaranteed that a lot of these longstanding relationships, some of which go back to college, would always be kept intact in the press. Now, whether you are sending people to restaurants that had seen their better day; that had done their best work and perhaps were now in the winter of their years, was apparent to most people, but it didn't stop that publication to continually putting that out.
The loyalty is to the establishment or owner, rather than the reader.
Yes, yes, toe the line.
To me, the diner enters a tacit bargain when he walks into a restaurant: he will give it money, and it will give him the best food and service it's capable of. If he doesn't like it, he needn't go back. If you're a reviewer, then you are bound to report what you find, damn the torpedoes.
It's not responsible journalism to send people to a place where you think that they bought [produce] from just the grooviest farmer two hours ago, or the fisherman is in his hip-waders in the kitchen; that makes for nice romance and it makes everybody feel good. But if the service is really bad and the operation has been really chaotic, I don't know what you've really accomplished by doing that.
The dining public doesn't realize, there's so much romance that's intertwined with dining. We have dates in restaurants, we get drunk in restaurants, we get married in restaurants, we do a lot of things in restaurants that create memories, but restaurants are essentially real estate deals; they always have been and they always will be. Can I open in that location for that price and can I sustain myself? Is it a viable thing? Other than a trust fund restaurant or a hopelessly irresponsible restaurant that's put together with no hope of succeeding, restaurants are flat-out the most ruthless and competitive business model that's possible… a lot of the fundamentals have to be in balance or in harmony, so when critics put forth certain models, certain businesses as "the word" or "the new thing" or "what the future is" or what stands for creativity, I'm not sure they're doing anyone, certainly not the readership and certainly not even perhaps the people who are operating these businesses, a favor. There's not a lot of grounding in reality.
Taking it one step further, if you know the players, then how do you then be fair when you're, for instance, designating Restaurant of the Year?
[Deep sigh.] Well, the Restaurant of the Year in recent memory has become a mix between Food of the Year or Chef of the Year and sometimes it's been Lifetime Achievement Awards. Hence, will we see a real restaurant of the year, like a complete package? [Like] when you call on the phone or when you show up, like going into a Danny Meyer restaurant in New York, when you go to the door, there's something about the people who work there that you feel good about yourself and confident and it moves through the whole meal until you leave and you go, I really like dining there. That is how I look at restaurants, but that is unfortunately not how the media looks at restaurants.

Okay, how has the blogosphere impacted the restaurant business?
Dare I say, the food blogs and restaurant blogs have a chance to catch up to very quickly and overtake mainstream print media; it's really, really possible. That it didn't exist two years ago, and it was in its infancy a year ago, it could be predominate in another year… Blogging has an immediacy that, when we opened Vindalho, the bloggers came in the first, second and third day. First, second and third day, and they were just pounding the keys, pounding the keys.

Did you know that they were there?
No… But we had two bloggers come and announce that they were bloggers and send food back and go up to the kitchen and criticize the chef and say how they would have changed the recipe and what we needed to do.

Did you 86 them?
No, but it's rather presumptuous. I don't know if you go to your dentist and tell him how to clean your teeth. Food's a funny thing; everybody's got an opinion.
I think the mainstream media has had a longer time to temper their voice and abide by rules of journalism, they've had editors and they have to work within a system. The nature of a blogger is, he is a rogue agent, he's upriver without oars, and without a good editor and without a format to force you into; you're going to sometimes go around hysterical-slash-conspiratorial.
Go back a year, I don't think Portland had a dedicated food website, and certainly in the last six-to-nine months, certainly the website that you work with has reformatted itself and become slightly less hysterical and in a way, captured its voice and captured more legitimacy and respect by doing that.
So, how's the gossip in this town?
[Laughs] You want to know the hottest topic in this town? You might think you know what it is, but the hottest topic in this town in the photograph of you on Food Dude's website.
People like it?
Oh yeah. You've got some marriage proposals out there. Absolutely. It's a classic come-hither shot… Guys like that shot… There's a certain farmer that might want you to move to his farm.

[Author's note: The above blatantly self-reverential exchange probably would have made it into the interview even if Machado hadn't made me promise not to cut it.]
Are there any dishes you'd love to serve but suspect the locals will not order them?
No. I've had really, really good luck in Portland. When I first put skate on the menu, years and years ago, on the first day I put it on, I sold twenty pounds. When I put octopus, the big octopus, the one from Puget Sound, the twenty-five pounders, and when I put whole sardines; any time I've run these things at any of the places that I've owned or run. So I've found it to be a fairly receptive marketplace; more receptive than one would think.

If you could make one request of the average Portland diner, what would it be?
I don't know another city where you can call restaurants on Fridays and Saturdays, late in the afternoon or early in the evening and ask for a seven or seven-thirty reservation. I just don't know that it's possible in other big cities, and when I opened Pazzo, our reservations for the first year, we were out three weeks on our reservations, and people flew into rages on the phone; they swore at us; they said, "You'll be closed in a year!" Every time the phone rings in a restaurant in Portland, to my experience, for a reservation, it's got one time attached to it, and it's seven-thirty. It doesn't have another time attached to it, and when people say, why don't you take reservations? There's only one time that's ever asked! So, that means everybody wants a one-trick pony. I want everybody in at seven-thirty and then I want to be empty until seven-thirty and be empty after nine o'clock.
Is this why you don't take reservations?
Reservations don't work in a sixty-five-seat neighborhood restaurant because reservations presuppose that you will drive and come right in and go right to a table. Well, in a neighborhood setting, there are people who are leaving their homes, walking in to eat, too. We, as owners, don't want to be in a position of saying, "You stand there and wait although I know you and you eat here every week and you live down the street," and now you watch that table come right in and go to their reserved table. They don't really dine with us; they show us no loyalty, we have no relationship.
What is your dream restaurant and are you running it now?
[Laughs heartily.] Lauro is a dream restaurant. It is a dream of dream restaurant. It is always busy; people who dine there are very happy; it's always a party every night; the employees are wonderful. The staff turnover is very low; it's true family in a capitalist setting, and it's been going on for three years and if it goes on for thirty years I'll die a happy man. It's come together and it's one bright shining light. I might never hit that again.
Our new restaurant Vindalho has the same potential; it's fun, it's busy, the staff is great, people are enjoying what we're doing, but it's damn hard to create enduring quality restaurants.
Why did you open another restaurant?
I've been working in Mediterranean food basket for twenty years, and really, in terms of those ingredients, I just wanted the whole new palette to be put on the table and say, "This is what we're working with now." That was really the number one thing. I wanted to challenge myself; I wanted to stretch, and I wanted to try to bring a new dining paradigm to Portland. You know, Vindalho has been a controversial restaurant for people.
Because they think it's Indian and it's not, or because you're not Indian?
Yeah, all of the above. [The reasons are] political, they're cultural; they're religious. I think people, if they were to be honest, if you woke them up at three o'clock in the morning and shook them and said, "Vindalho," they'd go, "He has no right to do that!" We've had people say it, "When we want Indian; we want it hot and gloppy and sloppy." And it's, yeah, you want a buffet; you want pre-made food; you want a steam table; you want kind of a heavy, leaden rendition of it… We're trained chefs, with good experience and good background. It's no different than Jean-Georges deciding that he's going to take on a Southeast Asian bent… People say, "Is the chef Indian? How many Indians are in the kitchen?" I say, "Could you please find me a restaurant where the people from India are still cooking?" Because [Indians are] a professional class in America; these are engineers. I don't know who's making a living off of cooking from the subcontinent now, in America.

Who's your dream customer?
The dream customer is the regular customer. I have a maxim: if you don't come through the door of a restaurant happy, as a person, it's going to be very difficult for the restaurant to make you happy. So when fundamentally unhappy people enter the front door, no amount of great food or great service is going to change that. So my dream customer is a local regular well-adjusted person who has a life, and enjoys himself and other people. People who come to restaurants to socialize with their spouses or their friends or their neighbors, they want to sit down and start ordering some food and start getting some wine delivered to the table and begin the fun, begin the celebration, that's what I look for.
Any advice to people considering a job in the restaurant industry?
[Laughs.] First of all, don't do it. Don't do it! It's really, really hard. Failure will be part of it, at some level. The restaurant that I had with my wife, at Bottom of the Hill, it failed; we closed; we drove away with the pots and pans and our heads down. Failure at some point is pretty much guaranteed. This industry is not what it seems from the outside; it is a rather down-and-dirty business, it is essentially a blue-collar business. You can trump it up with Food Network and celebrity chefs and gala fundraisers all you want, but it's clogged drains, busted dish machines, people who didn't come to work, it is a pile of problems… It's just carrying your lunch-pail to work and doing the same thing at the same time each day: turning on the lights, turning on the music, sweeping the floor, arranging the menus, seeing if they're dirty. It's very mundane. So from the inside, there isn't a helluva a lot of glamour.
If you're going to go into this business, and you're going to go all the way, I would get some grounding in the business aspect of it. I would learn about accounting and I would learn about a business plan and budgets. So many people go in, and within a few months, they're already out of business; they have no idea they're out of business, but then they limp along for another year or maybe two years and then it all goes away and they wonder why. Fundamentally, from the beginning, things were not property organized or properly conceptualized or properly capitalized or whatever. It's a business where everyone says, "Oh, did you go to the new place? It's sooo great!" And then you drive by a year later and it's gone and you say, "Oh, what happened?"
We tolerate this in the restaurant business, we tolerate failure: we use the term, 85% go out in the first 36 months; that's probably all true, but would you open a gas station and then close it in another year? Would you open a dental practice and close it? Most people don't do that. The longer I'm in it; it doesn't get any easier; it gets harder. It gets harder. Harder! Think of it as having children. When they're two or one-year-old, oh, this beautiful baby! See me when they're thirteen.

Do you have any humbling or humorous anecdotes from the kitchen?
[Laughs a long time.] I can remember two. I ran the world's worst ravioli once. Get this one: I made beet pasta dough, and I stuffed it with salt cod and potatoes, and it seemed to me like a very reasonable thing, only, it was not well received. Waiters came back and said, "People don't like this."
Then, I did one of the first cooking demonstrations at the farmer's market, many years ago, maybe thirteen years ago, and fifty people were sitting there, it was raining that day, there was a canopy and I had a pasta order going, and I said, "What we do is"—and it was a dry pasta—"What we do is, we open the pasta," and I took the box and I missed the pot of water—I missed it! The pasta went off the side of the pot and shot out onto the concrete, and I went, "Oh, well. Thank you, that's it for today."