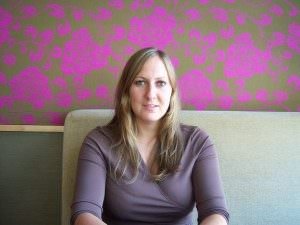 Not only is Portland's Erica Landon award-winning sommelier extremely well educated about the wines she recommends, she continues to make restaurant wine programs some of the best in the state.
She's also quite nice. In a male-dominated field with a reputation for snobbery, Landon gracefully keeps her own counsel. "When I went to take my quarter master sommelier exam I was one of two women in the room out of forty people," she says. Landon says she was intimidated "sometimes," but goes on to explain, "I have an idea about how I feel about wine and I want to make it as accessible and as friendly and as passionate as possible. I think that there's a new wave of that idealism in the industry and it's being shared by a lot of younger sommeliers. They want to make it fun for people because wine can be such an exhausting and an overwhelming subject."
Landon is a step away from achieving the highest rank as a master sommelier. She's certainly qualified, but she maintains a fresh friendly approach. "People take a look at my wine list and they're like, 'oh my god,' so I try to make it as unintimidating as possible. I don't know if that's a woman thing or not, but I feel like it's my approach and I seem to feel it more and more out there." Landon sees the light-hearted approach to wine as a win-win situation. "When people become enamored with wine it helps everybody in the industry," she says. "It's all about what you like."
She's excited about Rosé at the moment. "It's refreshing and crisp and it has a little bit of a body so it goes well with food. And Oregon has a plethora of pinot noir rosés that are dry. A lot of people have the impression that rosés are sweet, and there are world class really dry crisp rosés that are just like having a really amazing white wine with a little bit different flavor. And, if you think about the food that's available right now, you have all this beautiful fresh produce. There's nothing better than sitting in the sun with fresh vegetables and a glass of rosé." That said, she claims, "My favorite grape hands down is pinot noir."
I was fortunate enough to take a class from Landon in January when she discussed cabernets from around the world. She's engaging and extremely informative. Later that night, she boarded a red-eye to New York where the Ten 01 crew had been invited to host a dinner at the James Beard House. I was impressed with her composure when I found out that later that night she would have to oversee the logistics of transporting enough food for a meal to serve 80. "We took two vans full of food and wine to the airport. We had nine cases of wine and we had to maneuver it through Manhattan to the hotel room. We had stuff on ice in the room, and then we had to maneuver it to the James Beard House. We were so glad it all made it." Of the dinner, she says, "It was such an honor to walk into this place where some of the most amazing chefs in the world have worked."
At the tender age of 31 something tells me pouring wine at the James Beard House won't be the pinnacle of Landon's career. As she studies for the master sommelier exam, she's also preparing for a trip to Las Vegas where she will get certified to teach for the International Sommelier Guild. "Wine is the kind of thing where the more you learn about it the more you realize that you need to search more. There's always more to learn because wine is a living thing and every year there are more vintages from different regions around the world. And, there are new regions and new producers all over the world constantly so you have to keep up with that constantly – constant education," she says.
With a librarian for a mother, one might surmise that Landon knows a thing or two about the more research-intensive aspects of learning, but she attributes much of her accrued knowledge to her Portland peers, particularly Jeff Groh, the sommelier at the Heathman. "We have this very sassy competitive friendship." In addition to Scott Calvert of Lucier and Andrew Fortgang of Le Pigeon, Landon and Groh just finished up their now annual dueling sommeliers dinner series in which a different local chef, over a five dinner series, devises a menu intentionally difficult to pair with wine." And on August 15th, the winner was… Erica Landon.
When I call Jeff Groh for a comment he says, "Well, she's alright," with a chuckle. He explains that part of the purpose of the competition is to roast your fellow competitors. "I won last year," explains Groh, "so I was ratting her a lot going into it this year." The August issue of Portland Monthly named Landon Portland's Best Sommelier. In response, Groh sent out a fake press release complaining that Portland Monthly had chosen her as a preemptive move leading up to the dueling sommelier grand finale. On the day of the grand finale, arriving before the guests, Landon found the Portland Monthly photo of her at every place setting with a sharpie pen – so she could sign the photos following the competition. "I removed them before the guests arrived," laughs Groh.
So Erica Landon is on a roll, but it isn't the first time, and likely not the last. Though incredibly gracious and kind, I think she may have been born to win. "I competed in roller speed skating for years and years," she says. "Were you good?" I asked. "Yeah, I got into nationals."
Elizabeth Lopeman recently earned an M.A. in writing from Portland State. She writes book reviews and regular articles for Eugene Magazine and has contributed to various other local and regional publications. She's also been known to write cd liner notes, web content, press releases, and of course her passion — fiction. You can read more about her at ElizabethLopeman.com