This is the second in a series of interviews which first appeared in About Face Magazine by Chris Angelus of the terrific Portland Food Adventures.
Maybe it's an ego thing, but I take this whole Portland thing seriously. So, as it so often does, when the query comes from people who have a couple of days to grab some Portland and run, I am always proud to make people aware that I am savvy enough to have wanted to move to a city that has restaurants like John Gorham's Toro Bravo and Tasty n Sons. In a region where menu descriptions spawn satire, Gorham's food reflects his genuine down-to-Earth, no bullshit nature. The menu is perfect for those of us who fret over choosing the one perfect dish. You choose them all (starting with the bacon wrapped dates), and enjoy them as a catalyst among friends—without breaking the bank. And that's why more times than not, I'll begin my list of must-do Portland dinner experiences with Toro Bravo.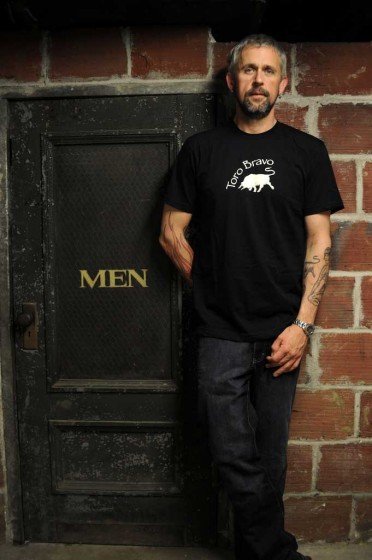 There are four seats to the side of the kitchen at Toro that I consider akin to dining on Portland's fifty-yard line. Be timely or patient enough to procure that vantage point and you'll marvel at how such a tiny kitchen can al- ways sing with precision, sometimes with Chef Gorham proudly perched at its center, taking up much less space than he used to, orchestrating the whole symphony of life and food. This is especially remarkable because of the number of beautifully prepared items at Toro that culminate in a bountiful, tapas-style, two-sided menu (soon to be artfully revealed in a Toro Bravo cookbook), that by its very nature, forces harmonious democratic ordering decisions. That is no accident—it's by design. It's also what helps create the energy and the experience amidst the many ingenious blendings of ingredients that go into making Gorham's restaurants Portland landmarks.
On a crisp, early autumn morning I arrived at Toro six hours before the doors would be open to the usual rush of eager, lined-up patrons. The house was already bustling with staff preparing for the evening's service. The room was full of aromas and sounds of pots, pans, shuffling seats; it was like being backstage during sound check at a sto- ried venue. Two beautiful and well-dressed women were at the bar tasting wine. John arrived a couple of minutes late, sporting jeans and a polo shirt that allowed full exposure of his busy arms, explaining that the field trip with his daughter took a bit longer than he had expected. He led me downstairs, passing the prep kitchen, through a hallway to a door marked "Charc Tank." He opened it like a father would open a door to his kid's nursery. "Here's our new charcuterie program,"he said, looking at me with obvious pride in his eyes. Hung from the ceiling were dozens of beautiful stalactites of cured meat, waiting for their time to come. Then we sat down to talk about the searing hot dining brand he's spawned.
What makes Toro and Tasty so successful?
The people we hire. We put a lot of energy and work into keeping them around, and we do a lot of nurturing their growth so they want to stay. Kasey [Mills] has been here since day one, and now he's got an ownership position. Or take Josh [Scofield], he started out in the line working his ass off, doing some prep, going upstairs, doing some cooking. Then he came to me and said, "Look, what I really want to do is be a butcher and charcuterist." So we made the position for him and honed his growth. My philosophy is I'll buy you any piece of equipment you want as long as it's used, it doesn't collect dust, and it's going to make us better.
What exactly is it that makes you better?
I've been doing a lot of reflecting as I work on the cookbook. As chefs, we have our own trade routes—where we have been, how we grew up, the foods our mom made us, the foods we ate at restaurants, our travels, where we lived, the chefs we worked for. It makes us who we are as chefs. Last year, I made a trip back to North Carolina where I grew up, and to Spain. I took with me the inspi- ration of Toro, and I reflected a lot on the fact of sharing plates. I like passing plates. A lot of people have tried to do small plates, but they can't really quite nail the passing plates thing. And there's a certain bit of southern hospitality that goes along with that. I think it makes the party. That's what we wanted to do when we opened up.
What did you bring out here from your childhood in North Carolina?
The fact that there's a pitcher. Even at the simplest restaurants, there's a pitcher of tea and a pitcher of water at the table. There's always a bit of passing plates around the table, getting together and interacting with each other.
I'd like to say I'm a chef for the people. I designed the kitchen at Toro so that I would be able to stand here for 10-12 hours a day and be comfortable and be a part of the party. I want to see it all, be involved in every aspect of my restau- rants. If I'm back in a closed-off kitchen, I can't see, "Is that customer happy?" If you look at the way I designed the kitchen, my tables are probably 4 inches taller than anyone else's, so I don't ever have to slouch or bend over.
What was the impetus for your recent trip to Spain?
We took Josh, Kasey, my photographer for the cookbook, our writer, and our editor. So it was kind of a topping off the book. I wrote an essay about the whole trip in the book—where to go, things to do if you're planning a week in Spain.
You're working on your book, a new restaurant, you've got two other busy restaurants in Portland, and oh, yes, a family—that's got to take a lot of time.
Yep. It all becomes one. My wife is floor manager. My oldest daughter is with me fifty percent of her time. I try to make my weekends centered around her life. A lot of my work is during the daytime, so I walk her to school every day and then I come to work. Renee picks her up and we have dinner together. A lot of my job is just eating and guiding now. I'm almost like a maintenance man, servicing the restaurants. I fine-tune them, and I let them do the work.
Delegation is key.
Yes. Toro will always be my baby. I never could go to the Tasty n Sons kitchen and be really comfortable there. I'm always, "Where's this?" and "Give me that guy." But, the new Tasty n Sons project… I wasn't in a hurry for another project but I was offered a really great space and a great package, and I have literally, like 90% of my original crew over at Tasty. They were all in the same positions they were in when I opened. They were all ready for more. I might as well open a restaurant to keep these people under my wing. That's where I was with Tasty n Sons.
So you need to keep expanding to keep people under your wing?
I started doing consulting too. I really love to build on the excitement of getting a restaurant going. My thought was that hopefully I could help other people do that. I hope I can use the skills for that. You have a choice. You could expand, or you could give all your money to taxes, you know?
In your neighborhood there's Ox and now Trigger. It's become the hot spot.
Ox didn't affect us at all. I think the only thing that could probably happen due to Trigger being that close is that our wait list goes up. You don't necessarily go on either Tex-Mex or Spanish will satisfy you. You will go to one or the other for your craving. I don't even call it competition. Saturation is awesome.
Speaking of saturation, where are you hanging these days?
Ox is doing a great job—opened up with fists flying. Some of the biggest open- ings in Portland for me were Clarklewis—Morgan [Brownlow] just came out swinging—ourselves, and Ox. These three have been the restaurants that came out like they had something to prove right away. I also love Mirakutei, Hiro's sushi stuff. He's a great chef. I have a love for the steak house—we probably eat at the Ringside bar once a month. That was always a big staple for us before we had our four-month-old. Dark and quiet, no one ever knows who we are there, and we can get our corner table and get a filet with a side of spinach and we're stoked. I love Há VL a lot. I think Jason French and Ned Ludd are kicking ass and just getting stronger and better all the time. I love Biwa. And Chris DeMinno over at Clyde Common is bringing the life back to the food there for sure.
If you had a choice to go somewhere with one of your chef buddies, where would you go and with whom?
I love hanging out with Jason French. He's such a good friend. I would love to go to Japan with Gabe from Biwa. I'd love to go to Spain with Leslie and Manuel from Viridian. Their recommendations are always amazing. I got married on their farm.
So what do you think of the Food Network and the celebrity chef thing?
There are a lot of chefs—that's their goal. Every now and again, I'll get asked to do some PR thing and I'll do it, but I'll feel dirty doing that because it's not who I am. Did you see that thing on Mario Batali quitting Iron Chef? This is bullshit. There are no longer judges who are chefs. It's celebrities who don't know shit about food. I don't really care about the Food Network. I don't watch a lot of TV. Every now and then you'll get caught up in it, but then you hear, "Here's blueberry lollipops with pork and pomegranates."That's total bullshit.
I just watched that documentary, Jiro [Dreams of Sushi]. He was like, "I just want to do my craft." When I was in the Bay Area where everyone goes to culinary school, it was hard to get a really special team together because everybody wants to be to be sous chef. No one wants to be the cook. Nobody wants to pay the dues. And I think that's what's gone on with the celebrity thing. Everyone wants to open a restaurant, do some cool dishes and just move on to celebrity status, thinking their restaurant is going to be OK. It's the pushing the rock that makes the restaurants survive.
So what's going to be different at Tasty n Alder?
I think we know the Tasty brand. We opened Tasty for the sole purpose of bringing the same passion, love, and food that any great chef would bring to a dinner restaurant—to brunch. And we wanted to do it differently. No formula. Dinner will change quite a bit. Dinner—with all the Tastys—that's where it will get its own personality. We're going to put in an 18" smoke-assisted charcoal gas grill. We're going to really focus on steaks and grilled meats.
"All the Tastys"—that supposes more than two?
I honestly don't know if there will ever be another Tasty in Portland. I think the east and the west is good enough for us. So we'll see where life takes us.
Do you see the average ticket at our relatively inexpensive Portland restaurants going up?
When we opened we had an idea for a very low ticket price and volume. Saffron was $75 a pound—it's $200 now. Jamón was $6 a pound. It's $12 a pound now. Food prices have doubled, but I haven't been able to double my costs. Even two years ago, I sat down with my accountant and he said, "You need to raise your prices!" We really just made a statement last year not to. And I'll eat it to keep true to what our business plan has been. This last year we were able to raise a little bit, so we've got our numbers in line with the decisions we've made—especially doing a little more in house with the curing.
What do you think would happen if you really raised prices? Do you think that would have an impact?
Oh, it would kill us. No doubt about it. Yeah. I told my accountant that I don't make a dime on scallops, and it's one of our biggest selling dishes. Say I really made what I should be making for a dish like that—I would sell half as many of them and make the same amount of money. But the restaurant wouldn't be festive and fun. Instead of doing 300 covers, we do 150. I would lose the vibe. The energy would be gone. I would rather make the same amount of money and feed the masses and have the party.
How much does the line out the door contribute to the party atmo- sphere?
Supply and demand is everything. If you ever come here in a snowstorm, or when things are weird and there's an empty table or two, it just doesn't feel right. If my crew gets a night that's a little quiet, they fall apart. It's like the opposite of most restaurants. When they're going more than 100 miles per hour, that's when it performs. It's like an F1 car. If you've watched Top Gear, you get an F1 car and if you don't rev it up high enough, it won't go. I think that's how Toro Bravo is. If it's not firing on all cylinders, it's not going.
Where do you see yourself 25 years from now?
I love the beach and I love the sun. I really miss that. The Pacific Northwest is great for having a family and owning restaurants and being a chef. I think the dream that Renee and myself often talk about is going to Tulum or Puerto Rico and opening up something where you've got 15 seats, and I cook, and she serves, we open up three days a week, and we shut it down and sit on the beach for 4 days. As I've become more of a businessman, the more I want to cook. We do a lot of cooking at our house for friends, and I see something where we are just doing our thing. It's not necessarily about trying to put the kids through college or paying for the house. It's more about just having your own passion for what you do.