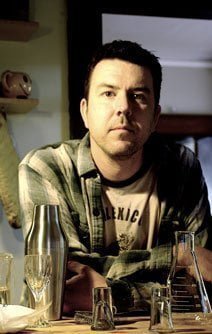 It doesn't take long to realize the successful chefs and bartenders in this town are a part of a small, tight family. And Kevin Ludwig is definitely an important member. The Portland transplant has been here since 1993 and has strained martinis all over Puddletown's finest dining rooms (Wildwood, Park Kitchen, Paley's Place, Clyde Common). Now he's about to make his dreams come true by opening the doors to Beaker & Flask, his very own bar (or is it a bar/restaurant?). He answered a series of questions just like that while sipping a Trumer Pilsner during our recent interview.
You signed your lease in October 2007. That was a while ago. What's happened?
The building itself is old and needed a lot of work. The owners had been in there forever and didn't realize how much it was going to take to get it up and running. Then I had some issues with the city. It just dragged on and on…
I hired an architect; we drew up the plans, and then just ended up waiting for a year and a half. Yeah, it was frustrating.
So you've been working this whole time while waiting for Beaker & Flask to open?
I left Park Kitchen in May 2007. My plan was to take the summer off, think about what I wanted to do, and what my plans were for my place. The summer came and went. Then the landlords actually contacted me since they knew I was looking for a place. I loved it immediately and signed the lease. I was getting bored not working, and not knowing when it was all going to happen. I needed to get a job and was in the Clyde one night… do you know Charlie Hodge?
I don't think I've met Charlie; I've met Nate.
Nate, yeah, Nate's the owner. I knew Nate already. He was going to be the original sous-chef at Park Kitchen. Way back when. So I was talking to Charlie and mentioned off-hand if they needed any help… so he got me in there just working one night a week. I did that through the winter, and then in June of this past year, Charlie left and moved down to Palm Springs and opened up the Ace Hotel, so the Clyde needed a manager. It wasn't something I wanted to commit all my time to, but I wanted to do it. So I took that over with Tim Davey, who's now going to come with me. We can go into Tim more later, but he's a huge huge part of what's going on at Beaker & Flask.
It was a really good experience doing that. He was pretty new. He came from Uptown Liquor and is just an encyclopedia. He's by far the most knowledgeable person about spirits in this town and is such an asset to have. He knows the ins-and-outs of the OLCC, and he's got all these contacts with liquor companies. He just knows how the business works. He gets us to the top of the list, which is nice. Tim wanted to learn how to bartend, so started barbacking at the Clyde, then went over to Castagna – Nate got him a job over there. Then he came back over (to the Clyde). I was there as manager when he basically worked his way up and has been bar managing on his own these last few months.
How did you come to the conclusion that you wanted your own place?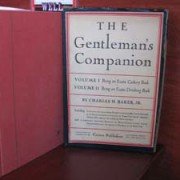 It's something I've always wanted to do. My mother tells me that when I was a kid and she'd ask me what I wanted to do, I said I wanted to have my own bar. I can't say that I've been on a straight and narrow path towards that. For a while I wanted to be a geologist and went to school for that. That's actually where the book came into it a lot (note: He is referring to the namesake of his bar and continued source of inspiration: "Being an Exotic Drinking Book or Around the World With Jigger, Beaker and Flask" by Charles Baker). It made me think, 'This is something I can do as a career.'
For a long time working in the restaurant industry was something you did on your way to somewhere else. It wasn't a valid profession, so that's where the book made me think it's something I could do and be proud of the work.
But obviously I had to learn. I worked with some great people at Wildwood, then I actually ended up moving to Ashland in 1999 right after I got married, with the intention of opening a restaurant there. I had a space and everything; it was all set up; I had a lease… then a whole series of events happened, and it didn't end up working out. We moved back here, sold the house in Ashland and two weeks later we're back. It was like nothing ever happened. That's when I got the job at Paley's.
And now you're taking Ben (Chef Ben Bettinger used to work at Paley's Place).
Yep; I'm taking Ben. He's down at the Clyde right now.
I love it.
(Laughs) It's funny. Pretty much everybody who's been hired so far has all, at some point in time, has drawn a paycheck from the Clyde. So we're thinking it'd be funny for our opening to do a parade… march from the Clyde, out over the bridge, and up to the space and open the doors… get March Fourth to play… but now it's just, 'Get the doors open.'
So Ben, Lance Mayhew (from 50 Plates), Tim… is there anyone else involved we should know about?
Doug Paquin. He worked with me at Park Kitchen. Then he went to help open D.F., and then worked at Lauro for a number of years. At the moment he's making sausage at New Seasons. Doug is the man about town – everybody knows Doug. He's in charge of beer. He's going to be great. We have a very (pause) interesting dynamic.
Doug's basically a socialist. Lance is a libertarian. They have some funny conversations. Tim and Doug are both huge Red Sox fans; I'm a Yankee fan. It's just fun. We have a good time together.
There's also Elizabeth Markham. She's working part-time at Victory right now and bar manager at Blitz. She and Lance both have culinary degrees, so they bring a lot to the table.
What's the date you're shooting for?
The biggest thing now is my liquor license. There's been a lot of budget cuts with the OLCC, and they're short staffed. The process is taking much longer than it usually does. I don't know how long it's gonna take. It could be three months away, you just don't know. Until I have that in my hands, I don't want to set a date. The space will be built completely in three weeks. And it looks fantastic.
What's your approach for unifying the food and cocktail menus? Is it going to be a bar or is it a restaurant?

That's what's been nice about having this year and a half to develop that. Initially, it was going to be a bar; minimal kitchen – just putting out snacks type of thing. I was at Ben's going away party from Paley's, I mentioned it, and he was immediately interested. I offered him the job right then and there. I've been very lucky; he's stayed with me. Our plan is to start small. The way we all look at it is: people are going to show up, and our goal is to make sure everything is solid and give them a reason to come back. Then we can expand.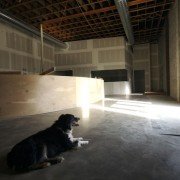 Everyone always asks me if we're going to be a 'classic' cocktail bar, and no, not at all. I've compared it to this: when I was a musician I couldn't play covers. It just wasn't my thing. I was a bass player and got asked to join every band because nobody was a bass player. I showed up at this guy's practice studio and they're playing Rolling Stones, and I'm thinking, 'This is the most boring thing I've ever done in my life.' I never went back. The fun of it was sitting down with my friends and making new songs.
What's the capacity?
It's 62 people including bar. Bar seats 15. The bar is the dominant feature. It's a really neat space.
What are your hours going to be?
We're going to start out 4pm-12am. We'll do a happy hour 4-6pm, then dinner service 6-10pm, then a late-night happy hour. I think we'll do well with the industry crowd – unless they're all lying to me. So I want to have that option of being open later. We'll be open six days a week. Closed Sunday.
We have quite a few events. Tim's started doing these spirit dinners, where he picks a spirit and picks a chef, and he's wanting to develop it into a Plate and Pitchfork kind of thing. So we'll be doing some of those on Sundays.
I have an idea of a brunch I want to do, like 11am-5pm late brunch. I have all these brunch drink ideas. I'd play easy-listening all day and you could just sit there with your Bloody Mary all day and read the paper.
Do you ever try and guess what kind of drink someone will order? I've heard some bartenders can do that.
Yeah, there are obvious ones. There's the cosmopolitan crowd. Whenever a James Bond movie comes out there's the Vesper crowd. But I've been pretty lucky. It was like this at Park Kitchen and at the Clyde, people drank what we offered them. They ordered off the list. I've always been amazed by it – and happy with it too. Like Kelley at Ten 01, I think when the Sex and the City movie came out he made 100 cosmopolitans in one night. But that never really happened to me.
I know you're fans of Apizza Scholls, Victory, Paley's, Park Kitchen, the Clyde, all of your past places…
I love the Victory.
What are your other spots?
I do love the bar at Ten 01. I think Kelley is definitely one of the best bartenders in the city. Bar Avignon, I love Bar Avignon. It's weird, for living in North Portland, I end up on that part of Division. I love Victory so much. Pok Pok, Victory and Bar Avignon; that's a great way to spend a night.
You've been here for a while; how do you think the drink culture here has changed?
It's changed quite a bit, but at the same time, I think it stalled out for a while. When I was at Wildwood, there was a big interest in classic drinks. That's where I learned. There was the swing-dancing thing that was happening and then there was a backlash. It started with the microbrews and the PBR thing; there was no real development. That went on for a long time. Lucy Brennan was doing her thing – which was great… we were doing good things at Paley's. El Gaucho's always been good, but there really wasn't any set scene; it was just set in restaurants. People weren't going out for cocktails, it was always just, Oh, I'm in a restaurant; oh, that's a good drink. Even when I went to Park Kitchen, people were coming there for the food. For a long time it was like I was on an island. Until the end, when Kelley Swenson from Ten 01 started coming in and we started to build this community – I didn't know any other bartenders, but I got to know him, and he's amazing. And then Lance (Mayhew) sent me a MySpace message saying how we should get a drink, and we did. He's been a great friend ever since. A great community has developed among bartenders in town. The dining public has definitely caught on and they're interested.
What do you say to the skeptics who say it's too risky to open a business right now?
This question comes up a lot. It's something I have no control over. And like I said, I signed my lease in Oct. 2007. All I can do is just plod forward. Hard times are going to come. When I was at Paley's after 9/11 the bottom fell out of the economy and there were things that they did. Utilizing the restaurant for events… at the time it was the pharmaceutical companies… and you make your way through it. There's always going to be recessions. Obviously this one's bad, but hopefully, I'll be around for the next one.
[Beaker and Flask has closed, but you'll find Kevin at other Portland restaurants]
[Catherine Cole's writing has appeared in The Portland Mercury, VenusZine and PortlandPicks.com. She's also been a copywriter for various businesses, and has a blog at: ccole.info/aflyonthewall.]