Gold and Chocolate Hart – Sarah Hart of Alma Chocolate makes religious icons you can sink your teeth into
Note – Alma Chocolate was sold to Moonstruck Chocolates in Summer 2018.
"My dad was a Presbyterian minister and he was a civil rights activist and really conscious of the unrest over Vietnam, so social justice was in my DNA," explains Sarah Hart, the Alma Chocolate visionary. Even so, her religious icon inspired confections land on the slightly more playful side of earnest religious conviction. And, it's not initially clear how social justice connects to the delicious and stunningly beautiful chocolates. Stepping into her delightful shop on northeast 28th Street, it's hard to think about anything besides which luscious chocolate in which to indulge.
But as I listen, I realize Sarah wouldn't be happy if she didn't have some kind of beneficent effect. So how is she helping the world as we check our hips? "Well," she explains, "It's a new time in how we think about fair-trade and organic. A lot of chocolate is being grown organically because the farmers can't afford to buy the pesticides but they also can't afford the certification process in order to be represented as fair trade. So I'm thinking a lot about how to find out and how do you educate yourself about that. You can't take those things at face value, necessarily," she says.
Hart credits her father for her inherited social conscience. After all, he offered up his church as an auxiliary meeting place for classes following the Kent State shootings in 1970. But Hart discovered her own style of working for social justice. As soon as she was out of the house she went to Keene, California and worked with Cesar Chavez for the rights of farm workers. And so, the connection comes full circle. By supporting farmers with fair wages for their hard work in cocoa growing regions of the world, Alma chocolate is able to contribute to a healthier way of life for them and delivers delectable treats to us in the form of gilded Buddhas, devils, and crosses.
When Hart found her way to Portland via Eugene and Ann Arbor, Michigan she worked various jobs, from waitressing at Papa Hayden's to grant writing for Americorps, but the idea of a chocolate shop wouldn't leave her alone. "Well, the first idea that started the business was from the root word of chocolate which is Theobroma. It means food of the gods or god food. And chocolate has such a rich history. It was once used as currency – and when people talk about chocolate they use the same language they use about religion. There is this whole sin and redemption way of talking about chocolate – like 'it was decadent' – or 'I was really bad' – or, 'I was in ecstasy.' There's all this really heightened language, so that's what was swirling in my head when I thought it would be really fun to make chocolates like religious icons. And then we gilded them because that makes them more like statuary or reliquary and also because gold has a similar sort of history."
Hart initially tried to make the molds herself, but she says, "I realized pretty quickly that I wasn't going to make them as well myself as I could think of them in my head." So she contacted an old friend from college who is a sculptor and he crafted them according to her vision. All of the first recipes came from Hart herself, but now she says, "I have people working for me, and they're really talented and good, and they want to make stuff too, and so it doesn't all come from me anymore." In addition to crosses, Buddhas, and devils, the bar chocolate comes in the forms of flaming hearts, sacred crowns, the Virgin Mary, anatomically correct hearts, and swallows, just to name a few, and are all covered in the thinnest layer of edible 24 karat gold.
Chocolates sold by the piece or by the box are made with fresh cream, real vanilla and come in flavors like ginger, rosemary, lavender and rosewater. Yum!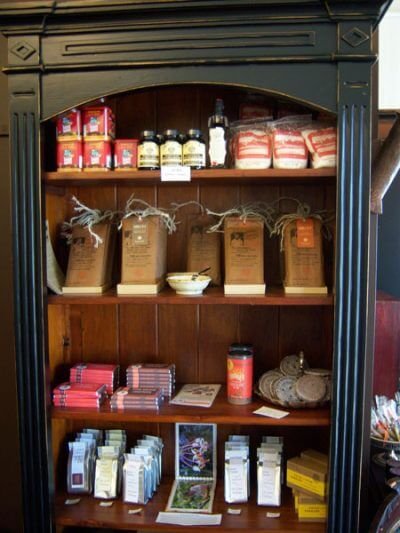 Upon first meeting, you probably wouldn't peg Hart for a chocolatier. She's tall and thin with a kind and beautiful face. It's her warm and generous nature that convinces you her creations must be paradisiacal. She attributes her creative side to her mother. "If my mother was a young woman today she would probably be an artist or something like that, but she had five kids, so she channeled her creativity into cooking. She is an excellent cook. We had an herb garden before people were really doing that, and she was really into foraging. She would go out into the woods and dig up roots to make dye and crazy stuff like that. So, I always loved to cook as a kid."
In a divine conjunction of interests, Sarah gets to be creative and socially conscious, we get to eat the wonderful chocolate, and cocoa farmers get paid a fair wage. What could be better? "Have you tried Spella coffee?" she asks. Now Alma chocolate has an espresso machine and they're working with Andrea Spella, who serves espresso from his cart at the corner of 9th and Alder, downtown. He roasts his own beans offsite and has been training the staff at Alma, so now his heavenly coffee can be enjoyed with sinfully creamy Alma chocolate. And if that's not enough, Alma will start carrying a brownie and a cookie from Neuvrei bakery.
"So, why the name Alma?" I ask. "That was my grandmother's name," says Hart breaking into a bright smile. "I became obsessed with the name, Alma because it means so many things in so many languages. In Spanish it means soul. In Latin it has more of a 'to nurture' kind of connotation, and in Hungarian it means apple," she says. "I like that one because it fits with the idea of temptation."
Phone: (503) 517-0262
Address: 140 NE 28th Ave, Portland, OR 97232
Hours: Tuesday – Saturday, 11:00 a.m. to 6:00 p.m., Sunday, 12:00 to 5:00 p.m.
Elizabeth Lopeman recently earned an M.A. in writing from Portland State. She writes book reviews and regular articles for Eugene Magazine and has contributed to various other local and regional publications. She's also been known to write cd liner notes, web content, press releases, and of course her passion — fiction.