Jackrabbit restaurant, from celebrity chef Chris Cosentino, winner of Top Chef Masters, has now opened inside the Hilton Hotel Portland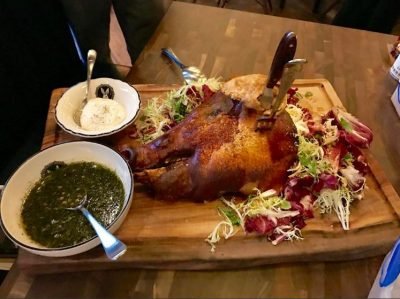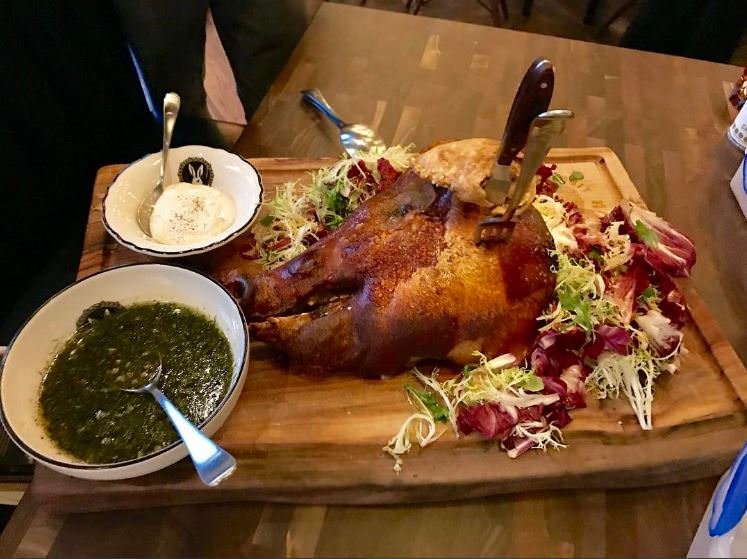 Jackrabbit restaurant is the second from Cosentino, who previously opened Cockscomb in San Francisco, which received a three star review from the SF Chronicle. You may have heard of Chris from his now closed restaurant Incanto, which featured offal.
The restaurant is meat focused, with an emphasis on offal and, unfortunately, branding, which is everywhere. The prices are all over the place depending on what you are craving, but reasonable. Cocktails run $12, starters/salads $13 – $18, mains $18 – $35. Some of the special dishes celebrate offal, such as the "Hot Mess with foie gras, pig's feet and seasonal fruit, and the Chef's Last Supper with blood sausage, duck egg, oysters and herb salad. If your budget allows, you can get a Braised Rabbit ($65) – 80 cloves garlic, rosemary and carrots (reminds me of San Francisco in the 80's), the Pig's Head pictured above ($50), or a Pin Bone sirloin steak*, with seasonal vegetables and bone marrow dip for $110. The menu isn't online yet, so you'll have to drop by to check out all the offerings. Many of the same dishes are also on the menu at Cockscom, where they are priced significantly higher.
From their PR,
…Cosentino and executive chef Chris DiMinno designed Jackrabbit's dinner menu to start with Hors D'oeuvres like the 3 Little Pigs: country ham, porcini-dusted porkcorn and "trottertots;" and Oeufs Mayonnaise with foie gras and crispy chicken skin; along with extensive Pacific Northwest raw bar options including "S&M" Towers (shells & meat) with regional oysters, clams, hams from around the world and untraditional garnishes. Starters & Salads round out the small plate selection, such as Roasted Asparagus with king trumpet mushrooms and Grana Padano; and Grilled Cheese with duck egg, honey and Oregon truffles; alongside Pastas & Grains like Risotto with greens, garlic and ricotta; and Mint Pappardelle with lamb sugo and olives. Show-stopping Shared Suppers include the Braised Rabbit with 80 cloves of garlic, rosemary and carrots; and Pin Bone Steak with seasonal vegetables and bone marrow dip. Individual Suppers bring charcoal roasted Local Daily Fish; "Meat In A Can" with oxtail, pearl onions and carrots; and Offal and Chef's Cut specialties…

The restaurant is open for breakfast Mon-Fri 7-10AM and Sat-Sun 8-11AM; Lunch Mon-Sun 11:30AM-2PM; Dinner Sun-Thurs 5-10PM and Fri-Sat 5-11PM. Happy Hour will be offered Mon-Fri 2-5PM and a late night menu is available Sun-Thurs 10-11PM and Fri-Sat 11-12AM
You can read the full press release here.
Together with his San Francisco and Portland restaurants, Cosentino is riding the celebrity wave, also opening one in Napa Valley, which will spread him a bit thin. Jackrabbit restaurant itself, will be run by chef Chris DiMinno, whose last appearance in PDX was 2012-2014 at Clyde Common. It will be interesting to see where they are a year from now.
*The pin-bone steak is the most succulent of the sirloin steaks. Like the porterhouse, it consists of a piece of tenderloin and a meaty portion of top loin, but it also contains a telltale oval cross-section of the hip bone.  Saveur  (I didn't know either)