So far this is a pretty normal year for Portland restaurant closures for 2018. I'm surprised there haven't been more. If restaurants are having financial problems, they usually do their best to make it through the holidays, which tend to be more profitable.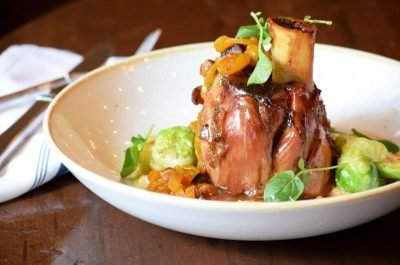 House of Louie
We reported on this closure last week. The last dim sum restaurant in Portland's Chinatown closed quietly in December.
Mandarin Cove
Mandarin Cove is one of the first restaurants I ever went to in Portland. I also never went back, so that tells you something. The Chinese restaurant was at 111 SW Columbia Street in downtown. "
Dear Patrons and Friends:

On 1st January, 2018 Mandarin Cove will permanently close its doors due to the conclusion of our lease agreement, customers who have purchased one of our gift cards may request a refund anytime before March 31st, 2018. Please send your request to wangjiaqi50@hotmail.com. No refund will be available after March 31st, 2018.

Thank you for your supports and love in the past years.
Muscadine
Muscadine, the little Southern restaurant on the same block where Podnah's Pit started out on NE Prescott has closed. According to an interview in the Oregonian, Chef-owner Laura Rhoman says she's done with cooking and wants to go out on a high note. The restaurant opened in 2014 and was named by Esquire Magazine as one of the Best New Restaurants in America – "Best Southern Food in the North" in 2015.
To all of our amazing regulars, I really, really appreciate y'all coming out, in force, the past two weeks. We've had to close early, several days, because we keep running out of dishes. I've gotten up at 3am, every day. I really want the people who have supported us (y'all), to get your favorites, before we're done. There is a fairly fixed amount of product we can make and store, unfortunately. If you're planning on coming in, for the last weekend, please come in early, in small groups, or message us, so we can try and save stuff. Thank y'all.
Pazzo Ristorante
As we first mentioned last month, Pazzo Ristorante closed on January 2nd. Originally Kenny Giambalvo was to take over the kitchen, but he has since begun working at The Allison Inn & Spa in the wine country. No word on who will be heading the new New York Italian restaurant replacing Pazzo.
Overlook Restaurant
The 43-year-old Greek restaurant is closing on January 21st. Not a surprise, as it is in a hot spot for new apartment buildings, but sad none the less. According to Willamette Week, Owners Jane and Jim Sassalos "finally got an offer they couldn't refuse". It will be torn down and replace with a five-story apartment building.
Rue
Rue restaurant at SE 10th and Ankeny street has closed. The restaurant which opened in June 2016 featured small plates in the ubiquitous Portland industrial ethos. All the details are available at Eater. First Roux, then Rue. What's next?
Tesoaria Vineyards Portland Tasting Room
I've been unable to confirm that Tesoaria is closed, but a reader says it hasn't been open since Christmas, and the phone number is no longer working. We've reached out, but have not heard back. I