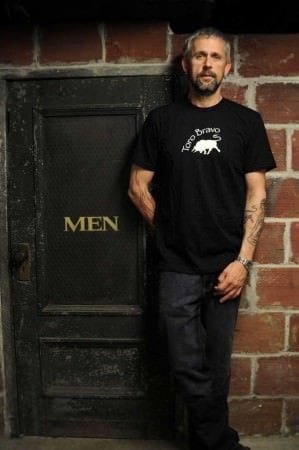 John Gorham, owner of Toro Bravo, Tasty n Sons, Mediterranean Exploration Company and more, sits down with Elizabeth Lopeman
"My grandfather was a big foodie. He owned a crab shack in Baltimore and I would go stay for like a month of my summers with him. He was a bachelor who always had a new girlfriend so he was always wining and dining," reminisces Toro Bravo's John Gorham. Though he fondly remembers summers in Baltimore, Gorham says his near obsession with food started way before that. "I remember even before kindergarten saying I wanted to be a chef. I remember playing restaurant, and I would cook all my friends food. I knew I was going to do it, and if I went to a restaurant I would order something funky just to try it. I never, never have turned food down."
Gorham doesn't look as though he's never, never turned food down, but he is robust and has a large frame. You can almost imagine his strapping stature as the product of his determined enthusiasm. Sitting at the bar in Toro Bravo at nine thirty in the morning, Gorham's blue gray eyes shine clear and bright as he enlightens me about how he's come to be the proprietor of one of Portland's favorite restaurants – Willamette Week's restaurant of the year in 2007.
"I grew up in a restaurant culture at a young age," he says. "My step-father's job was to remodel Kroger's grocery stores and we'd always be moving closer to the stores. By the time I was out of school I went to twenty two different schools. We ate out a lot because a lot of times we never set up, and we acted like tourists if we were only going to be there for a few months." With food as a constant, at seventeen, Gorham enrolled at the American Culinary Federation in Williamsburg, Virginia. At a pivotal moment in his career, just before finishing the program, Gorham was turned down for a job on the basis that he didn't have enough charcuterie experience. "So I was like – alright – so that's what I have to do – next thing. So anytime I could find someone who could teach me charcuterie, I went to work for them."
After acquiring the necessary skills to cure meats, Gorham came to Portland as a co-owner of Viande Meats in N.W. 21st Avenue's City Market, the makers of creative sausages and pâtes. "I loved doing charcuterie, but I needed an outlet to cook, so on Sunday nights we did Simpatica. We were doing it as an experiment. The idea was, let's push ourselves as cooks and chefs." On different nights, Gorham would focus on different regional cuisines. "I started doing tapas dinners and the first one I did people flipped out, and everyone was like this town needs this, and on like the fourth one the food critic from USA Today came in.
It was really random. He walked in the back door and looked really confused. We thought he was just some wandering guy looking for dinner, so we sat him down. He said he had a really magical time as far as the table went that night, but then he rated us the number one meal in the world for 2006."
Though presumably a momentous occasion, Gorham's passion is clearly with the food, and he discusses the USA Today honor as if it was just another day in the life – a midwife for the next opportunity to cook. "I was like, alright, we've got to do the restaurant." So he and his wife, Courtney, bought plane tickets to Europe. They spent time in Germany with Courtney's family and then jetted off to Spain while their three year old daughter got to stay with her grandmother and great grandmother in Germany.
"From everything I'd studied and everything I knew, I wanted to look at Barcelona. Everything that is going on there is so eclectic and out there, and it made sense to look at those restaurants and take what I wanted to learn from them." The most notable restaurant on Gorham's trip to Barcelona – maybe beside a place called Puerto Rico that serves chicken, French fries and baguettes – was Cal Pep. "It's a Michelin one star restaurant, but it's crazy in there," says Gorham. "People line up for an hour before for the first seating. They open up the doors and instead of kicking people out, all of a sudden you're sitting at the bar and there are people packed in behind you waiting to get your seat from the second you sit down. And the waiter is like 'red wine or white wine?' No choice really. And then he asks, 'what do you like to eat?' Seafood, meat and veggies, and then they just start bringing food," explains Gorham. "They say, 'tell us when to stop.' It's a lot like here. There's a confidence to the way the mechanics are working, but the place is totally crazy, and the food is non-traditional but very traditional at the same time."
Some of the more eclectic, less traditional dishes on Toro Bravo's menu are inspired by what's fresh and in season. "I like to think about it like, how would a Spaniard think if they grew up and lived here and embraced our farmers and our wine makers and what's going on here." Toro Bravo orders fresh meat and produce from local farms and ranches in the area. Gorham prides himself on those relationships. "Viridian Farms is really Spanish based in what they like to grow. We work with a lot of farms, but they're a really big focal point of what we're doing." Toro Bravo gets padrón peppers, which are popular as fried snacks in Spain, from Viridian Farms. When I ask who influences whom – the farmer or the chef, Gorham says, "I think it works both ways. They were already playing with padróns, but after they saw what I could sell last year they quadrupled their crop."
The other major Toro Bravo flavor factor is, of course, Gorham's personal sensibility as a chef. "I am who I am. I cook how I cook. I study and read. I make myself grow as a chef every year. That's my goal in life. But I still have a style and I think my style will always come out in what I'm doing." He also attributes a large part of the restaurant's success to his staff. "I have a phenomenal crew. My crew hasn't left me since day one, so we just get tighter and tighter." Gorham encourages his chefs to educate themselves about Spanish food and to really grasp the aesthetic of the cuisine. "You need to go read, I tell them. Go open a book and learn to think about it in a Spanish way." Last winter, Gorham sent one of his chefs to Barcelona to experience the food culture first hand. He says, "I think traveling is one of the best things a chef could do."
As Gorham gives me the royal tour and shows me around the open kitchen with a large stove and a decidedly small prep area, he explains, "I'm a cooking chef, I always will be. I could never have a really big restaurant where I couldn't cook." He proudly shows me to a custom made grill and oven. "When we first opened we had an under counter dish machine and there was no way we could keep up with it.
And we didn't have a walk-in. We just had a double door fridge." The restaurant is clean and new, but when he leads me down the steps to the basement with antiquated brick walls the character ratchets up. "We added the walk-in down here like the sixth week we were here because we were just dying," he says. He opens it up for me to see the fastidiously organized and spotless shelves beautifully displaying a large selection of cheeses and racks of curing meats. "I think we buy more cheeses than probably anyone in town." Shockingly, the freezer at Toro Bravo is tiny, a fact that appears to amuse us both. "Our anchovies and octopus come in frozen from Spain, but there's really not a whole lot going on in here – some Limoncello," he says.
Gorham says he thinks about what he will do at Toro Bravo "constantly – seven days a week." He changes the menu daily and is continuously on top of what produce is coming in and busy adjusting traditional dishes.He imagines in the future he'll do other projects, but he says, "I love this restaurant. For now I'm pretty happy. Extremely happy. We have a good time. That's what's important. The whole idea of a restaurant was to throw a party every night."
Elizabeth Lopeman recently earned an M.A. in writing from Portland State. She writes book reviews and regular articles for Eugene Magazine and has contributed to various other local and regional publications. She's also been known to write cd liner notes, web content, press releases, and of course her passion — fiction.