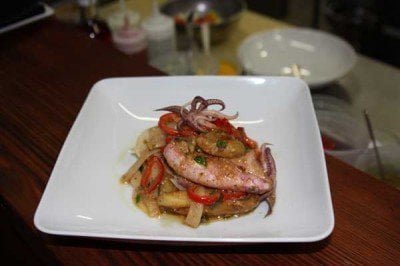 From an announcement in a Facebook post and reported by Eater PDX, June restaurant on 2215 East Burnside has now closed.
Thank you everyone for your support over the last 3 years, it has truly been a pleasure for us. As of last Saturday we have closed our doors for good. What the future has in store is unknown, but we wouldn't have it any other way.
Opened in 2010 by Gregory Perrault and Daniel Mondok, the restaurant garnered mostly mixed reviews, although Roger Porter gave it a B+ in his comprehensive review on this site, saying
"I frequently hear, whether in a complaining voice or not, that the appetizers at some restaurants trump the main dishes for enjoyment. I think this is frequently true, but June maintains a happy balance between the categories. One of the best lamb dishes in my recent experience, certainly a great value at $22, is June's leg of lamb, again with just the right edging of fat and enough flavor to tempt the most hardened meataphobe. As if the lamb were not sufficiently moist, the accompanying eggplant lent even more liquidity and a jolt of richness, the flakes of corn scattered about making for a colorful palette."
Unfortunately, they never seemed to gain traction, part of the reason which may have been do to the early departure of Daniel Mondok and Kelley Swenson, both widely known and a draw themselves.