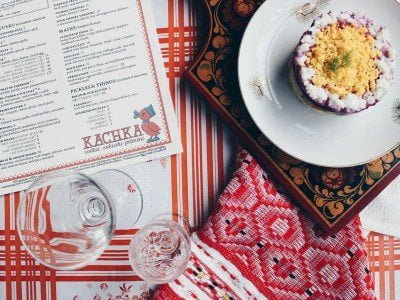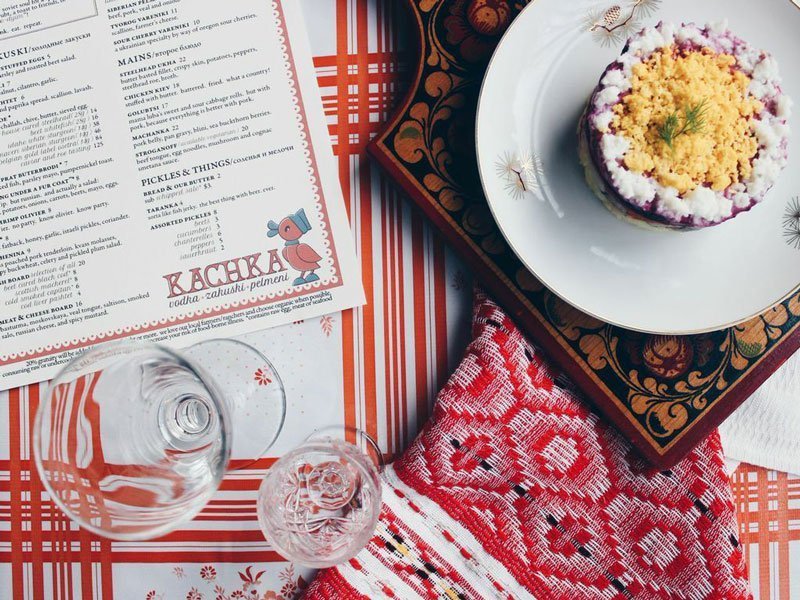 Confused yet? Kachinka, the sister restaurant to the highly vaunted Kachka, is opening on Friday, July 6th in the space being vacated when the original restaurant closes on the 3rd to move to a larger location. The new Kachka will open sometime in July at 960 SE 11th Ave in Portland.
Kachinka is a more casual restaurant, "evoking a happy hour vibe all night long, 7 nights a week."  
This is the first piece in Kachka's 2018 expansion from one concept to three. While Kachka places the finishing touches on their new shiny new location a few blocks away (opening in July), fans of the Russian restaurant will find their beloved dumplings, vodka infusions and zakuski at Kachinka, in a no-reservations atmosphere, with prices to match.

In the spirit of its nightlife-centric neighborhood, Kachinka's bar will continue to offer a full vodka and housemade infusions menu, fun cocktails (including a $6 Moscow Mule and slushy drinks), beer (with a focus on Eastern European bottles), Eastern European wines by the glass and a list of yorsh — Kachka's version of a shot and a beer (house infused vodka and a Russian import).  Guests can tuck into Kachka's beloved pelmeni and vareniki (at just $9 a plate, all night) at Kachinka, a menu of "sea snacks" (baltic sprats, marinated mussels, smoked salmon rillettes and herring and potatoes), an abbreviated menu of caviar and roe, and chef Bonnie Morales' hearty new additions like the return of the Red October Sub (lamb and pork meatballs, sweet and sour tomato sauce, adjika, sulguni cheese on hoagie roll), the Soviet Dog (veal frankfurter, beet vinagret relish, spicy mustard on a pumpernickel bun), and Valdimir Poutine (hand cut fries smothered in adjika and mushroom gravy, with smoked sulguni cheese curd), which debuted last year at Feast Portland. Kachinka will be open to walk-in guests nightly from 4pm-midnight, but groups of 9 or more can call the restaurant directly at 503.235.0059 for reservations.
Kachinka is at 720 SE Grand Avenue in Portland, 97214.