Kachka is doing away with tips, and instead, charging a 22% service fee, using it to offer a minimum of $25 per hour for employees along with free healthcare, profit sharing etc.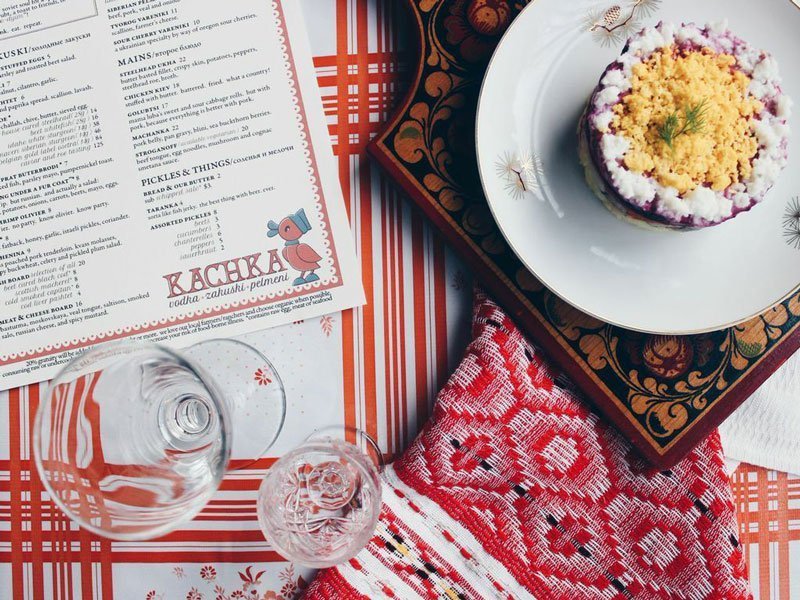 Many Portland restaurants have tried variations on this plan and have ended up going back to tipping. It will be interesting to see how this works out.
Here is the press release:
On January 1st, 2022, Portland, Oregon's lauded Russian restaurant Kachka's sole owners, Bonnie and Israel Morales, implemented a new business model at the restaurant to do their part to help move the restaurant industry in a more equitable direction. The three pillars of this model are free health care, a living wage (replacing tips with a service fee so that all employees are paid a starting wage of $25/hour), and profit-sharing.
The Morales' shared the following statement on their website which describes the model and the reasons it was time for them to make these changes:
We fell in love with the hospitality industry because we love taking care of others. In reality, we came up in an environment that never considered taking care of its own. For too long the restaurant industry has propagated a system of inequality, racism, and discrimination. In opening our own business, we could finally correct these inequities, but were scared to make waves in an established system. It's time to break from the dysfunctional status quo.

We ask that the restaurant industry be treated as any respectable industry – one with upward mobility and career paths. To be the change we demand to see, Kachka is implementing the following three policies:

NO MORE TIPS!

We are charging a 22% service fee in lieu of an optional tip line and using this service fee to offer a minimum of $25 per hour to employees. No need to do any math at the end of your meal – in fact we don't want anyone to feel pressured to leave extra. We will provide the hospitality and grace you deserve because it's what we do. Tipping, at its most innocent, creates inequity between "front-of-house" and "back-of-house" workers, and at its most sinister, continues a tradition of racism. Don't believe us? Google "History of Tipping in the US". Actually, please do even if you do believe us. We think this is one of our industry's best kept dirty secrets.

PROFIT SHARING

Twice a year, we will open up our books to employees so they can learn more about what it takes to make a restaurant run. Mentoring future restaurant owners among our ranks is something we take great pride in. We want a workplace where everyone has a common goal. And if the business prospers, our employees prosper.

FREE HEALTHCARE

All Kachka employees are offered free health insurance. We don't think anyone should have to choose between going to the doctor and paying their rent, but unfortunately that's many restaurant workers' reality. It has to stop. Healthcare is a human right.

We know that it's a big ask for our guests to relinquish control over tips, but we hope the last eight years have shown that we are trustworthy operators with no ulterior motives. We charge fair prices, provide delicious food and professional service. This is what we will continue to do. We want you to know that by being a patron at Kachka, your money is going to a small business striving to create a positive and enriching workplace.

This might not be the perfect solution, but we know that inaction is worse. Some of our guests may disagree with how we choose to address this issue but please take into account that we are simply doing what we think is best – both for our employees and our patrons – so that we can continue to offer you a stellar experience for years to come.

With sincerest respect and gratitude,

Bonnie & Israel Morales

FAQ'S

WHY ARE YOU ADDING A SERVICE CHARGE AND REMOVING TIPPING?

See above! The culture of tipping is outdated, inequitable and perpetuates racism. The current tipping model creates a huge disparity between the salaries of front and back-of-house employees. Servers work fewer hours per shift, but can make about three times the wage of those who work in the kitchen to prepare your meal. With this new model, all Kachka staff will make at least $25 per hour, a living wage.

WHY NOT JUST INCREASE YOUR PRICES?

Not all restaurants offer their employees living wages. As honest restaurateurs, we want to make sure there is transparency in how we operate. Since not all restaurants are playing by the same rules, we wanted our guests to more easily see where their money goes.

WILL I BE EXPECTED TO TIP ON TOP OF THE SERVICE FEE?

No, there will not be a blank line for tips on your bill. We don't want there to be any pressure to leave extra so we have eliminated that option. Besides, no one should be doing math after a relaxing meal. What a buzz kill.

WHERE DOES THE MONEY FROM THE SERVICE CHARGE GO?

It will be used to pay all employees who contributed to the meal you enjoyed (with the exception of managers or owners) a wage of at least $25 per hour.

WHY IS THERE A SERVICE FEE ON MY TAKEOUT ORDER?

Takeout orders are prepared with as much care and attention as meals for here. In actuality, takeout meals are more complex and costly to prepare for restaurants than ones for dining in. Some food for thought!

AS OWNERS, WHY WOULD YOU SHARE YOUR PROFITS?

We want to create an environment where we all work towards the same goal: if the business profits, we all profit. This is a part of creating an equitable model, which we see as sensible capitalism.