Ken Forkish confirms he will be leaving Portland.
Rumors started swirling a month ago that Ken Forkish, owner of Ken's Artisan Bakery and Ken's Artisan Pizza would be retiring.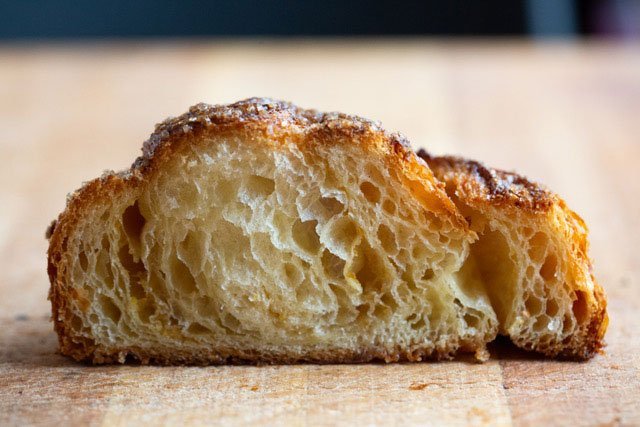 In an interview with Portland Food and Drink, Ken said both the pizzeria and bakery have been sold to long-term employees, and he would be fully engaged to consult if he's needed. When I asked why he was selling, Ken stated, "I'm just getting tired. I'm in my 60's and it is time for me to retire. This change has been three years in the making and I feel really good about the future of the restaurant and bakery. They are both in very good hands."
Forkish stepped back from day to day operations of both businesses earlier this year. "I've had a dream for many years to move on from city life. I've just been shadow managing. It is important to me that I can retire with the right people in place. I love to be able to pop in, have a bite to eat, and take off without worrying about the details. I'm lucky to have great people who can take over and keep them going with the same standards we've always had."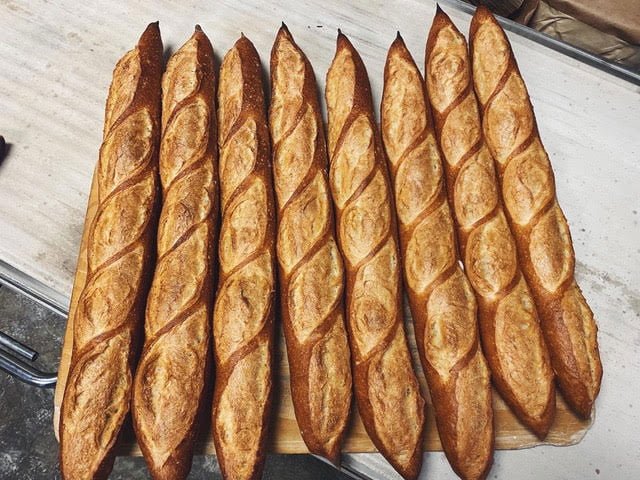 The new owners of Ken's Artisan Bakery are Theo Taylor who started with Ken in 2002, and Pastry Chef Randy Dorkin who started in 2005. Melissa Joubert, another long-term employee who ran the now-sold Ken's Checkerboard Pizza in Pine Street Market, will be returning to run the front-of-the-house at the bakery.
Ken says,
"Everything will be pretty much the same. They have no interest in changing recipes. We have worked really hard to establish ways of making these things better every time. For example, the croissants are a little bit flakier than they were a year ago; constant incremental improvements. As I've gotten older, I've been thinking a lot about my legacy. I really want it to continue, and it wouldn't be the same if I sold to an outside business group. Even the business names won't change."
Ken's Artisan Pizza will also see little change. Peter Kost a partner at Carina Lounge and previously Lucy's Table has taken over day-to-day operations, with current chef Vince Krone staying on in his current position. He feels the restaurant will continue to thrive. "I've been working with a team of mostly new people over the past few years. I feel like the pizzeria is the best it has ever been."
Though the burgeoning pizza scene has brought a ton of competition of late, Ken's Artisan Pizza has been considered by many as the best in the area for years. The bakery is at or near the top of every best bakery list in town.
One other tidbit from our conversation is that Matt Jacobson from Sizzle Pie bought Ken's Checkboard Pizza in Pine Street Market – the brand, recipes, and equipment. No word on what direction he will be going with it.
In 2013, Ken Forkish won a James Beard Foundation Book Award for Flour Water Salt Yeast: The Fundamentals of Artisan Bread and Pizza, followed by a nomination for The Elements of Pizza: Unlocking the Secrets to World-Class Pies at Home in 2017. Ken was a semifinalist for The James Beard Foundation Oustanding Pastry Chef in 2008, 2011, 2012, 2013 – finalist, and 2018. In 2017 he was a named a finalist for JBF Outstanding Bakery.
In a recent Facebook post, Ken talked about the 20th anniversary of the bakery –
Exactly 20 years ago to the day, Ken's Artisan Bakery opened its doors for the very first time. It started with a dream to have my own bakery that would hopefully remind me and others of the great bakeries I loved in Paris. I wanted to make big round boules of country bread, crusty and airy baguettes, brioches, butter & ham sandwiches, croissants that shatter when you bite into them, caneles, palmiers, tarts and macarons. We once made a pastry called Inspirations. I used to direct-import tea from Mariage Freres and buy 25 kilo bags of still wet Brittany sea salt for our bread mixes.

Ken's Artisan Bakery

This was in 2001. Ken's Artisan Bakery has since birthed Ken's Artisan Pizza, two cookbooks, Trifecta Tavern [RIP 2020] and Checkerboard Pizza [sold 2020].

Many thanks to all the bakers who have worked through the night so we could offer freshly baked bread and pastry each morning. And to all the counter staff who have served hundreds of people daily. The rest of our team–lunch cooks, delivery drivers, and supporting cast of farmers and purveyors–all were necessary and greatly appreciated.

I'm very proud that my bakery has served a very wide demographic range from young to old, and it's pretty great to serve adults who were once wide-eyed children staring at our pastry case in years gone by.
Many thanks too to all those who have become frequent guests. We'll miss those who have moved or who have passed. I feel like my bakery has become a necessary part of the neighborhood and the city, and if we can do anything with our lives that has value it begins with trying to make the world around us a better place. I hope we've succeeded.
— Ken Forkish
What's next for Ken? He has another bread cookbook coming out next September. Beyond that, he chose to be vague, other than he will not be in Portland. When I mentioned rumors of him moving to a far away tropical island, Ken laughed and said, "that sounds pretty good right now."
I'll miss Ken Forkish and his restaurants and wish him the best of luck with his retirement dreams.