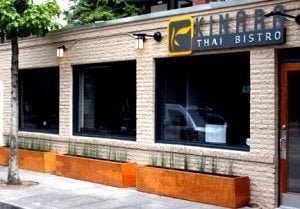 Minor update 2021.
It seems like there are hundreds of Thai restaurants in Portland, with little to differentiate them. Pasty noodles, dried-out meat, and curry paste from a jar seem to be the norm. When I stumble across one that is actually good, I am always surprised. Kinara Thai Bistro, next to the Lincoln High athletic field in the Goose Hollow area of Portland, is one of those restaurants.
In Thai mythology, the name Kinara comes from the fabled half-human half-bird that represents purity, mystery, and excellence of character. According to their website, they have patterned the restaurant on those qualities: they support and use local and sustainable farms, use organic and natural ingredients as much as possible, and use corn oil-based compostable containers for their to-go items. These things alone set them above most Thai restaurants in Portland.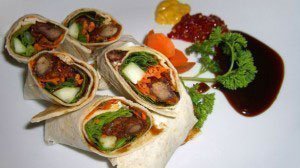 When I try a new Thai restaurant, there are a few dishes I always order as bellwethers to compare to other versions around town, but on my first visit, it was the things I haven't seen before that caught my eye. For instance the Kinara Rolls; six large rolls consisting of a thin wrap brushed with a bit of hoisin sauce, wrapped around crispy slices of roasted duck, cucumber, carrots, cilantro, and scallions. The flavors are all bright and fresh and the textural interplay between the crispy duck and the other ingredients is just terrific. I have a friend that always makes fun of the judges on the original Iron Chef TV show. It's a standing joke, and when she said, "It's like a party on my tongue," I burst out laughing. She was right though; it was a perfect example of the way a good Thai chef plays with ingredients to create interesting and unexpected juxtapositions of flavor and textures. Occasionally the wrap is a bit dry and the overall effect isn't quite as good, but overall, this is always worth ordering.
Encouraged, we ordered more food. As additional dishes arrived, we were impressed by the presentation. Instead of food being dumped onto the plate, care is taken to make sure everything looks nice. I'm not just talking carved vegetables, though they are used quite a bit. Here they tend to be supplemented with artful arrangements of ingredients.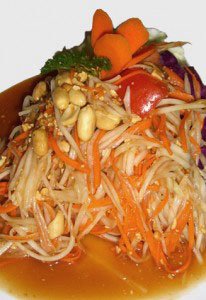 Fresh Spring rolls were fairly typical, but an order of fried dumplings put us back on track. They are described on the menu as "vegetarian dumplings with a saccharine soy sauce." As saccharine generally means something cloyingly sweet, I think this is one of those terms that got lost in translation, as these were not really sweet at all. They are small, light dumplings, stuffed with crunchy vegetables. The real surprise is that even after the frying we could still taste the individual vegetables inside each dumpling. Nothing was oily, and the texture of the ingredients was still intact.
As I mentioned above, some dishes aren't as good as others. An order of crispy rolls was well made and perfectly fried, but the one time I tried them the oil left a bad aftertaste. I'd order them again, chalking it up to an aberration. Other interesting appetizers include calamari chardonnay, described as thinly-sliced calamari sautéed with white wine, garlic, cilantro, and Masako, steamed green mussels in lemongrass and white wine broth, or blue crab wontons with cream cheese.
I tried their grilled beef salad, or nahm dtok, and found it to be the best I've had in Portland. The simple look of this Northern Thai salad belies its complexity, as it typically has a plethora of ingredients:  mixed greens, radicchio, carrots, onions, scallions, cucumbers, bell peppers, grilled sirloin, coriander, mint, and toasted rice. The dressing is a delicate balance of Thai flavors: salty, sweet, and sour. If any of the components are overused, the entire salad is thrown off. Kinara's beef is of excellent quality, a cut above most Thai restaurants: tender, moist, and just the right amount of fat. Everything works perfectly for a terrific salad on a warm night.
Though many people think it is an Americanized version of Thai food, Pad Thai is enjoyed throughout Thailand.  I'm always nervous about this dish because it is another delicate balancing act. Often containing fifteen ingredients, many versions are off-balance (usually the palm sugar) making the end result way too sweet, or it is just bland. The first time I had it at Kinara, I was blown away; the textures and flavors were the best I've ever had in the Portland area. Unfortunately, the second time I tried this dish, the noodles were a bit soggy and the flavors muted. It tasted like it had sat for a while in the pass-thru, which is quite possible since they were slammed that night and only had one server. This one is a crapshoot, but I would definitely try it again.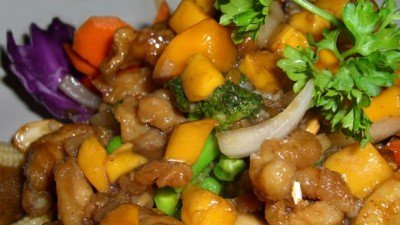 The Basil-chili pork is a winner. This is a simple wok dish of sustainably raised pork, sweet basil, bell peppers, garlic, and Thai chili, yet the end result is a rich, deep flavor. Like almost all the meat I've had at Kinara, the pork is moist and flavorful. Another of my favorites is their drunken noodles or Pad Kee Mao. It is found on almost every Thai menu, but this is the only version I have had that is anything like you get in Thailand. I always order it with beef; add fat rice noodles, basil, bell peppers, onions, tomatoes, garlic, and Thai chili; did I mention garlic? Anyway, it's great; you need to try this dish.  Cashew nut chicken is better than average, but not outstanding. There are lots of pieces of natural chicken, roasted cashews, onions, scallions, carrots, and sweet chili paste. I'd like the sauce to be a bit brighter, but it is still a good dish. I also enjoy "mango paradise"; sweet mango, chicken, cashews, and veggies in a sweet-and-sour sauce. The dish looks good, surrounded by a ring of fresh broccoli and elaborately carved carrots. I had it twice; one time the chicken was overcooked, on my second visit it was just right. This is a dish that takes balance; too much mango will be too sweet, same with the sauce. They got both just right.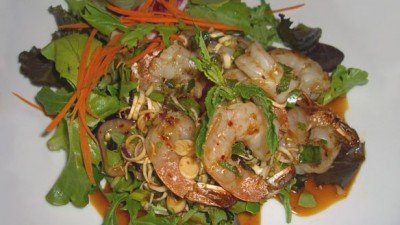 Curries usually come with a side of rice, and Kinara steps it up a notch by offering your choice of brown or jasmine. Panang curry is my standard, and Kinara's version is made with pork, which is a nice change. The curry has a rich flavor, medium heat, and lots of complexity that builds as you eat. Though the beef massaman is not quite like the version at Siam Society, it is a close second. The curry has the depth commonly associated with this dish, the beef and potatoes are tender, and the peanuts give it a nice textural highlight. Their green curry didn't do too much for me; I've had better at other places.
Thai fried rice was flavorful, plentiful, and a bit lighter than most versions tend to be. It is a typical mix of tomatoes, carrots, onions, peas, and eggs. I like the way they leave the onions in fairly large pieces, which give a bit of textural contrast.
Kinara has a large selection of lunch specials. For a small fee, you can add a garden salad or an appetizer.
If there are any problems with Kinara, they are consistency and service. As I mentioned above, I've had the same dish turn out completely different over two nights. The restaurant is small, seating about 12 in each dining room. Though this makes it seem intimate, it is difficult for a single server to work, and she occasionally gets overwhelmed. I think the same thing happens to the chef. I worry that the effect of a few positive reviews will overwhelm them; so be patient.
Despite a few issues, Kinara is my favorite Thai restaurant on the West side of the Willamette. On a good night, it is outstanding. Since it is an easy walk from the Pearl, it will be my regular stop for this type of food.
On a good night, an easy B+. Marked down for inconsistency.
Phone: (503) 227-5161
Address: 1126 SW 18th Ave, Portland OR. 97205
Hours: Mon-Thur 11am – 9:30pm, Fri 11am – 10pm, Sat 3pm – 10pm. Closed Sunday
Website: KinaraThai.com