Laurelhurst Market Scores Bon Appétit Recommendation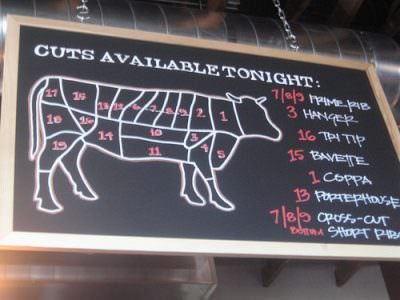 Every year, Bon Appétit comes out with their Ten Best New Restaurants in America list. This year Portland's own Laurelhurst Market is on top.
3155 East Burnside Street, 503-206-3097, laurelhurstmarket.com


The Story: Part steakhouse, part butcher shop, 100 percent ode to all things meat–this is "The Year in Food 2010" distilled into a single restaurant. A chalkboard–with a cow diagram and "cuts available tonight" menu–hangs near the open kitchen in the industrial space. All the good steakhouse cliches (fun, raucous) without all the bad ones (super-expensive, boys' club).

The Team: Owners Benjamin Dyer and Jason Owens and chef-owner David Kreifels (all partners in supper club Simpatica Dining Hall).

Must Order: Meat! More specifically, beef. Try cuts like culotte (a.k.a. baseball steak), rib eye, or hanger steak. Throw in a side of Millennium Farms creamed corn for good measure.

What's in a Name: It's a nod to both the neighborhood where the restaurant is located and the name of the mini mart that used to inhabit the space.
Laurelhurst Market, started by Simpatica alums co-owners David Kreifels, Jason Owens, and Benjamin Dyer is serious about all things meat but takes cocktails and service seriously too. You can pick out a cut to take home from the in-house butcher shop, or stay for a full meal. The steaks are excellent but are delivered without the pomp and circumstance of most traditional steakhouses.
Other winners: Anchovies & Olives in Seattle, Miller Union – Atlanta, Boston's Menton,  Marea – New York, Hatfield's – Los Angeles, Ellerbe Fine Foods in Fort Worth, Bar La Grassa – Minneapolis, Frances in San Francisco, and The Purple Pig – Chicago.