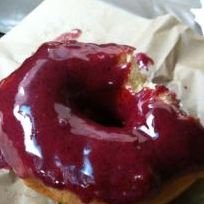 This week has brought two new restaurants to the Indigo Building, which most recently housed the failed Corazon. First, Blue Star Donuts, the newest venture by Micha Camden of Little Big Burger fame. Blue Star, the first tenant in the SW corner of the building, features selections such as "strawberries & jalapeño, Cointreau crème brûlée (Micha gets extra points for all the diacritical marks), hard apple cider fritter, and real maple glazed & bacon". Zounds! Anyone tried them? My doctor has added a switch that prevents me from turning the ignition off if I'm less than one block from a donut shop.
Next, the SW edition of Lardo, the sandwich shop and beer garden, which opened its original brick and mortar spot in SE Portland last July. They have a loyal following, not only for interesting selections such as a pig ear salad, and sandwiches like smoked coppa Cubano and pork belly, egg and cheese, but also for their large $5 beer selection. The new store is at SW 12th and Washington St., and is open daily from 11am to 10pm.
No word on when Ración the "modern tapas" restaurant from ChefStable and Anthony Cafiero will be opening.