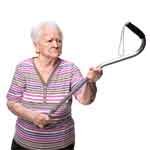 [Updated: General Mills reversed this decision on April 20th]
This is one of the reasons I never "like" a brand on social media. From the NY Times, General Mills, one of the worlds largest food companies, has quietly added language to its website that customers give up their right to sue the company if they download coupons, "join" it in online communities, enter a sponsored sweepstakes, etc. 
You read that correctly. In other words, if you eat some ingest some salmonella along with a can of their Jolly Green Giant green beans, you can't sue them. It's your fault, because you had the temerity to like the company or download a coupon.
In language added on Tuesday after The New York Times contacted it about the changes, General Mills seemed to go even further, suggesting that buying its products would bind consumers to those terms.

"We've updated our privacy policy," the company wrote in a thin, gray bar across the top of its home page. "Please note we also have new legal terms which require all disputes related to the purchase or use of any General Mills product or service to be resolved through binding arbitration."

The change in legal terms, which occurred shortly after a judge refused to dismiss a case brought against the company by consumers in California, made General Mills one of the first, if not the first, major food companies to seek to impose what legal experts call "forced arbitration" on consumers.
Here are some of their brands, in case you'd like to avoid them: Betty Crocker, Pillsbury, Cheerios, Nature Valley, Tablespoon, Yoplait, Live Better America, Progresso, Rica Vida, Chex, Old El Paso, Green Giant, Fiber One, Bisquick, Chex Mix, Totino's, Gold Medal, Hamburger Helper, Total, La Sueur, Lucky Charms, Kix, Trix, Cocoa Puffs, Total, Totino's, Wheaties… the list goes on. 
I don't purchase any of these products on often, and I certainly won't now.