NOTE: Little Red Bike Cafe closed on June 19th, 2010. Rip.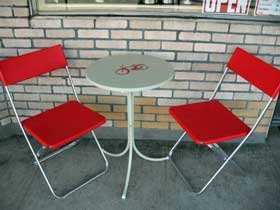 I want to tell everyone that Little Red Bike Café is lousy. I want to say the sticky buns taste like cardboard, the sandwiches are no better than your average deli, and the coffee is thin and watery. I want to do this because they are crowded enough as it is, and if more people come, I'll have a harder time getting a table during my monthly visits.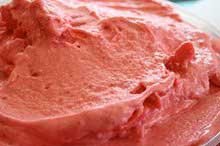 Unfortunately, that's not the case. At first bite, the sticky buns seem good, but nothing to blow you away. By my third bite my toes started to curl, and though I knew I was totally failing my diet resolve, the roll that "I just wanted to taste", quickly vanished. So did the orange chocolate bread pudding and the Paper Boy fried egg sandwich. The coffee is Courier Coffee Roasters, much better than most cafés, rich and made with concentration; the sandwiches all have little touches that make them stand out, I am not, however, thrilled about the pickles, but that's just my personal preference and I'd say that's my only real complaint.
I don't remember how I first came across their blog, but I followed the progress of Little Red Bike for months before they opened. Owners Ali Jepson and Evan Dohrmann's excitement at finding a location in their neighborhood, testing ice cream flavors, and picking up their equipment was infectious. Even now their blog is full of good entries, to wit,
"What does the LRBC do when its coffee brewer breaks at 8:15 am on a Sunday morning?

Answer:
Make a lot of americanos.

This was the only game plan we had until 'round 10am, when my folks dropped off an electric percolator that was purchased by my grandparents sometime during the 1950's. That's when our new coffee brewer, the AliceHacker1000, kicked into high gear, pumping out freshly brewed French Press coffee 52oz and 34oz at a time. While this new "setup" was far from ideal, it got us through the day. The percolator didn't start an electrical fire, and was able to produce enough hot water to make French press, and Alice maintained a Zen-like calm while working at a feverish pace to keep the cafe's airpots full of coffee.

Thanks to my grandparents for buying that coffee brewer more than a half century ago, thanks to my folks for dropping it off during a time of crisis, and thanks to Alice for once again coming through in the clutch when it was needed most."
That entry was followed by a debate as to whether bagels should be toasted. That kind of passion and love make this café stand above its milieu.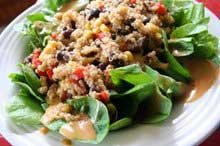 I didn't know if their food would be any good, but I knew they were really good people who wanted to open a great little café. I actually stayed away for six months after their September opening, because if the food wasn't any good, I didn't want to know. It wasn't until I was dragged by friends, shoehorned into a table one weekend morning, tasting at a lovely egg sandwich that I decided that Little Red Bike was living up to my hopes. The interior is simple: various bike pictures on the walls, plastic chairs and just a few tables. An air pump awaits bicyclists in need of a boost.
The menu is small, but well thought out. If you look at the ingredient list, you'll see every menu item is tweaked to give it that something extra, and almost everything is made from scratch. The Paper Boy is a simple fried egg sandwich, elevated above the mundane with the addition of Beecher's Flagship cheese on freshly baked ciabatta. Add caramelized onions and pasilla pepper aioli and you have a ZooBomb, both just $5.00. Others benefit from homemade apple butter or fig jam to give them added interest. If I'm feeling really hungry, I'll go for one of the three scrambles, my favorites being three scrambled eggs, Cypress Grove chevre, fresh herbs, homemade tomato jam, and multi-grain toast ($8), or the Farmer's Plate of scrambled eggs, sliced artisan cheese, dressed greens, balsamic roasted tomatoes, and multi-grain toast ($9). Fleur de Lis pastries, croissants, and scones are also available, including the aforementioned sticky buns.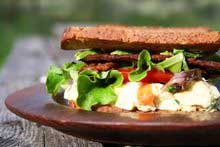 The lunch menu is equally small but satisfying. Sandwiches come with a dill pickle and your choice of chips or a much better than average salad of dressed greens. I'm not talking some sad little pieces of bagged lettuce thrown on a plate with a bottled dressing, these are good organic leaves tossed in just the right amount of vinaigrette with crunchy homemade croutons. Another touch I really appreciate is that much of the bread is toasted before it is sliced. That gives a nice crunchy crust that supports the sandwich, with a softer inside that absorbs a bit of flavor from the filling. The end result is a great mouth-feel.
I'm not a huge fan of turkey, but was intrigued by their version with bacon, homemade onion relish, Beecher's cheese, sun-dried tomato mayonnaise, and apple slices on ciabatta. It was still turkey (yawn), but the flavors from the other ingredients relegated the meat to a supporting role, and I liked the texture provided by the apple ($7.50).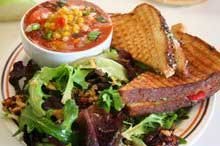 I'm a sucker for a good grilled cheese sandwich, and theirs surprised me by being grilled with white truffle oil and decent brie and jack cheese. I think my favorite is the roast beef, thick and moist with wonderful caramelized onions, balsamic roasted tomatoes, crumbled blue cheese, and rosemary aioli. I can never eat more than half, but the leftovers usually call to me from the refrigerator later in the afternoon.
If you have room for dessert, try the previously mentioned sticky buns, or cinnamon rolls. A friend of mine thought so much of their bread pudding, even though he was on crutches he dragged me in for a second opinion. Now I can't resist, it's my Achilles heel. It was orange chocolate, and lacked the overwhelming sweetness that so many restaurant versions have.
There's nothing much better on a hot afternoon than a little café and ice cream. If you can possibly justify it, don't miss the milkshakes which come in a cold Mason jar.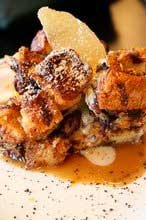 During the warmer months when the shop closes at 2pm, the bike-up window opens offering a discount to bicyclists though everyone is welcome. They serve freshly-made ice cream with flavors that sound so good you just want to try them: peanut butter chocolate. piña colada, chocolate pudding, strawberry sour cream,  mango coconut, and one of my favorite flavors, sweet corn. If they bring that version back this summer and I'll be first in line. Owner Evan Dohrmann says they hope to extend hours into the early evening this summer, with an additional focus on cold treats.
The thing about Little Red Bike café is they seem to care. It's not just about making money with a sandwich shop, it's about being part of the community and living up to the things they believe in: Their menu features local, organic, sustainable ingredients, they support area bicyclists, and their grand opening was a benefit for Safe Routes to School. I get the feeling that if they can be true to themselves and pay their bills in the process, they'll be content. I'm happy they are part of North Portland, and dietary guilt notwithstanding, always happy when I walk out of their front door. If this sounds like your type of place, grab a newspaper to read while you wait, and go; you'll be glad you did.
Phone: 503.289.0120
Address: 4823 Lombard St. Portland, OR 97203 

Google Map

Hours: Monday – Saturday 8am-2pm, Sun 9am-2pm, Closed Monday