When is local produce really not local at all?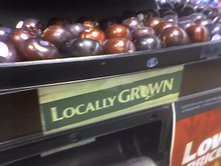 As a follow-up to our story about Safeway Grocery stores mislabeling some produce as "local" comes this article in the Missoula Independent on "Localwashing". Some quotes:
This new variation on corporate greenwashing—localwashing—is, like the buy-local movement itself, most advanced in the context of food. Hellmann's, the mayonnaise brand owned by the processed-food giant Unilever, is test-driving a new "Eat Real, Eat Local" initiative in Canada. The ad campaign seems aimed partly at enhancing the brand by simply associating Hellmann's with local food. But it also makes the claim that Hellmann's is local, because most of its ingredients come from North America.

It's not the only industrial food company muscling in on local. Frito-Lay's new television commercials use farmers as pitchmen to position the company's potato chips as local food, while Foster Farms, one of the largest producers of poultry products in the country, is labeling packages of chicken and turkey "locally grown."
and:
For anyone confused by this display, the campaign and its media partners, including Comcast and the McClatchy-owned Fresno Bee, followed the press conference with more than $250,000 worth of radio, TV and print ads that spelled it out: "Just so you know, buying local means any store in your community: mom-and-pop stores, national chains, big box stores—you name it."
You can read the entire article in the Missoula Independent here. It's worth the time.