Some restaurants are turning to cheaper ingredients to offset the cost of more expensive ingredients
From an article on MSNBC.com,
Call it a menu makeover: Steakhouses are adding buffalo meat alongside filet mignon, pizza joints are trying new cheese products and seafood spots are replacing pricier entrees with humbler dishes like catfish.
Cheese "Products"? Plop plop, fizz fizz.
Sysco Corp., the largest food distributor in North America, is helping customers cope with high food prices, for example, by suggesting less expensive meat cuts, butter blends and other cost-saving substitutions.
"Butter blends" You know, that never even occurred to me as a cost-saving measure. I was at OCI the other day, and they had a nice basket of bread with some sort of butter spread. My companion and I kept saying, "It doesn't taste like butter, but it doesn't taste like anything else either."
Worst service I've had in ages: 23Hoyt Happy hour
Started out good, but as business picked up a bit, we were forgotten. Even more bizarre, lots of staff was standing around, only our server was in the weeds. Sad, because the food was pretty good. Speaking of which, their happy hour will be starting one hour earlier, at 4pm in mid-May.
The Oregonian seems to have dropped some of their anonymity rules
Several of their recent publications and web videos have featured at least one food critic, the latest being Grant Butler discussing food carts. NOTE: an email from Grant says he's no longer doing reviews.  I ended up sitting next to Karen Brooks at NW Coffeehouse a few months ago, and recognized her because of her strange hair dye; red with a white splotch in front. Everyone else knew her too.
A new restaurant called 50 Plates will be opening in the Pearl District
Paper is up on the windows, opening set for mid-June. It will be an "American Bistro." Look for it at 13th street and Flanders. Another possible addition to the pearl, the owners of Jopa Italian restaurant in Beaverton are opening a new venture in the Aveda space. Their restaurant in Beaverton bills themselves as a "Northwest Grill, with Italian roots". No idea if the new one will follow the same cuisine.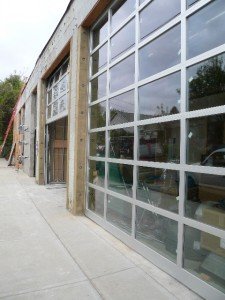 The new Ristretto Roasters is being designed by the innovative Holtst Architecture firm
The new branch is more than three times the size of the current NE 42nd location. In addition to more seating, this will allow space for a coffee lab. Owner Din Johnson is importing granite cupping tables from Brazil, and will have a sample roaster and espresso machine for training and public cuppings. With the increased room will come more single-origin espresso and additions to their library of beans available for purchase. There will be a lounge with a variety of seating in the front, and a cupping area in the back.
Look for the new Ristretto Roasters to open early to mid summer.
Pascal of Carafe Restaurant just turned 50 – and does a triathlon
When I turned 50, I celebrated by crossing the street by myself. He is turning things up a notch by participating in a TRIATHLON benefiting the Leukemia & Lymphoma Society. Pascal has already raised $3,520 dollars towards his goal of $5,000, and it won't take many donations to put him over the top. Anyone at any age that makes it through a Triathlon has my respect, and I'll be cheering him on. PFD will make a donation to this good cause.
Grant Achatz of Alinea in Chicago has advanced oral cancer
An article in The New York Times Diner's Journal caught my eye, and I haven't been able to get it out of my mind. Many of you have probably heard of Grant Achatz of Alinea restaurant in Chicago, famous for using molecular gastronomy to coax flavors and textures out of food in new and exciting ways.
Last year he was told he had advanced oral cancer, and that unless he had his tongue cut out, he would be dead within a few months.
Ponder that for a moment. A world-famous chef, with no tongue, unable to taste. What would you do? Interesting article called "A Light in the Kitchen When All Else Was Dark".