The Hoxton Hotel replaces La Neta Restaurant with Lovely Rita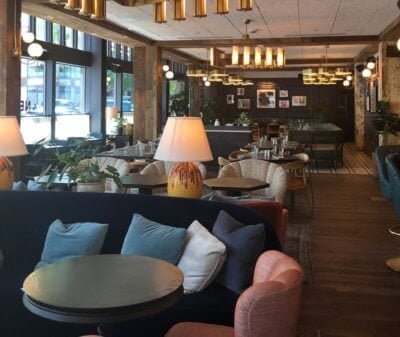 The Hoxton Hotel at 15 NW 4th Avenue in downtown Portland has announced the opening tomorrow of their newest restaurant, Lovely Rita. This is a replacement for the "Mexican-inspired" restaurant La Neta which closed on August 29th.
London-based hotelier Ennismore launched the hotel in November 2018 with a coffee bar in the main lobby, a taqueria named Tope on the roof, and a "discreet basement bar — too discrete for a name" (insert my rolling eyes which serves American Chinese food remain open. I'm not surprised La Neta closed, though I'm surprised they were willing to cut their losses and make the change so quickly. I thought the food was okay, but something about the atmosphere turned me off and the service could be lousy at times.
The new restaurant is an "all-day bistro and café."
Here is the official press release:
PORTLAND, Ore. (September 9, 2019) – Downtown Portland's newest restaurant, Lovely Rita, opens tomorrow throughout the first floor of The Hoxton, Portland. Lovely Rita encompasses an easy going, all day bistro serving breakfast, lunch, happy hour and dinner for reservations and walk-ins, as well as a counter service café for grab and go items. Soft, cozy chairs and sofas in rich hues welcome guests to relax, have a meeting, share a meal, meet a date for drinks, or get some work done.

Executive Chef Johnny Leach designed a menu for Lovely Rita that evokes a Pacific Northwest-influenced bistro.  Guests are invited to choose-their-own-adventure with light, healthful dishes such as crudo, salads, grain bowls, and smoothies, as well as signature indulgences like the Dungeness crab sandwich on a pillowy milk bun, steak and eggs with bearnaise, or Kusshi oysters on the half shell with melon mignonette.  The in-house bakery turns out pastries each morning, like conchas, seeded lime scones, walnut and black cardamom pound cake and hand pies filled with local fruit, as well as breads and rolls throughout the day. Seasonality and local sourcing are emphasized throughout the menu, opening with an heirloom tomato salad, an end-of-summer bean salad with fennel, smoked pine nuts and shiso, and smoked mushrooms with chickpeas, dates and charmoula to celebrate the start of fall.

Lovely Rita's bartenders mix up inventive craft cocktails while Margaritas and Aperol Spritz flow from the taps alongside local beer. The wine list is focused on selections from the Pacific Northwest alongside wine styles typical of a European bistro. Lovely Rita also makes seasonal (non-alcoholic) sodas in house, such as grapefruit and celery, along with a selection of nutritious smoothies and pressed juices. Baristas prepare Proud Mary coffee espresso drinks for the café and restaurant.

Lovely Rita Hours/Info

Coffee Shop: 7am-5pm daily, counter service from the coffee bar (coffee and espresso service starts at 6am M-F)

All day menu (breakfast and lunch): 9am-3pm daily

Happy hour: 3-6pm daily

Dinner: 5-10pm Sunday-Thursday, 5-11pm Friday & Saturday

Location: 15 N.W. 4th Ave., Portland, Oregon

Reservations: Resy.com

Website: TheHoxton.com/Portland

Instagram: @LovelyRita

About The Hoxton, Portland

The Hoxton, Portland is situated in an iconic building in Old Town Chinatown with an incredible history dating back to 1906. The hotel features 119 bedrooms, and four distinct food and beverage experiences created in partnership with Portland's Submarine Hospitality (Tusk, Ava Gene's). On the ground floor, Lovely Rita is an all-day café and coffee shop serving a seasonal, New American menu. Tope is a rooftop taco bar with views across the city, and hidden below the hotel is an atmospheric basement bar, 2NW5, with a menu of classic cocktails. The Apartment, a unique meeting and events space, is home to The Hoxton's rolling cultural events program, which highlights the good and the great in each city. The Hoxton is a series of open house hotels founded in London in 2006, inspired by the diversity and originality of the streets and scenes that surround them. The Hoxton, Portland was the second hotel to open in North America, following The Hoxton, Williamsburg. The Hoxton, Chicago opened in April 2019, followed by Southwark (London) and Downtown LA in fall of 2019. The Hoxton, Portland is located at 15 NW 4th Ave., Portland, OR 97209. www.thehoxton.com | @thehoxtonhotel