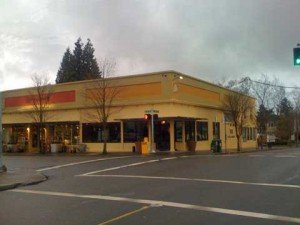 If there is one thing I have learned since I started this site, it is that there is more than one way of looking at a restaurant experience. Different things are more important to different people. While some put the food before anything else, others may care more about the atmosphere or the prices.
Last week I was at Lucca. It occurred to me that depending on your priorities, this restaurant could make a very different impression between diners. An idea was born: two reviews of the same place, from two different points of view. I asked several friends to go to the restaurant, and each write about their experience based on personal preferences. Following are two separate reviews, with somewhat different conclusions. I like the way this came out, and think we'll be doing more of it in the future, varying the writers each time. Enjoy.
Lucca, by Foodie
Lucca is like an uninteresting woman in a beautiful dress, who is good with children.
The corner of 24th and NE Fremont has not been a lucky site for restaurants. Marco's NE, The Dining Room Table, and Aja's all gave it their best shot. And now Lucca. Upon entering the restaurant, I was immediately taken by the remodeled décor. It was warm and classy. I loved the basket-weave ceiling and the unique lighting fixtures. The dining room at the far end of the restaurant looked equally well-dressed and everyone seemed quite happy.
There are a lot of flaws I can overlook in a woman and even in a restaurant, but uninteresting is not one of them. I began with a spinach salad. There was nothing to complain about, but there was nothing to recommend it. It sat there smiling, but unable to think of a single thing to say. Then came my Carlton Farms Pork Shoulder Slow Roasted in Milk with rosemary white beans, accompanied by prosciutto and winter greens. I admired the ceiling one more time and commented on her earrings… er, light fixtures. She smiled and asked if I liked my food. The pork shoulder was exactly that, nothing more nothing less. Not a single layer of interest or intrigue. Maybe a bite of white beans with rosemary would jumpstart some conversation. Nope. "I really like the paint color of the walls … very, um … er … warm." I could taste no rosemary in the white beans. And the greens did nothing to help me like this woman … er, restaurant.
I was not really hungry for dessert, but the meal had been so uneventful, maybe that would be the area where she could shine. The name should have warned me that this was not a woman with an expansive vocabulary: chocolate decadence, (rich flourless chocolate cake, espresso anglaise, chocolate-hazelnut bark.) Desserts in my book should make you say, "Oh my God! You've got to try this!" not, "Nice blouse. Macys?"
My dining companion, who generally has tons of things to say about food, was largely silent about his pasta. About his profiteroles he said, "The gelato tastes like ice cream from Safeway."
She is a well-dressed lady and good with children. The families nearby seemed grateful to be able to eat in a restaurant the level of Lucca's and bring their children, a respite from Olive-Garden-Hell. But the one flaw I cannot forgive in a restaurant or a woman is to be uninteresting.
She is new to Portland and will have lots of dates with locals. But as for me, give me a woman in jeans who has some great stories to tell.
I am being overly smug and critical. This restaurant has a lot to offer and we only dated once. Maybe we could become friends and not lovers. Interesting women always end up breaking my heart anyway!
Lucca, by Soccer Mom
If Lucca were a man, he'd make a great husband.Lucca is casual, comfortable and reliable, but puts on a clean shirt for dinner and has excellent table manners. He's kid friendly and gets along with the in-laws. Even better, Lucca knows how to provide the occasional romantic getaway when there is money in the budget for a babysitter, but not for a fussy multi-course meal across town in the Pearl.
Located on NE Fremont and 24th, Lucca has transformed this corner into something classy but affordable. He is not on the same level as neighbors Mr. Fife or some of the Alberta street restaurants, but is still more sophisticated and upscale than other options found in the area.
Lucca is cozy, with a small waiting area filled with multi-generational groups and young couples alike. A long backlit bar with modern Italianesque glass pendant lamps, ceramic art, and a large divided middle section make up the rest of the main space. In the back there is a separate room with even more tables. I'm told groups with children are frequently placed here as not to interrupt diners in the front room. Warm and earthy orange hued and green paint colors, subtle lighting and noise reducing artistic touches like the wooden "basket weave" ceiling show attention to details.
Finding a man with a balance between casual good looks and refinement, suave moves but not bank-breaking tastes, is often harder than it sounds. Finding a place where the adults can get a glass of wine for fewer than eight dollars and nice plate of tagliatelle pasta with wild mushrooms, leeks and prosciutto for thirteen is an accomplishment. Even better if the finicky teenager can order a cheese pizza and the preschooler is happy with a kid portioned plate of spaghetti and meatballs ($6.00). Lucca does just that.
Prices are in the average range for starters, such as fontina cheese-stuffed risotto cakes (called Arancini), roasted vegetables, or a thick Tuscan vegetable and bean soup. The Caesar which comes dressed in the traditional manner of uncut romaine leaves, lightly bathed with creamy lemony-anchovy dressing and shavings of real Parmesan cheese, is about as good as it gets.
Pizzas are of the wood-fired variety – thin and crispy with a nice balance of toppings. They are big enough to share as an appetizer or can be a main course for one person with a big appetite. Choices range from the simple cheese, tomato and basil Margherita to hearty meat and veggie combos. Pastas include classic cheese-stuffed cannelloni, simple spaghetti with tomato sauce and cheese, and linguine with clams, chilis, and fennel sausage. Entrees include a juicy "chicken under a brick", a milk braised pork shoulder, and a very tender roasted cod served with "melted leeks, shaved fennel and lemony Yukon gold potatoes." My husband found his steak tender and correctly cooked to medium-rare, and my short ribs with creamy polenta seemed just the right dish after a hard day trying to keep up with the kids.
Desserts too are simple, but they taste just fine and seem to be crowd pleasers (at least at my table). A recent dip into the warm lemon soufflé pudding revealed a creamy bright dessert loaded with lemon curd and a dollop of whipped cream and berries on top. The profiteroles too were a nice ending, with several to a plate, stuffed with caramel gelato, chocolate sauce, and toffee crumble bits. The kids, needless to say, loved them.
Sure, there are flashier guys around town with more panache and edge. And we've all had our memorable dazzling rock and roll boyfriends who seduce with their imported sports cars, foie gras, and champagne dinners. But at the end of the day we often crave a place close by that will satisfy us without a big production attached; a place where everyone at the table can find something to eat, even if this means putting the excitement of the dining experience second to the overall value. It's about comfort. It's about getting the everyday La Dolce Vita in a plate of pasta that you didn't have to make yourself and it's about being able to go out and eat like civilized people at a place with cloth napkins, but not having to worry that doing so will destroy the mortgage payment. For these reasons, like that really nice reliable guy you know will always be there for you, Lucca is a keeper.
Grade C+
Phone: (503) 287-7372
Address: 3499 NE 24th, Portland OR. 97212 GoogleMap
Hours: Tues – Thurs 11:30am – 9pm, Fri 11:30am-10pm, Sat 5pm-10pm, Sunday 10am-2pm/5pm – 9pm. Closed Monday
Website: Luccapdx.com