Bacon Apple Pie Recipe. Why in the world haven't we ALWAYS eaten this?
This is a repost from 2008, as it was just featured on the Food Network, which has generated lots of traffic today.
They say one can't taste a dish through a picture. Conversely, they say a picture is worth a thousand words. This picture of a bacon apple pie left me speechless and drooling. As Nancy Rommelmann said, "It makes you wonder: why in the world haven't we ALWAYS eaten this?"
Chef Jenn Louis has been recognized as a semifinalist for the 2010 and 2011 James Beard Foundation's "Best Chef Northwest," and in 2012 was named Food & Wine's "Best New Chef" for the Northwest region. She has made appearances on ABC's The Chew, and her work has been featured in The Wall Street Journal, Food & Wine, Bon Appetit and The New York Times. She has appeared on Top Chef Masters, and in 2016 her bacon apple pie was featured on the Food Network's Guilty Pleasures. In 2015, Jenn released her cookbook  Pasta by Hand: A Collection of Italy's Regional Hand-Shaped Pasta.
In 2008 Jenn Louis honored us with this bacon apple pie recipe. It tastes as good as it looks.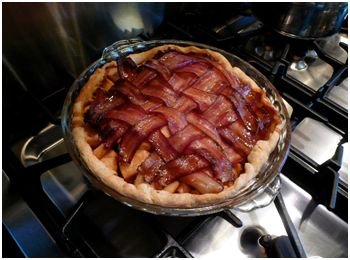 Here's the recipe:
Makes one 9-inch pie
3 tablespoons all-purpose flour, plus more for work surface
1 recipe Pate Sucre, see below
3 pounds crisp red apples: rome, braeburn, gala
2 tablespoons freshly squeezed lemon juice
1/4 cup granulated sugar
1 teaspoon ground cinnamon
1/4 teaspoon ground nutmeg
1/8 teaspoon salt
1 tablespoon unsalted butter, cut into small pieces
1# bacon, sliced
On a lightly floured work surface, roll out one pate sucree disc into a 13-inch round about 1/8 inch thick. Fit dough into a 9-inch pie plate. With a sharp paring knife, trim dough about ¾ inch over the rim. Turn rim of pie dough under to form a runstic crust. Freeze again until firm, at least 30 minutes.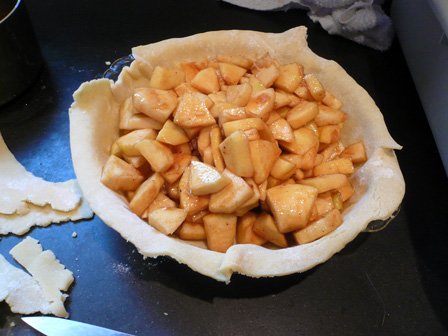 Preheat oven to 400 degrees.
In a large bowl, toss the apples with the lemon juice, granulated sugar, flour, cinnamon, nutmeg, and salt. Remove pie shell from freezer, and fill with apple mixture. Dot with butter.
Arrange the strips of bacon over the top of the piecrust in a lattice, then fold the edges of the pie crust over the bacon and crimp.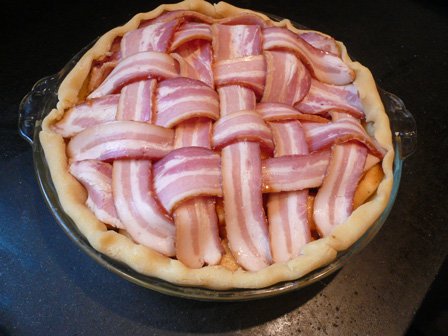 Bake for about an hour, until the bacon on top is nicely crisp, the crust is browned and a knife pushes easily into an apple slice. This should be about an hour.
Every apple has a different water content and will react to cooking differently. So, just pierce with a knife to make sure the apples are soft and the bacon is crisp!
Pate Sucree
1 large egg yolks
2T ice water
1 1/4 cups all-purpose flour
1 1/2 tablespoons sugar
Salt
4 ounces (1 stick) cold unsalted butter, cut into small pieces
Lightly beat yolks and water in a small bowl until combined.
Pulse flour, sugar, and a pinch of salt in a food processor until combined. Add butter, and process until mixture resembles coarse meal, about 20 seconds. With the machine running, add yolk mixture in a slow, steady stream. Process until mixture just begins to hold together (no longer than 30 seconds).
Shape dough into 1 disk, and wrap in plastic. Refrigerate until firm, 30 minutes to overnight.
Jenn says, "to answer the question from one of your readers, yes, the cutting can be challenging on a whole pie. But, really, who cares? Bacon and apples? The pie for two will be in its own dish and the guest will cut it, so it will be real pretty when it gets to the table."