In the last few years, Portland sandwich shops blossomed. We went from a town with hardly any decent options to an embarrassment of riches.
The secret ingredient that is setting these shops apart is the staff; they actually have a chef and workers who are passionate about making the best damn sandwich they can. This leads to innovations that rise beyond the norm. In the case of Meat Cheese Bread Restaurant, we are talking about thoughtful combinations of ingredients like Granny Smith apples, honey butter, and brie, or raising the bar of the standard sloppy Joe by using a pork belly Bolognese on a house-made roll.
One can't help but make the comparison between Meat Cheese Bread (MCB) and Bunk Sandwiches. For many there seem to be clear differences between the two, but I don't feel that way. I like Bunk a lot, and I like MCB just as much. Maybe people like the dive feel imparted by Bunk; for me, it tugs at something primal – memories of standing in line with my father at little sandwich dives in Los Angeles. MCB feels more open and bright, and when I leave my clothes don't smell of grill smoke. Bunk tends to use more "foodie type" ingredients, but MCB tends to use standard ingredients in more interesting ways. Either way, I think there is room for both of these shops.
On to Meat Cheese Bread: starting with breakfast choices, some are fairly pedestrian; a PB&J, even made very well on grilled sourdough as it is here, is still a PB&J. More interesting is the breakfast burrito, full of smoky green chilies, cheddar cheese, scrambled eggs and hash-browns. It all comes together in a perfect amalgam that has generated a passionate following. For me, the breakfast standout is the Ham and Cheese, which is made from an over-easy egg and lightly dressed greens, gently cradled between two slices of golden brown bread pudding. The pudding itself is moist and savory, a lovely melody of bread, ham, and bits of cheese. This is a terrific breakfast, rich and satisfying, full of diverse textures and flavors; one of the best breakfast sandwiches in Portland.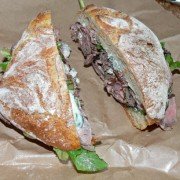 Lunch offerings are also creative. I've always liked the flank steak salad at Park Kitchen, and here they have reincarnated it like a sandwich; thinly sliced tender flank steak, pickled red onions, blue cheese mayo, greens, and piquant vinaigrette.  The meat is moist and piled high with nuggets of blue cheese peeking out from between the layers.  For those who crave the salad that inspired this sandwich but is on the wrong side of the river, it's also available as a straight salad, the flavors perfectly balanced with a buttermilk-chive dressing.
I was excited to see a sloppy Joe on the menu; this is a lunch item that has great sentimental value to me (my mom makes the best I've ever had). Here it takes the form of a piping hot pork Bolognese on a house-made roll. I thought the filling was quite good, and though I prefer a more traditional version, that's just a personal preference. The roll was perfect, no complaints.
One of the best lunches I've had in the last year is their take on a B.L.T. What to do when tomatoes are out of season? You replace them with beets, of course, and end up with a B.L.B. I love this sandwich. Grilled Grand Central sourdough bread holds thick slices of smoky Nueskies bacon. The foundation is a layer of thinly sliced golden beets. Little peppery dribbles of bacon fat run across the beets and down into the bread, giving everything a rich meaty taste, the differing consistencies of ingredients providing lots of interesting textures. A light aioli adds a final layer of flavor. All of the different layers provide a perfect foil to each other. It is a wonderful interpretation, and once I had this for lunch, I had a hard time trying anything else.
One cool afternoon, I enjoyed a juicy hot roasted mushroom sandwich. The house-made roll soaks up the earthiness from the mushrooms with goat cheese, sherried onions, and frisee all chiming in to make a perfect winter lunch. No huge surprises, but satisfying; it delivers exactly as advertised.
Sides are few; a serviceable potato salad, chips, and a frequently excellent house-made soup.
A small selection of beer and wine is available, including a Double Mountain Brewery on tap. They also have a nice group of sodas.
Meat Cheese Bread is another great option for east-side diners, one that I will certainly continue to visit. If they can make all the offerings match the creativity of their best choices, they will have a hit on their hands. I highly recommend them.
Address: 1406 SE Stark St, Portland OR. 97214
Phone: 503-234-1700
Hours: Mon-Sat 7 am-7 pm
Website: MeatCheeseBread.com