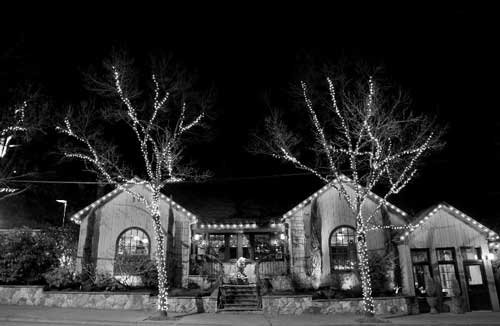 Meriwether's Restaurant at 2601 N.W. Vaughn in Portland has gone through more than its share of shakeups over the past seven years or so. The space is decent, though a bit awkward because of its three levels, but a big stone fireplace and hardwood floors give it a nice atmosphere, and the patio area in back is a legendary space for brunch. Despite all of this, the owners haven't been able to hold onto any talent for long enough to allow them to put out a memorable meal. Tommy Habetz took on the chef position in late 2006, with Tony Demes of Couvron helping out in the kitchen, but  in spite his proven talents, the food never seemed to match live up to expectations, and he it wasn't long before he quit.
It is almost like the staff has been held back. There have been so many comings and goings of talented people, I can't help but wonder if their is some truly bad management at the helm. In their dining room last year, I had the worst Thanksgiving meal of my life – it was akin to cafeteria food. Still, there was a tiny ray of hope. In early January of this year, the owners announced that they would be closing the restaurant "… to completely re-design and build a brand new kitchen. We will adding a 2nd kitchen line to better accommodate the restaurant & private events, installing a new larger wood-fired pizza oven and investing in all new kitchen equipment that will double the output capacity that we currently have." [Emphasis mine]
I could see this going either way – maybe the design of the kitchen and the equipment were causing major problems. On the other hand, if the issues are due to some other reason, double the output capacity of a cafeteria is just more slop for the pigs. One has to wonder. A friend of mine who had a meal there after the remodel found it "pedestrian".
Since the beginning of the year, there have been significant changes in staff. The bar manager and sommelier left in January, to be followed in April by the general manager. Now I am told that chef and partner (or former partner) Earl Hook has quit, and will be leaving shortly.
Is this restaurant forever going to follow the road of mediocrity? It sure sounds like it to me, but I hope they'll prove me wrong.