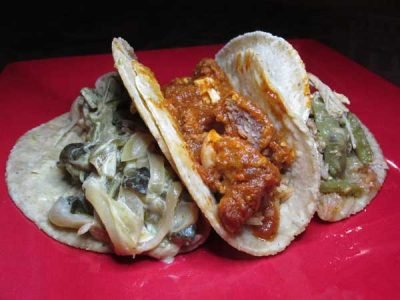 For those of you who are fans of Mi Mero Mole on SE Division, this is your last week to go.
On Sunday, March 26th, the restaurant will have a party to say goodbye to their loyal customers.
The rueda de fortuna is back!  Bad weather kept us from having an anniversary party this year, so we're bringing in the wheel for one last spin during our going away fiesta.  Every customer gets a spin and every spin wins a prize: smallest prize is a free taco. Biggest prize is two 100-level Blazers tickets. Other prizes include free taco a day for a year, t-shirts, taco books, music, gift certificates, and more.

Other specials include:

All-you-can-eat tacos
$5 shots of any tequila or mezcal on our list, no matter how expensive, until they're gone
$2.50 draft or bottled beers
$1 sodas
$1 tacos for the final hour we're open between 8pm and 9pm of whatever is left

WHAT: Going Away Fiesta. Door prizes. Cheap Stuff.

WHEN: Sunday, March 26th, Noon to 9pm.
WHERE: Division Mi Mero Mole, 5026 SE Division
COST: Nada. At Mi Mero Mole, we PAY YOU to party.
For those who can't live without their guisados, you'll still be able to get your fix at the Chinatown location at 32 NW 5th Ave. Future plans call for expanding the tap list, and daily 7:30 am openings with breakfast offerings.
32 NW 5th Ave
Portland, OR 97206
971.266.8575