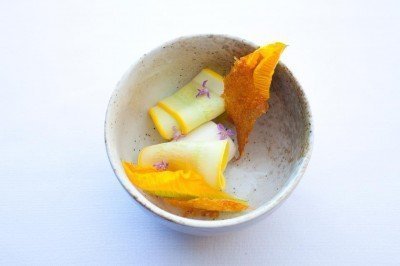 It's been a pretty slow period for restaurant news, but here are a few things that caught my eye:
Michael Russell over at The Oregonian reports that Chef Jake Martin is returning to Portland from Seattle to take over as Chef de Cuisine at Genoa. He'll be working with Executive Chef David Anderson. You may remember Jake from Fenouil. Michael is going to have an interview with him later this week. I'll be interested to hear why things didn't work out in Seattle.
---
Speaking of the Fenouil space, I haven't been at all impressed with Jamison, which opened a few months ago. From a planning standpoint, the redesign doesn't make a lot of sense (never de-emphasize the bar!), and the food… well, I haven't had a good dish there yet. Back in October, Michael Zusman writing a review for Willamette Week called it a "Square Peg – Jamison has ambition, a view and little else". At the time, the restaurant hadn't been open very long. However, my impressions from a dinner last week weren't much better. (The comments to that review are good reading)
---
Vandals have destroyed 62,600 liters of the much prized Brunello di Montalcino wine by draining large vats. That is the equivalent of almost 84,000 bottles, and included wine from the 2007 to 2012 vintage. Bottles from 2006 sell for $250 – $350 dollars. It's covered by insurance, but at the NY Times points out, that doesn't cover a life's work.
---
More information on the old Lucier space from the Urban Works blog. The new restaurant will be called Quartet.
Quartet's menu will feature an upscale, cutting edge Regional American with a Southern Flair menu that offers an array of inspired selections of seafood and lobsters, steaks and chops.  Frank Taylor and Paul Keeler will develop the menu that will incorporate new and creative recipes while tailoring the menu to include regional and local specialities using local produce and products.

Lucier's 225 seat dining room and bar will undergo a revamp, setting the projected opening date of Quartet to late January 2013.
---
From Portland Monthly, Alma Chocolates will be remodeling and expanding. The new space "will showcase all aspects of Alma with an up-front pastry case, an ice cream counter, an espresso bar, expanded counter seats, a shine for the famed "chocolate icons," and, of course, a dedicated bon bon counter."
---
I'm an avid listener of  This American Life. The story this week is by Camas Davis, editor extraordinaire and founder of the Portland Meat Collective. In a show called "Animal Sacrifice (480), Camas offers a philosophical piece about the theft of 23 rabbits from a farmer last January, and the killing of animals. It's a great story, which you can download at ThisAmericanLife.org.
---
Both of Vitaly Paley's newest restaurants, The Imperial and Portland Penny Diner have opened in the Hotel Lucia at 410 SW Broadway. It is a bit early for a review, but my early impressions are mixed. Interesting menu, good service, bumpy execution. Lots of comfort food, with a bit of a nod to the past.  Try the rabbit at Imperial, and The New Yorker (breakfast), at the Penny. Thought I had a picture of the huge rotating sign, but I seem to have deleted it. Just as well.
---
Speaking of mixed impressions, I've made it into Paa Dee restaurant a few times. I like the space, but sometimes the service is great, and sometimes it is really awkward. Same with the food – some dishes are really great, others are a mess. I still have more eating to do before a review, but all of the appetizers have been good. My favorite entrée is the Gra prao muu grob: sautéed crispy pork belly, basil and green beans. It's a must
---
Martha Stewart and Emeril Lagasse have been sued for selling (allegedly) fake knives. From Huffington Post –
Martha Stewart Living Omnimedia (MSLO), the company that owns the Lagasse line, was selling a line of knives on the Home Shopping Network inscribed with the words "Solingen, Germany." Solingen is a region in northern Germany called the "City of Blades" and known for its world-class cutlery. Consumers believed the knives were made in the famous city, but the products were reportedly knock-offs from China, according to TMZ.

The German Chamber of Industry and Commerce Wuppertal-Solingen-Remscheid, a trade association that holds the rights to the world-famous Solingen knife collection, has sued Stewart and her company Martha Stewart Living Omnimedia, Lagasse and HSN for trademark infringement for "up to $2,000,000 for EACH time the knives were mentioned" on HSN, according to Forbes.

Forbes notes this amount can tick up quickly since "HSN runs 24 hours a day, seven days a week, 364 days a year, and reaches approximately 96,000,000 homes."
People have been complaining that the knives were "rusting and breaking".
---
You probably know that Kin restaurant in the pearl has closed. It never seemed to catch on, and always received mixed reviews. Now Verde Cocina has moved into the spot at 524 NW 15th (between Glisan & Hoyt). You may know them from their popular Portland Farmers Market booth, or their first brick and mortar restaurant in Hillsdale. Anyone been?
---
I still haven't finished all the reviews for the top Portland restaurants. Between my health issues and all the dinners needed for the reviews, it is taking me forever. I'm just going to go ahead and post the rest of the list, and then will finish working my way through the reviews. Expect it tomorrow.