Mark Bittman was not impressed with Le Pigeon Restaurant, and Morgan Brownlow Opening Cured Meat Distributor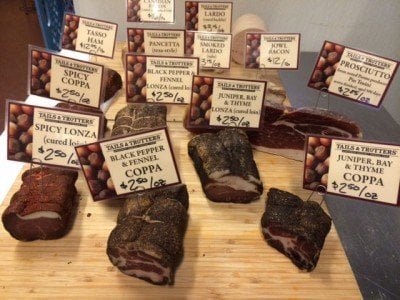 I like Mark Bittman. He seems like a laid-back kind of guy I'd like to hang out with. Like everyone these days, he has a blog, and describes a recent book tour trip to the Northwest. Unfortunately, he wasn't terribly impressed.
Lunch: At a local vegan place. Laughable, and I was looking forward to it. "Pizza" consisting of a seed cracker with glop on top; noodles with sort of Thai flavored glop on top; bowls of under-flavored beans, grains and kale. Could have been okay if not so self-righteously vegan. Was hungry immediately. Was hungry while eating.

Snack: Two apples. Better than lunch.

Dinner: At a decent if perhaps overrated Portland restaurant, pasta with inexpensive but not especially fragrant local truffles, followed by poussin with same, followed by weirdly contrived desserts. (I've had enough foie gras ice cream in my life already, thank you very much!)
I had looked forward to this day the most. I had heard the vegan place was terrific, and the evening's restaurant had drawn raves. But it was the most disappointing day, if not the worst. So it goes.
Though he doesn't name places he didn't care for, a little sleuthing by one of our readers, points us in the right direction:
"Bittman loved Toro Bravo, and liked Bob's Red Mill. But I had to know, what were the two restaurants he dissed, but did not name? A little searching shows the vegan place must be Blossoming Lotus in the Pearl Districts and the poussin with truffles place must be Le Pigeon. It seems like a bad move for Bittman's hosts to take him to Le Pigeon. Here they had a guy whose whole book is about all of us eating less meat. He has lost 30 pounds over the last few years just by reducing his meat consumption, and they take him to a restaurant where the chef and the theme is MEAT, MEAT, MEAT. I mean, friggin' foie gras ice cream? Why did they think he was going to like that?"
I love my readers. Jump over to Mark's food diary to check out the rest of his comments. In the meantime, where would you have suggested he visit?
---
In case you missed my quick update yesterday, Patrick Coleman over at The Mercury (link is no longer good) wrote that Morgan Brownlow, ex-chef of clarklewis known for his bad temper (among other bad rumors), has started a company called "tails and trotters" (stupid adolescent lack of capitalization his, not mine). He even wrote Patrick a love poem:
we have been test running the logistics of the biz for several years.
and specially raising our hogs thru a special finishing diet.
our response has been very positive as we have been sampling our product…
in portland over the last year…(and seattle also)
garnering support and taste results/praises
our pork is food alliance certified…
quite tasty too.
I heard a rumor that someone from the outgoing Bush administration stole Morgan's caps key… or is he really attempting poetry? Anyway, he's starting out by selling some of his pork shoulders to Naomi over at BEAST.  Notice that his poem says "we".  Hmm… who do you think that might be. Wink wink. Nudge nudge.
Patrick's post is pretty entertaining; you should all click here to read it.
Speaking of which, I am puzzled why Naomi always uses all uppercase text on her weekly menu. It's annoying as hell. Then I came up with a great theory tonight – it's revenge. Here's the way I see it: Michael Hebb, must have been responsible for all the stupid low case everything at Gotham clarklewis, etc. He even dropped me a nasty note one night when I capitalized ClarkLewis. I bet it drove Naomi insane. The empire collapsed over it, they split, and now she uses all caps in a subtle little way to get even. Brownlow, who worships at the altar of Hebb, thinks all lowercase is cool, and still uses it. AISI i bet hs txtz r impssbL 2 read 2.
sumtyms i'm amazD by my own brilliance.