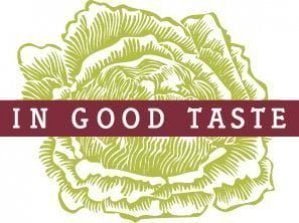 Still cleaning out bookmarks and whatnot. Here are some interesting stories from around the net.
In Good Taste – the popular cooking school in the Pearl District, is closing on February 1st. According to Lisa Hill PR, the folks behind EaT: An Oyster Bar, are taking over the space.
The Parish will combine old-style Cajun traditions with a more urban and European-inspired Creole cuisine….and oysters will continue to play a huge role with an oyster shucking station and a new retail section with "oysters to go."

The restaurant, designed by Portland architect and designer Mark Annen, will be in the former In Good Taste Cooking School in the Pearl District. IGT owner Barbara Dawson will continue offering culinary experiences at her Lake Oswego location as well as multiple venues throughout Portland including Kitchen Cru and Urban Studio.

In Good Taste will have a moving sale (discounts on cookbooks, cookware/knives and wine) starting tomorrow (Jan. 18th) and all IGT gift certificates will be honored at the Lake Oswego location ongoing and at The Parish through Dec 2012.
Barbara Dawson, owner of In Good Taste, is a very nice person. I wish her best of luck with the changes. EaT will need to sell lots of oysters to pay for that space!
---
Celebrity Food Channel chef Paula Dean, has announced that she has type 2 diabetes. According to Paula, she's been battling the disease for three years.
From NPR –
If you're thinking this seems odd for the woman who brought the world deep-fried chocolate-covered cheesecake and a doughnut-hamburger-fried egg sandwich, you're not alone.

As one citizen commentator put it on Twitter this morning: "Now that she sells cookbooks, food, AND diabetes meds, the next logical step for #PaulaDeen is to team with over-sized casket manufacturers."
Perhaps in recognition of the fact that it's hard to sell indulgence and salad on the same plate, Deen has delegated the cooking-healthy franchise to her sons. Bobby Deen's new show, Not My Mama's Meals, started airing this month on the Cooking Channel. It aims to transform Paula Deen's Southern comfort food into "lighter, lean, yet still delicious dishes."
What's next for Paula? She's going to be representing the Norvo Nordisk pharmaceutical company. Talk about making lemon-aid out of lemons.  Eater has a great quote from Anthony Bourdain –
It's odd because she was on Dr. Oz last month, and she never mentioned diabetes. Instead she just owned up to smoking cigarettes for 50 years.
We can look forward to People or Us magazine running the cover story, "I'm back" usual rehab story private hell. Clearly this has been coming for a while. She's been looking for ways to position herself. Is she really going to be selling the cure now? Or will she back off for a decent interval? I take no pleasure in it. There ain't nothing funny about Diabetes.

So if true, would you agree that it's hypocritical?
When your signature dish is hamburger in between a doughnut, and you've been cheerfully selling this stuff knowing all along that you've got Type 2 Diabetes… It's in bad taste if nothing else. How long has she known? I suspect a very long time.
Ya'll expect me to say something snarky here, but for once in my life, I am without words. No, no… I do have one thing. Time for a new hairstyle, Paula.
Visit msnbc.com for breaking news, world news, and news about the economy
---
If diabetes doesn't sound dangerous enough for you, how about "Ame Blowfish Tea? NBCBayArea.com reporter Tamara Palmer, has given it a try –
From the eyeballs to the blood, blowfish is a highly poisonous creature that can require at least an hour of expert preparation in order to yield the few cuts that are safe to consume without as much risk of death. It's not legal to eat here. But the roasted fins are available in the winter months in Japan, and have been carried back by hand to test your boldness.

If Ame's Fugu Fin Sake sounds scary, it's a fear worth pushing past. Even one sip reveals a rather tame yet complex collection of flavors and scents that are not overtly fishy.

Though more in the neighborhood of soup than tea, it's still its own singular sensation that intensifies as it is downed. The minerals and salt from the fin have a muting effect on the taste of alcohol, so the deadliness is actually in sipping too quickly rather than from having the mark of a poisonous animal floating on it. The beverage is comforting, and certainly takes the sting out of cold weather.
Wikipedia has some fun great statistics –
Statistics from the Tokyo Bureau of Social Welfare and Public Health indicate 20 to 44 incidents of fugu poisoning per year between 1996 and 2006 in Japan (a single incident may involve multiple diners). Each year, these incidents led to between 34 and 64 victims being hospitalized and zero to six deaths, an average fatality rate of 6.8%. Of the 23 incidents reported in Tokyo from 1993 through 2006, only one took place in a restaurant. All others involved fishermen eating their catch.Much higher figures have been reported for earlier years; and, for example, in 1958—the first year the preparation of fugu required a special license in Japan—176 people died. According to the Fugu Research Institute 50% of the victims were poisoned by eating the liver, 43% from eating the ovaries, and 7% from eating the skin. One of the most famous victims was the Kabuki actor and "Living National Treasure" Bandō Mitsugorō VIII who in 1975 died after eating an illegally large four servings of liver.

On August 23, 2007, a doctor in Thailand reported that unscrupulous fish sellers sold puffer meat disguised as salmon, which resulted in the deaths of fifteen people over three years. About 115 people were brought to different hospitals. Fugu was banned in Thailand five years prior to the deaths.

In March 2008, a fisherman in the Philippines died and members of his family became ill from pufferfish. The previous year, four people in the same town died and five others fell ill after eating the same variety of pufferfish.

In November 2011, a two-Michelin star chef was suspended from his post at "Fugu Fukuji" restaurant in Tokyo. The chef served fugu liver to a female customer who (despite being warned of the risks) specifically asked that it be provided. The 35 year old customer subsequently required hospital treatment for mild symptoms of tetrodotoxin paralysis, but made a full recovery.[13] http://creativecommons.org/licenses/by-sa/3.0/
I recall something about Michael Zusman indulging in Fugu. Would you try it? I really want to know.
---
Another story by Michael Russell at OregonLive.com,  Marco Frattaroli, the owner of Northwest 21st restaurant Bastas, is opening a second restaurant.
Cibo (pronounced chee-bo; Italian for "food") is aiming for an April opening on Southeast Division Street, an already-bustling restaurant corridor rapidly wresting the "restaurant row" moniker from other contenders, including Northwest 21st Avenue.

With 80 seats surrounding a wide-open kitchen, Cibo will feature a menu built around pizzas fired in a super-heated, gas-and-wood-fueled Ligurian oven. Expect accessible pastas alongside less common Italian fare, such as cecina, a Tuscan bread made with chickpea flour that happens to be gluten-free, and lampredotto, a Florentine tripe dish finished with green sauce, often served as a sandwich.
Speaking of new openings, a new restaurant is going into the space adjacent to the Cheese Bar at SE 60th and Belmont. Everyone involved seems to be keeping a low profile, but I'm hearing the lease has been signed, it is going to be big news for the neighborhood, and it will make meat lovers happy.
Mr. Russell, chase it down!
---
Looking for a new food site to put into your feed? I like this one. Don't know the guy, but like his blog.
---
Finally, for the Brad Pit fans out there, MovieClips Mashups has a montage of scenes of him eating. It seems he indulges in almost every movie.