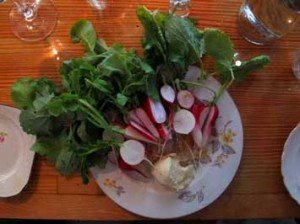 April Fools 2013!
Easter weekend brought news of a plethora of restaurants opening on SE Division Street. Some of these are confirmed, others just rumor at this point.
In the waning months of the summer, Micha Camden of Little Big Burger and Blue Star Donuts fame will be opening take-away restaurant, Red Star Pierożki. Preferring to focus on one product, Micha will be offering the "Bolshevik Pirogi", a thundering beast of a dumpling which is boiled in bubbling water, then fried in sizzling hot duck butter, before being stuffed with a slender emerald-green leaf of succulent cabbage and baked until the color replicates the sky over Loch Lomond. A custom oven which cooks one pastry at a time to perfection is being shipped from Leningrad.  It takes 11 minutes, so expect long snaking lines the length of Division street! Micha is working with the finest of architects and artisans to give the diner a truly breathtaking experience. A rush of indie glamour will greet you at the door – the room will focus on terrazzo floors inlaid with brooding dark stars, gasping yellow moons and blood-pulsing pink hearts. Adding to the theme, always empty display cases gleaming with startlingly clear glass – in one glance a treatise on the supplication of the common man, will front gasp-inducing burnished counter tops. They'll call like salacious sirens to passers by, entreating them to enter the Pierożki throne-room  True to the theme, the restroom will feature an empty gilded soap dispenser and flatulence-masking computer-curated music by Alexander Gedike. Water will be passed through the ice coolers, giving a bracing, "just been slapped" effect to the rare patron who dares to wash up.
---
The team behind food carts Whiffies and Potato Champion are opening a new venture "Whiphampian" (sounds like a sneeze). Like their parent stores, the new carts will feature one product done well: Bacon-wrapped, sausage-encased burrito logs. Yes, you read that right. A plump burrito made with re-fried beans, cheddar cheese, tater tots, guacamole and tomatoes, cradled in a basket of sausage, and wrapped with oozing bacon.  Food Police, rest easy – you'll be able to get it with black beans.
---
Beast is expanding to a second location. "Cuddly" will be opening a short block West of Pok Pok, showcasing owner Naomi Pommeroy's deft hand with all things soft and furry. Borrowing a few ideas from a late-night conversation with food rebel Eric Berchard, the restaurant will focus on old world dishes like Wood Gerbil Liver Custard (obviously a small appetizer), Fried Wild Bunny Ears on Toast propped into lifelike position by poodle tails, Finely Chopped Beef which will be delicately seasoned and char-grilled before being gently layered between browned buns, Pound Kittens frisée crescendoed by Hillsboro Wetlands Cattails,  and Tom McCall Park Goose, the latter in which the diner cracks the beak and peels back the neck to nibble the two foot  long piece of meat; bibs will be provided. Cuddly will feature the soundtrack from an English hunt, complete with the barking of hounds, the crack of shotguns and the plaintive calls of a baby goose looking for its mother. The dining room ceiling is being specially designed to conceal tracks, which will allow beautiful taxidermied birds to wing softly overhead. Pommeroy is "so over" the use of "mixologist", and will instead employ a Maester to design the drink menu. The bar will include the usual specialty cocktails, but a house drink called "Milk of the Poppy", a concoction of denarcotized laudanum, tincture of nibbled mouse greens and grenadine will bring up your rear. Expect Cuddly to open September 2013.
---
After the purchase of almost seven million pounds of, "not up to our standards" coffee by a poorly supervised buyer who may or may not have been hopped up on hallucinogens and other South American indigenous products, an Oregon coffee company is looking for ways to unload it. No idea is off the table, including blending it into better beans to hide the flavor, cutting staff to pay for the wastage, or, as one of the more intelligent management persons tried to do – sending it to the dump – a move countermanded by investors. Ideas? Feel free to leave them in the comments section. If we put our minds together, we can help!
More soon!