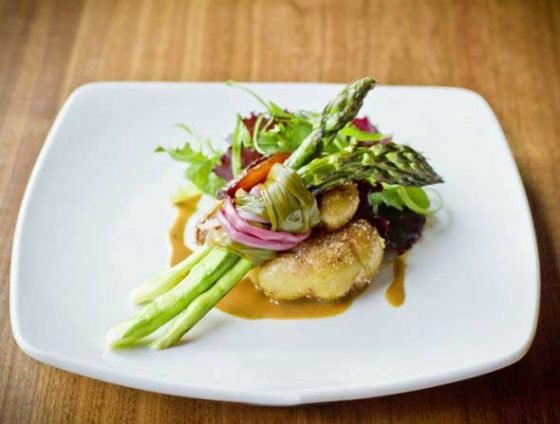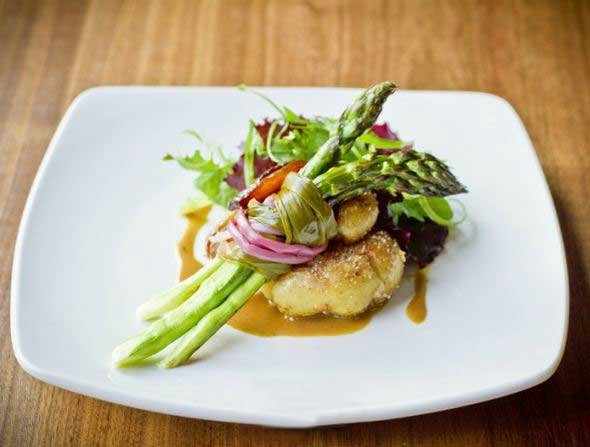 Willamette Week broke the story yesterday that the vegetarian restaurant Natural Selection restaurant in Portland is closing on June 11th. I think it is a sad loss to the Portland food community, as the restaurant represented high-end vegetarian cooking found nowhere else in Portland.
The restaurant won our Best New Restaurant poll in 2012, and since then has won the Best Vegetarian Restaurant poll every year. If you haven't been to Natural Selection, drop by before they close. It's well worth the cost.
According to WWeek, the restaurant will be taken over by Chef Javier Canteras, who won $150.000 of seed money from the television show Restaurant Startup. The new restaurant will be be called Urdaneta, and will feature Basque small plates.
Here is a statement from the owners –
We have some news to share with all of you. Karen and I are thrilled to announce that we are embarking on a new path. It is bittersweet to share with you the news that we are closing Natural Selection in mid-June. Our family will eventually be moving to Hood River to begin a new chapter. For now, we are taking a time out.

Our hearts are full of gratitude. We thank you, our amazing and loyal guests, who have supported us over the past five years. You have given us the opportunity to express our culinary vision at Natural Selection. Your support allowed all of us, culinary employees and guests alike, to experiment, taste, share, learn, and grow together in our love for the creative cuisine that has become known at Natural Selection.

We express thanks to our amazing farmers and fine purveyors. Your products and support have allowed us to find the inspiration to create the dishes that our guests have come to love, while maintaining our philosophy of local foods.

Looking back, I have had the pleasure of meeting so many wonderful people and have personally grown and developed as a cook, chef, and business owner. I am a better person because of it. After giving the past 20+ years to the culinary world that I adore, it is time for a break. A time to re-group. A time to explore a bit. And most importantly, a time for our family to be together.

Thoughts of Natural Selection creates both a feeling of happiness and sadness in our hearts. We are sad to be moving on from it, that such a revered restaurant in Portland, embraced by so many, will be going away. But, we are happy that our dream, our Natural Selection, has been well supported, acknowledged, and enjoyed by so many great people locally, nationally, and internationally.

Before we go, come see us. Natural Selection will serve its last dinners on Saturday, June 11, 2016. For the final two weeks we will be serving a very special 5-course pre-fixe menu. For reservations, please call the restaurant or go to our website at naturalselectionpdx.com.

And, please sign up on our mailing list and keep your eye out for potential "pop-up" dinners, and a few special events in the future.
Because, as you know, chefs have a difficult time letting go…….

Thank you, for everything, and hope to see you soon!
Aaron, Karen, and the Natural Selection crew