SuperDeluxe by Micah Camden opens in SE Portland
SuperDeluxe, the latest venture by Little Big Burger founders Micah Camden and Matt Lynch has opened to long lines and enthusiastic crowds.
The menu is simple and focused. Breakfast is available from 6 am – 11 am – egg and cheese sandwiches, with the option to add avocado, bacon or sausage from $3.25. They also have hash browns and a yogurt parfait.  Lunch and dinner options are also small – a single or double patty burger, chicken deluxe sandwich, the "Impossible Veggie Deluxe," and 5 or 8 piece chicken nuggets. Vanilla, chocolate, strawberry, coffee and a seasonal milkshake are also on the available.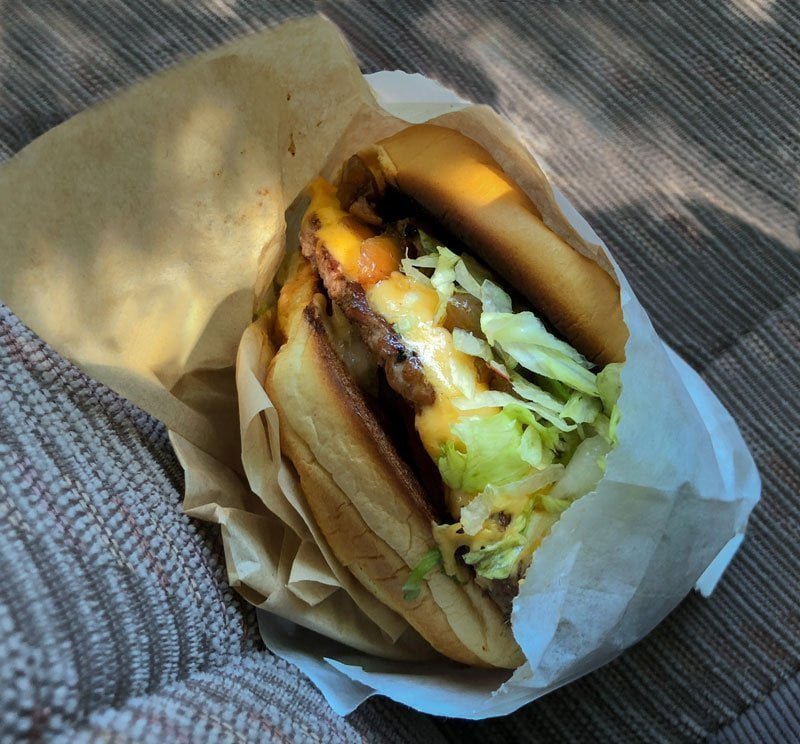 On to the main event. The burger patty is quite thin. I didn't think a single was going to be enough to fill me up, but with an order of fries, it left me full without feeling bloated. The bun has a bit of a crunch, which I think is important to the experience. Thick slices of dill pickles just below enhance that crunch. Lettuce is fine, the tomatoes unremarkable thin slices. Unlike many fast food burgers, the meat has a good flavor, mine cooked to slightly less than medium.
The chicken nuggets are better than most, crunchy outside, moist inside, and actually taste like chicken.
Yukon Fries, otherwise known as truffle fries are fresh from the fryer, salty, crunchy and have a slight truffle taste in the background; it was a bit more subtle here than those served at their first chain, Little Big Burger. They do seem to have a bit of an "I've been frozen" aftertaste, and on my visit were a bit greasy.
The parking lot is an "everyone for themselves" situation. I'm thinking the traffic will quickly die down, but now, if you can make it into the lot and find a parking space (you may have to wait in the drive-thru line to get to it), backing out after you have gotten your food can be difficult, as you are hemmed in by the drive through cars. We parked in the neighborhood behind it. Once inside, at 3 pm on a busy Friday afternoon, the wait for the food was about 10 minutes; about the same as an In-N-Out Burger.
Of course, this leads to the inevitable question, how does it compare to that famous fast-food chain? Overall, SuperDeluxe has potential, more than any other of its ilk in Portland. But they still have a lot of work getting everything dialed-in before it will be as good as In-N-Out Burger, and the fries aren't nearly as good. I think the closest to it in Portland is 5-Guys Burgers and Fries – they are a different style, but on a par with each other, thought 5-Guys fries are lousy compared to SuperDeluxe.
Right now, SuperDeluxe is better than any other fast-food burger restaurant in Portland, but if you are willing to pay more for a sit-down meal at a good restaurant, it isn't going to compare. However, if I'm hungry and in the area, I'd go back, especially once the lines have died down. Overall, it's a good effort for a restaurant which just opened. Needed tweaks include consistency, napkins should be added to to-go orders, and if the traffic doesn't go away over time, they'll need someone in the parking lot to speed up ordering.
A single patty burger will cost $4.75, a double $5.75 – bacon +.50, and a chicken version is $5.75. Fries are $2.75. Chicken nuggets $3.75 for the 5-piece version, $4.50 for 8. Coffee is by Peet's/Stumptown.
SuperDeluxe hours seem to vary depending on who you ask, but the consensus I got from employees is open from 7 am until 11 pm daily. The dining room closes at 10 pm all days. It's at 5000 SE Powell Blvd, Portland 97206. EatSuperDeluxe.com.