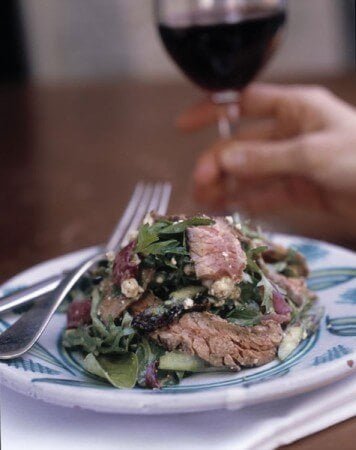 Old Salt Marketplace chef Timothy Wastell has been replaced by sous chef Ben Schade. According to co-owner Ben Meyer, the restaurant will "move away from Tim's Italian influence. Plans are to focus more on American food. We are an American restaurant, and I think that will be more obvious over the next weeks and months. It's a big country with such a broad, rich tapestry of food to borrow from."
The menu has already turned that direction, with items such as pork chops, smoked half-chicken, roast beef, and albacore. No news as to where Wastell will be going.
---
The folks behind Ned Ludd have opened a new project – Elder Hall. According to a press release,
Elder Hall is an Oregon gathering space working to connect people and ideas through intimate gatherings centered around the table. Shaker-inspired, the new space, located just behind Ned Ludd in Northeast Portland, celebrates the spirit and bounty of the region through communal gatherings with a focus on camaraderie and collaboration.

"The vision of Elder Hall came out of what we built with Ned Ludd, but it has become it's own being with it's own ethos, energy and power. We're thinking – let's realize the power of communal events in the pursuit of connection, camaraderie and conviviality," said Chef/Owner Jason French. "The space will host events, classes, and artisan producers, but will also serve the surrounding community for lectures, meetings and pow wows to get people talking about the things important to us such as, our fair city, the food community, sustainability, agriculture and much more."

Elder Hall will be home to Camas Davis' Meat Collective, various dinner series, wine tastings, corporate offsites, kids summer camps and a myriad of classes focused on the table. Friends and neighbors who make great products will be invited to showcase their talents through a series of tastings and markets. Beginning this fall, the team plans to host a series of 'Small Suppers' with the extended chef community, curating intimate experiences with culinary talent from Portland and beyond. Seating is fully flexible up to a maximum seated capacity of 50, or as intimate as a chefs table with 10 people. Standing capacity inside is approximately 75.
---
Always inventive folks at ice cream company Salt & Straw have announced their 2014 Halloween flavors. They will offer five new flavors, including "Dracula's Blood Pudding – This Ice cream is specifically crafted for this year's Halloween "thrill shreekers!" No-holds-barred, this is the most intoxicatingly impelling ice cream flavor we've ever featured! We've carefully taken to a line that balances delectable and frightful. A heady mix of spices and cream cooked into real blood pudding and spun in our ice cream laboratory. This one will make you squirm with delight."
I consider myself a fairly adventurous eater, but no, I won't be trying this one.
---
From Eater, Skyline Burgers on Northeast Broadway has closed. It was opened in 2011 as a child of the drive-in on Skyline drive which was opened in 1935 as a destination for folks looking for a long drive. In the old days, they were known for having carhop service. Unfortunately, the second location it never seemed to find its footing.
---
The New York Times has come out with a pretty interesting list of Portland Meals for under $8. They featured selections at Meat Cheese Bread, Pine State Biscuits, Uno Mas, 24th and Meatballs, Roman Russian Market, Little Big Burger, Mekong Bistro, and Mi Mero Mole. Of Meat Cheese Bread, they say "This breakfast item boggles the mind. Two half-inch slices of maple bread pudding are slapped on the griddle and then served sandwiching a hand-formed pork sausage patty, melted chipotle Cheddar and a heap of fresh fennel. I'm ruined for life, at least until this place opens a branch in New York. Within two blocks of my apartment. How about it, guys? I'll guarantee you a regular client base. Then again, the price would probably double."
I have had several of their choices, but wouldn't mind sampling the rest of them.
---
Last, Yelp has been in the news many times, accused of extortion, allegedly pulling down positive reviews until restaurants paid to advertise with them. An appeals court has upheld a California judge's dismissal of a 2010 class-action lawsuit that claimed Yelp was "committing civil extortion". Yelp immediately put out a statement saying that the litigants had and "axe to grind".
However, according to tech site Engadget, "As Courthouse News Service notes, the plaintiffs lost because their claims didn't meet the requirements for an extortion case. They couldn't demonstrate that they had a right to hold on to those good reviews, or that Yelp had no right to demand payment. In other words, it's still possible that Yelp was pressuring stores to buy ads at the risk of losing positive buzz; it's just that no one was entitled to that buzz in the first place. The appeals court was quick to note that this "stringent standard" prevents abuse of extortion laws against upstanding businesses."
Something tells me these allegations will not be going away any time soon.