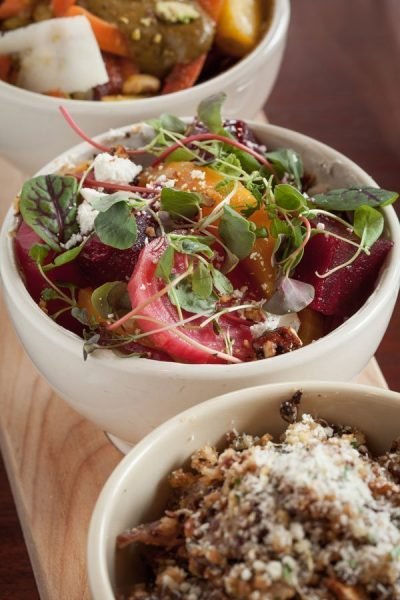 Lardo's North Williams restaurant has closed.
The restaurant which opened in early 2014 closed. The ChefStable restaurant group location had never taken off as much as the Hawthorne and SW Washington street locations.
The Lardo partnership is currently embroiled in a $1.6 million lawsuit between investors.
Nodoguro Reopens
Japanese restaurant Nodoguro has opened a SE Portland location. After losing their space in Pastaworks that used to house EVOE, Nodoguro has leased the space which was most recently home to long-gone Genoa. The new restaurant is just 16 seats, but attention to detail has set it apart from many other of its ilk. Two days a week they feature some of the best sushi in town. Get thyself a reservation ticket (they use a ticket system, and are currently booked through August). Nodoguro is at 2832 SE Belmont St in Portland.
Our menus are definitely designed for the adventurous and served in the setting of an intimate dinner party. The menu at Nodoguro is in a constant state of change. Our regular tasting menu is 11 courses, changes frequently, and is inspired by the season and the best available ingredients. The menu is finalized 48 hours before your dinner date. At that time, you will receive an email from us to share the final menu and all vital dining information.
Portland food scene podcast RATF is on a roll.
The June 29th episode of Right at the Fork podcast featured Tres Shannon of Voodoo Doughnuts, who managed to cement every reason I have no interest in ever making a second visit there. It may sound like I didn't like the interview, but you'd be wrong, the story of VD was pretty interesting. This was followed by Janis Martin of Tanuki – I don't think she's ever done an extended interview before, and she'll be sad to know that I thought she sounded like a terrific person; no BS, knows what and who she wants, and takes no prisoners. The most recent episode featured Brian Spangler, the founder of another Portland Institution and reader Best Pizza favorite, Apizza Scholls. Full disclosure, RATF and PFD share promotion, but I'd write about them whether they did or not, as I always enjoy listening to the podcast.
Kayo's Ramen Bar opens in North Williams Ocean complex
ChaChaCha! on North Williams has closed. Yes, I am surprised too. However, Kayo's Ramen Bar has opened in its place, specializing in, what else… ramen. It is sandwiched between Ristretto Roasters and EaT Oyster Bar. They serve both hot and cold versions. 2016 will forever be known as the year of ramen.
Kayo is at 3808 N. Williams Ave.
When on restaurant closes, another opens – in this case The Groaning Board
Muselet has closed, but The Groaning Board has opened in the South Waterfront. Lincoln expat Cory Chunn is heading the restaurant of the "gastropub". The menu seems a bit more interesting than similar restaurants, offering a "build your own mac and cheese", a ribeye with guava butter sauce, and pork belly rubbed in crystallized honey. I haven't been yet, but it's on my list. They need to send me a photo of their outdoor area. Not open for lunch.
You'll find it at 3500 SW River Parkway in Portland.
Portland institution Clay's Smokehouse Grill has closed
It feels like Clay's Smokehouse has been around forever – since 1997 . The restaurant at 2932 SE Division was one of the first places in Portland to specialize in ribs. However, the owners say they will be opening a new version on property they own at 6305 SE King Road in Milwaukie, date TBD.
Ava Gene's has been sold to Chef Joshua McFadden.
When Ava Gene's was opened by Stumptown Coffee founder Duane Sorenson back in 2012, it was an immediate hit, drawing large crowds and gushing press from everyone but PFD. I never thought the mains lived up to the appetizers. Anyway, Duane has sold the restaurant to McFadden, who has been the chef from the start. According to the Oregonian, Duane wants to focus on The Woodsman Tavern and Roman Candle Bakery. McFadden is going to be busy – he's also opening a new restaurant called Tusk, where Levant used to be located on NE Burnside. In his interview with the O, the chef says "Portland beats you over the head with smoked ice cubes, bourbon and Edison light bulbs," McFadden says. "I want this to be a very feminine restaurant. That's why we named it after a Fleetwood Mac album." Hmm.
I'm a bit disappointed – I thought were were going to have our first endangered species restaurant.