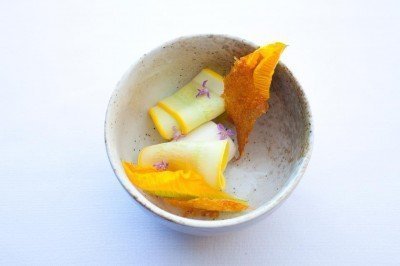 Kir Wine Bar at 22 NE 7th, is closing as of August 17th. From the press release,
"Ciao KWB.
Kir wine bar will raise its last glass on Saturday, August 17th.  We want to thank you for years of good humour, good wine, and good friends.  We are excited for the future and are actively looking for another space to call home.  If you have any good ideas, let us know!  More than ever I believe that tasty, interesting, carefully produced wines should be readily available to folks all over our fair city.  I look forward to the next chapter and to working to refine this process.  We would be proud to serve you up a kir style experience one last time in the next coming weeks.  Thanks x one million.  Amalie Roberts and the Kir CRU"
Sad. I liked Kir. I'll have to go by one more time before they close.
---
Elephants Delicatessen is combining with Henry's Wine Vault, and opening a store in the Corbett neighborhood, at SW Corbett Ave and SW Boundary Street (map). The space which was previously the location for the old Sorenson Photography building, is being remodeled, with an opening planned for late summer. You can read the entire press release here.
---
Punch Bowl Social has opened.  I'd never heard of them either, so I looked it up. According to a press release,
Punch Bowl Social is a restaurant combining modern gastrodiner fare, a high-volume mixology bar concept and social entertainment in a way no one else has. Inspired by local flavors and cuisine, the scratch kitchen offers sophisticated comfort food, along with crafted cocktails and an exhaustive range of ways for customer to enjoy themselves. From private karaoke rooms to bowling to marbles: if you can do it over a beer, Punch Bowl Social has it.

Punch Bowl Social currently has one location open in Denver, CO and will celebrate the opening of its second location in Portland, OR in July 2013.

Featuring bowling, billiards, ping-pong, shuffleboard, darts, private karaoke rooms and a wall dedicated to classic video gaming, Punch Bowl Social delivers a fusion of culinary sophistication,  craft cocktails, and entertainment – or the 'holy trinity'.
You read it here – No one else has never done this before! It's the "Holy Trinity" for god's sake! (cough) Anyway, they opened yesterday in the huge space at the top of Pioneer Place Mall downtown, which was previously occupied by Todai. I shouldn't be so hard on them – the Holy Trinity can also be a mix of vegetables in Cajun cookery; maybe that's what they are planning. It's difficult to tell – they have one of the worst web sites on earth.
Punch Bowl Social will be serving breakfast, lunch and dinner, as well as a late night menu. Hours are: Lunch – 11 am Mon-Fri, Happy Hour – 2 pm to 6 pm daily, Dinner – 5 pm daily, Brunch – 9 am Sat/Sun.
---
Restauranteurs beware! One of British Celebrity Chef Jamie Oliver's restaurants was fined more than $12,000 after serving regular pasta to a customer with celiac disease. As more and more people decide they are allergic to things, stories have proliferated about restaurants failing to disclose details about the ingredients used in their dishes. Could this be a new wave of lawsuits about to sweep our shores? According to the Huffington Post,
The Telegraph reported that she asked three different staff members to make sure they served gluten-free pasta, but apparently she was still given regular pasta. As a result, she fell extremely ill with vomiting and nausea, according to news reports.

On top of that, she was on a transplant waiting list for a heart and lung, and had to be removed temporarily from it because she was so sick after eating the gluten, The Sun reported.

Ultimately, the restaurant pleaded guilty to "selling food not of the nature, substance or quality demanded by a purchaser," the Telegraph reported.

In 2006, McDonald's faced a similar lawsuit after it was found that their French fries had wheat and dairy in them, the Associated Press reported. That suit involved Debra Moffatt, an Illinois resident, who had celiac disease that was set off when she ate the gluten in the French fries.
You can read the entire article here.
---
I thought this was interesting – NPR's story called "Gourmands Through the Ages: 'A History of Food in 100 Recipes".
Long before Food Network, before Michael Pollan, before pop-up restaurants, humans were taking the time to enshrine the art of cooking. The painting depicts a recipe for baking bread that was carved on the wall of an Egyptian tomb some 4,000 years ago.

It's one of the many fascinating snapshots from the history of food that journalist William Sitwell chronicles in his first book, A History of Food in 100 Recipes.

The gastronomic compass guiding Sitwell's journey through time? The recipes, in all forms, left behind by the foodies whose tastes have helped shape the sophistication of our palates.
You can read the transcript of the NPR's interview with the author or even listen to the story here. My favorite part –
"Apicius — immortalized by the cookbook attributed to him, De re coquinaria (Of Culinary Matters) — was famous for his love of fine foods and entertaining. The first-century foodie was also a prolific saucier — he's thought to have authored instructions for 400 sauces. Alas, his food habit was costly to maintain, and he eventually ran through his fortune.

"So he gave one final feast," Sitwell says. "In the final course, the final dessert, he poisoned himself and died. He thought, 'If I can't eat good food, I will check out of this world and die.' "

Talk about drama."
---
This is the last day for the annual food and restaurant survey! Just a few more responses will put us over our goal! You can vote for your favorite restaurants/businesses, and a random participant will win a $250.00 gift certificate to Timberline Lodge and to a second person, a $50 gift certificate to the restaurant of their choice. All you have to do to be eligible is answer 20 of the questions.