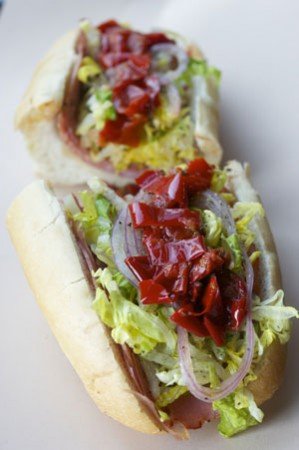 Probably the biggest news of last week was that chef David Padberg of Park Kitchen is leaving the restaurant for Raven & Rose, the gastropub opening in the Ladd Carriage House on Southwest Broadway. From OregonLive.com,
Other well-known Portland restaurant names — including a GM and bar manager — could be on the way.

Mygrant's envisions a Northwest gastropub, which, in her description, "are these often very beautiful warm and inviting places where you can stop for a pint and a snack or settle in and have a really finely crafted meal." The restaurant's design was informed by the Brunel, a gorgeous pub in London's Battersea neighborhood that closed in 2010.

Expect draft and cask-conditioned beer at the downstairs bar and an upstairs lounge with a fireplace, leather sofas and free pool.
Some big talent, which is going to be costing some serious cash, not to mention the cost of building out the kitchen. Park Kitchen has fallen off of the foodie radar over the past few years; it will be interesting to see if they make any changes in direction. As I recall, Padberg is into Asian influences, so pub food will be an interesting change for him. You can read all the details here.
---
A new business named Cafe Theobroma is going into the Gregory Building in the Pearl District. It will be occupying the old Boyd's Coffee space at 1037 NW Flanders St. The liquor application doesn't say much, but they will have a full liquor license and limited outdoor seating. A quick search didn't turn up any information about owner Sergey Udalov, but there is a species of Theobroma plant which produces cacao, which is used in chocolate. Let your mind wander.
---
Stumptown has opened a new roasting/packing/administrative building at 100 S.E. Salmon Street. According to Portland Business Journal, the 37,000 square-foot space will allow its 50 employees to work in one building.
Here is where it gets interesting. Stumptown and Energy Trust of Oregon have teamed up for one of the largest gas-savings projects the trust has ever funded. As you may know, an afterburner is used to remove particulates created by the coffee roasting process, which helps mitigate any effect on air quality. The new building has a "regenerative thermal oxidizer". Some interesting facts from Sustainable Business Oregon:
The Energy Trust contributed about $200,000 towards the cost.
The new scrubber will curb the gas demand for the scrubber by at least 25%.
Stumptown roasts more than 2 million pound of beans a year.
If you put each bean end-to-end, they might reach Brooklyn.
---
From Eater, Little Big Burger has opened their 5th branch, this on NW 23rd, where the Japanese restaurant Yuki used to be.
---
Every so often I find myself stocking up on a few things at Trader Joe's. Unfortunately, when you buy something you haven't tried before, it's always a crap-shoot – most things are either pretty good or pretty awful. A website called, "What's Good at Trader Joe's", gives honest reports of the products they think are good and bad. I looked up a few things that I buy and found that in many cases we are in agreement, but they like some things that I don't think are very good. Still, it's a good starting point, and a fun read. They are also participating in the Bike Multiple Sclerosis fund-raising event, so that gives them even more points on the Food Dude scale. One thing to mention about TJ's – food can vary greatly between different regions; I noticed when I was in California things I liked from here were lousy there.
---
A study from Cornell University shows that restaurant lighting can affect calorie consumption. An article published in Ammons Scientific, shows that people eating in a room with soft lighting and music, tend to consume fewer calories. Furthermore, diners in these areas also tend to like the food better.
Please don't rush to turn down the lights. I can't read the menu as it is!
---
When Andy Ricker opened his NYC restaurants, the Manhattan Pok Pok Wing only sold his addicting chicken wings. Apparently this wasn't working out, so it is being re-branded to Pok Pok Phat Thai. According to Eater NYC, "Ricker tells Flo Fab, "Our kitchen simply cannot manage the volume of wings we have to prep on a weekly basis." So successful you have to close. Hmm.
---
I may have mentioned this next item before: Tommy Habetz, Nick Wood and Matt Brown, owners of Bunk Sandwiches, will be opening a Tex-Mex joint in that strange little space under the Wonder Ballroom. In keeping with the theme, the restaurant name will be "Trigger". I like Tex-Mex, and Esparza's is so damn embarrassing I don't even like driving past it. About the new venture Portland Monthly says
The menu is still in works, but the drawing board includes meats pulled from the house smoker, enchiladas, briskets, and a reprise of some Tex Mex–inspired Bunk sandwich specials: the monumental chile relleno torta and the amazing chorizo negro, stacked with pinto beans and guacamole.

"Authentic is a fleeting idea," says Habetz. "Like jazz, you can riff on ideas. Keep it open. We use a template but define it our way. I was thinking authentic gay cowboy cuisine."
According to PM, it will be "blistering with craft and playful imagination", Tommy was a "towering presence" on our food scene, his cooking "bristled with Southwest flavor intensity" and he "clearly carries the bold DNA … of food good Mario Batali".
Wow, this should be some restaurant!
---
O Magazine has added to the parade of positive press for Portland's Bamboo Sushi.
At Lofgren's acclaimed restaurant, Bamboo Sushi, you won't find overfished sushi-roll staples like bluefin tuna or unagi—but you might find sustainably caught Tasmanian ocean trout, horse mackerel, or even cod sperm. An inventive "Bamboo charcuterie plate" features "blood sausage" made from local Pacific albacore tuna. Lofgren's meticulous sourcing from only healthy populations has earned his restaurant the first Marine Stewardship Council certification in the United States.
You can read more of the articlehere, including his shark adoption program
---
Remember in 2005 when the Mercury posted a review of Gotham Tavern where Habetz was chef 17 days before it opened? I was looking for my article on that whole debacle, when I came across Nancy Rommelmann's which is far better than mine:
Busse later claimed it was a foul-up in editing; that it was supposed to be published in the future tense, as if this explained away his descriptions of the menu, ambiance and service. When foodies around town complained, Busse essentially told them it was their naiveté as to how journalism works that was the problem. He went on to say, "… I think most thinking-people would recognize, the idea behind the food reviews was simply to draw some attention to a collection of different places and to maybe rally a few people to old and new restaurants. Sorry for trying to be supportive of the 'restaurant community'."
Remember Michael Hebberoy? Those were the good old days; I think the Portland food scene was a lot more fun back then. I don't know why this all popped into my head; memory lane, I guess. PFD has been around almost 9 years; no wonder I've run out of descriptive phrases for food! How the really long-time food critics keep going and doing a good job after many years, I don't know. Just sayin'. … not that I'm planning on stopping.
---
Every August I drive out to Jossy Farms in Hillsboro to pick a lot of Veteran peaches. At this point, the peaches are long gone, but they are continuing with "Make Your Own Cider" this weekend. You buy the apples and pears from them, and you can use their cider press. I mention this because it just sounds fun. There is something about just made apple juice and a fall day. You can read the full details here
---
Finally, here's a reason to clean out your refrigerator. Edward Zahn, the 73-year-old owner of Z's Cheese Shoppe in Milwaukee, decided to close his store permanently. As he went though the cooler, he found wooden boxes full of cheddar that had long been forgotten: 28, 34 and 40 years old.
The Wisconsin Cheese Mart bought a large portion, and is selling the 28-year-old cheese for $6 an ounce, the oldest for $10. The tastings have sold out.
…McNulty sampled the 40-year-old and 28-year-old blocks, pleasantly surprised that the milk in the cheese hadn't soured. He still hasn't tried the 34-year-old cheese, and acknowledges that he can't assume it will be edible. He plans to cut it open on Oct. 6 as part of a cheese-tasting event at his store.

Wisconsin, the nation's leading cheese producer, last made headlines for aged cheese in 2010 when Tony Hook, the co-owner of Hook's Cheese Co. in Mineral Point, sold 1,600 pounds of 15-year-old cheese for $50 per pound. Cheese connoisseurs described that cheddar as mature, rich, smooth and decadent.

So what does cheddar taste like when it's been sitting around since 1972, the year "The Godfather" was released and when gas was 55 cents per gallon?

"If you get a piece close to the outside, it's all crystallization, so it's crunchy like Corn Flakes," McNulty said. "As you get closer to the interior, it's creamier and overwhelmingly sharp."
Why yes, I would buy some. I always said that if I completely lost it, they'd find me naked and face down in the cheese case at The Cheese Bar. Not a pretty picture.