So much of the food news these days isn't worth an entire post, so they get swept away, the detritus of our news feeds. We've decided it's time to do more roundups, like the old days.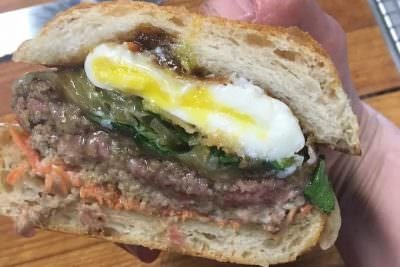 Aviary now has a burger. Knowing Sara Pliner it's going to be good. Sarah's Banh Mi Burger ($8) is made with a beef patty, seasoned with lemongrass, kaffir lime, fish sauce, and garlic. It's served with white cheddar, pickled carrots, jalapenos, cilantro, Kewpie mayo, hoisin and a deep-fried egg between a Pearl Bakery ciabatta bun. It's available in the bar and dining room during happy hour, Monday – Friday from 5 – 7 p.m. Just as well – in my opinion Aviary is still one of the best restaurants in Portland, so you should walk 10 feet and try the full menu.
---
Next, Holstein's Shakes and Buns opens next week (not to be confused with the strip club, Wiggles and Jiggles). "The restaurant is by Block Sixteen Hospitality which owns five other chains. It will be opening in the Pearl District where PF Chang's used to be. The space is huge, and I've really wondered how the owners managed to keep the space vacant for so long; the posters have been on the windows for at least a year. I've been wondering how a burger place can possibly fill such a large space in one of the most expensive rent districts in Portland. Just that it took them over a year to open the doors makes me wonder about the management prowess of the people behind this company.  The Las Vegas location features a menu of burgers starting at $15.50 to $32 (Kobe beef, foie gras, port onion marmalade, frisee, truffle mayo, since you asked). Also look for a few salads and typical bar food such as buffalo wings, sliders, and poutine.  Eater has some photos, all of which make sure it's not a place I'd want to eat. "  1139 NW Couch St, Portland 97209. Daily 11:00 – 11:00.
---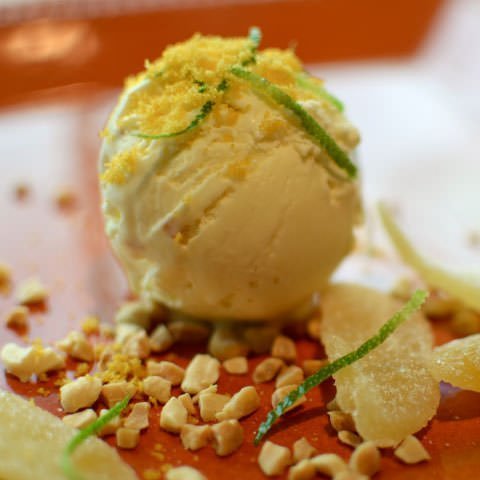 Fifty Licks Ice Cream has opened a second location at 2742 East Burnside in Portland. The new branch will also make the same custard base by hand, from scratch. This is embarrassing to admit, but none of the folks involved with PFD have tried their ice cream. It's time for a field trip – for research, of course. Their first store is at 2021 SE Clinton Street in Portland.
---
Many of you may not be aware that the original PDX Food Dude (We can't just say "Food Dude" anymore, as it is also trademarked), died last year. He had the original idea for the site way back in 2004, and we eventually became a group of four, two men, two women. All of the reviews the first year or so were written by him, but to throw people off the scent, all of the notes funneled to me to keep the writing in one voice. Those early days were fun, getting separate tables in the same restaurant, and then comparing notes later, especially when one of us thought we had been made. Even our closest friends were none the wiser. I'm the snarky one who always says one thing more than he should, though he wrote many stories on his own. I will write more about him, but we were all very close friends and we promised not to make a fuss… I'll try to do it soon. Meanwhile, we've reorganized and will keep things going, and I'll keep writing about growing up in Texas.
Why do I bring him up? Because we used to argue about Russell St. BBQ. It was one of his guilty pleasures, but then anything piggish was. I'm more of a Texas BBQ purist. The Oregonian writes that the 14-year-old restaurant is opening a new restaurant in the old Hokusei Sushi spot in SE Portland. "As you might expect, the barbecue will resemble the non-denominational meat menu at the original location, with Texas-style brisket and beef ribs, Alabama-style smoked chicken and white sauce and Memphis-style baby back ribs. The new restaurant will feature a few new additions, including a custom kielbasa-style pork-and-beef sausage and, a couple of months after opening, both frozen margaritas and barbecue breakfast tacos." If all goes well, the restaurant will open May 24th, 4246 SE Belmont in Portland.
---
Finally, if you've spent much time in San Francisco you may have dined at Farmhouse Kitchen, a Thai restaurant in the Mission. Now they have opened a Portland restaurant by the same name. Their funky style notwithstanding, the restaurant is highly thought of, even garnering a mention in the Michelin Guide as one of the city's best, inexpensive restaurants. Keep in mind that inexpensive in San Francisco is not the same as inexpensive here, though they have dropped their prices below the SF location. The opening menu features appetizers starting at $7, and entrees average around $17. Still, Portland is sorely lacking in Thai restaurants (tongue firmly in cheek), and it will be nice to have another good one. Check out the videos on their website to get an idea of their ethos.